You might remember that Bumblebee turned 3 on Sunday. He's such a special boy, and we wanted to do something really fun for his birthday this year. One day a few months ago, he figured out how to find his own shows on Netflix (!). He had seen older brothers run the app enough to figure out to tap the "Kids" icon on the accounts screen, and then he scrolled through the show options until he found something that caught his eye. That show was Cocomelon, which is rather a big deal in the 2-4 year old market.
In case you're not familiar, Cocomelon is an animated show with a series of songs. There's no story, just songs. The animations are actually quite cute, and the songs vary from classic kids songs (Baa Baa Black Sheep) to original works to more modern "classics" (Baby Shark) to classic songs with new lyrics. Even though there's no official story for the characters to participate in, it has the same characters throughout. The main little boy is a toddler named JJ, and he has Mom and Dad, along with sister YoYo and brother TomTom. Sometimes JJ goes to "school" (daycare), and he has a "teacher" there (Mrs. Appleberry) and a group of friends – Nina, Cody, Cece, and more.
Bumblebee loves it.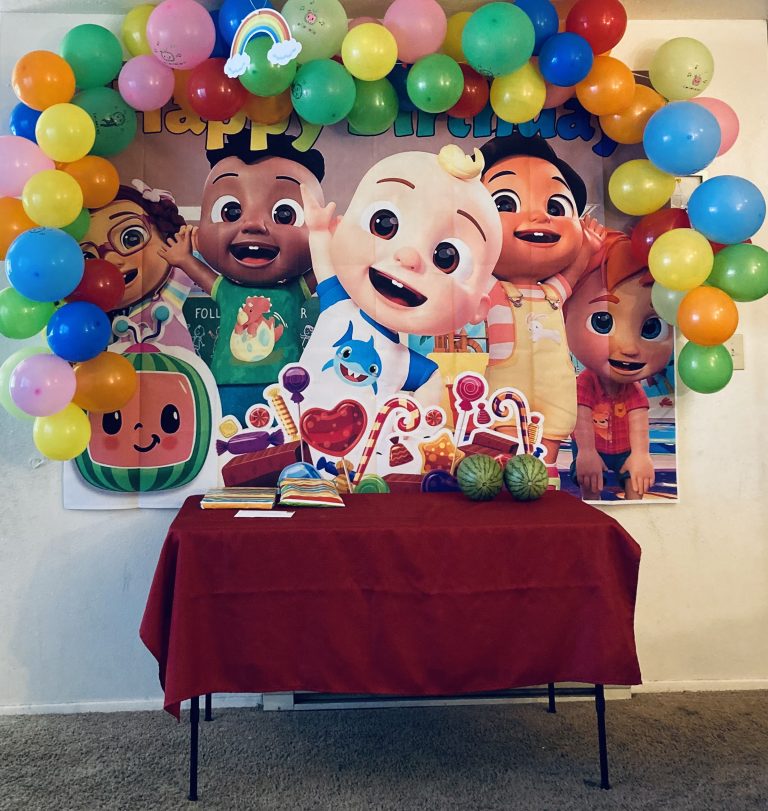 Will and I didn't realize quite what a phenomenon it was until we started seeing the toys in stores, and because our boy loved the show so much, we started him a collection of the toys. One day a few months ago, I was browsing Amazon for birthday party ideas, and he peered over my shoulder and saw all the Cocomelon decorations. He immediately started saying, "Me have Cocomelon birthday!" So of course, we obliged. We purchased a basic party kit for about $24 that included a cake topper, 24 cupcake toppers, 12 ceiling streamers, a Happy Birthday banner, 16 printed balloons, and everything you needed to hang it all up. We also bought a huge (5'x7′) poster featuring the young kids of the show and a package of matching invitations. From the Dollar Tree, I bought 2 extra packages of plain balloons to supplement the printed ones.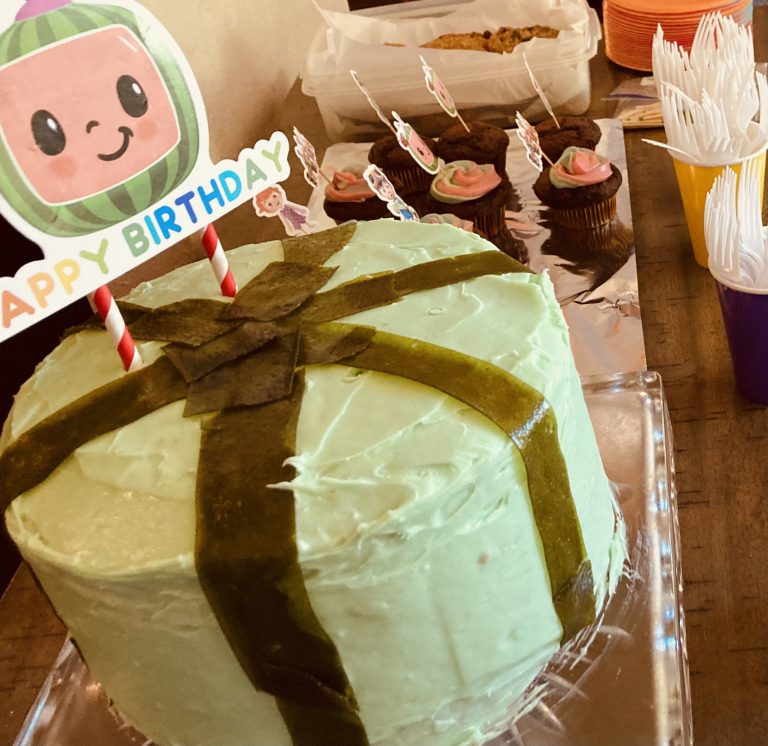 I spent the three days prior baking cakes and making plans for the decorating of said cakes. The three days was because you need to take the time to let your cakes cool and chill with the frosting before you begin decorating, not because it was such a difficult job.
The day of the party, we hung up the big banner and blew up the balloons. So many balloons. Scorpion, Grasshopper, and I did most of the blowing up while Will and Ballet Boy worked on tying them all together into a balloon archway. We then attached the balloon archway all around the large banner. We just hung it right over our existing artwork. It was big enough to nearly cover the wall, and with the balloons added it was perfect.
We hung the Happy Birthday sign (it was one of those with a cardboard cutout for each letter, attached together with ribbon) over the hallway, so it created a kind of natural pathway from the front door to the living room, where we were holding the party. And we hung all of the ceiling streamers up using the glue dots included in our party kit. A bit of furniture rearranging in the dining room (to block off the kitchen but still provide a place off-carpet for children to eat cake) and we were ready.
I decided to make a lemon cake with a lemon curd filling because hello – who doesn't love lemon curd? It's hands down my favorite sweet treat. I ended up making 4 layers, but that was too many. Most of the cake didn't get eaten at all. I also made a cream cheese icing, which I tinted green. For the watermelon stripes (Cocomelon), I used a green apple fruit rollup, sliced up. The cupcakes were just a standard chocolate, but with the same cream cheese icing.
Because Bumblebee is just 3, we kept the game simple, and only did one: Pin the Curl on JJ. This was just a twist on the classic Pin the Tail on the Donkey, but using JJ and his statement hair instead. I gave personal watermelons to the top two winners of the game.
Overall, it was probably the most successful children's birthday party we've ever thrown (sorry, older kids). We will hands-down be having specific themes for our kids' parties from now on, and won't be afraid to spend the money on the decorations. It was so worth it!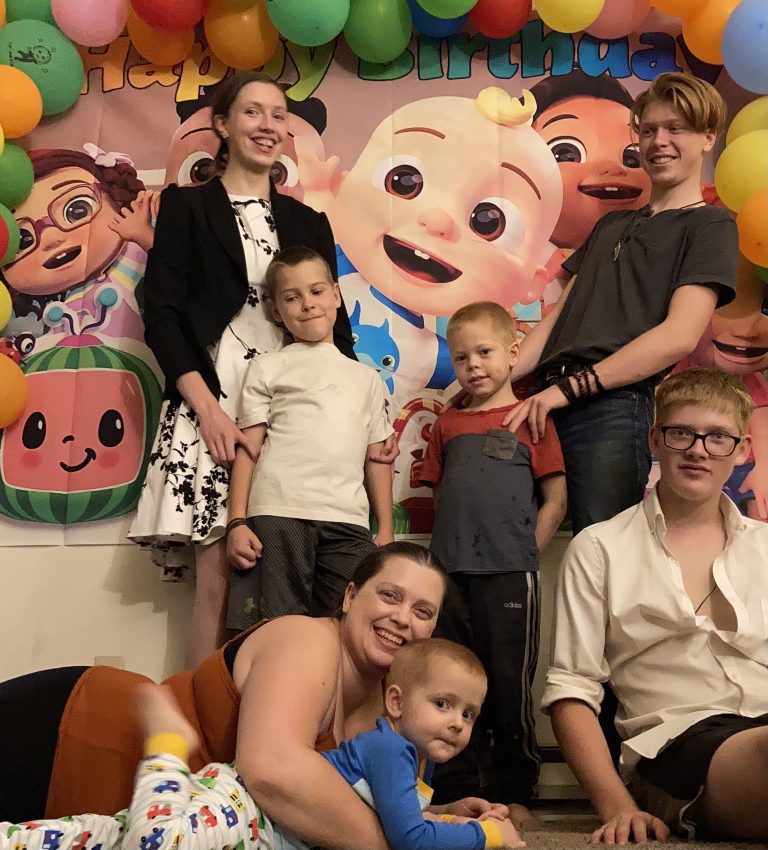 Blessings,