Disclosure: I received this complimentary product through the Homeschool Review Crew
My kids just love audio books. They always have. So imagine their excitement when they had the opportunity to create their own audio books with The Voice Library! With The Voice Library – Audio Book Creator, it's super easy to create your own audio memories.
The program is available either online or through the app (for both Android and Apple). I used the app because it just fits into my lifestyle much better. It was very easy to select the plan to purchase. There are options available for one year ($24.95) or 4 years ($78) and they work with Shop Pay if you need to split your purchase up over four months (purchases over $50 only). Once I got my year purchased, it was super easy to then download the app to my phone, sign in using the account I created during the purchase process, and start recording!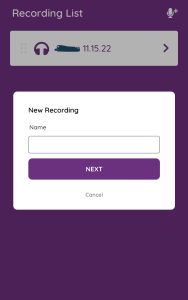 It's super easy to add a recording to your account. Just click "add new recording" within the app, give your new file a name, and start recording! It's as easy as listening to an mp3 – really! Simply press record, start speaking (or singing, or reading…), and press stop when you're done. The app quite literally does everything else. There is no editing required, and you don't have to figure out where you stored your files afterwards. They're all right there in your account. It really is super user-friendly.
We used this mostly as a supplement with the kids' regular school subjects. I had Grasshopper (10), Dragonfly (7), and Bumblebee (4) record a few of their reading assignments so they could listen to their own voices and hear some of the ways they needed to improve their reading. The added benefit is that now we have their voices on recording for posterity.
The kids had so much fun listening to their own voices. Each of them was so interested in hearing themselves on the recording. They didn't go through the normal "that's not me!" but they did find their own voices funny and fascinating. It was pretty cool to watch their reactions as they listened. And it did help them to practice their diction better having heard the way they actually speak. It would be a great tool for speech therapists to guide their patients in proper pronunciation.
Another fantastic way to use The Voice Library would be to visit a grandparent or great-grandparent and do some interviews with them. As awful as it is to think about, those older generations won't be around forever, and it would be really cool to record their stories in their own voices and make an amazing family keepsake for future generations to have forever. We haven't the opportunity to do that yet, but it's on my short list of things to do with this software.
Make sure to head over to the Homeschool Review Crew and read more reviews to find out how others used The Voice Library in their homes!
Blessings,