I love seeing the tiered trays that Dollar Tree crafters on YouTube make. I really want to have one in my kitchen, but as I mentioned last month, it's really just too small in there for much of anything. So I did the next best thing: I made one and gave it away! Here's what I did to make "my" tiered tray.
I started with a set of the burner covers from the Dollar Tree. I went this route instead of getting two cake pans, or a cake pan and pie pan, because I wanted to keep it cheap for my first time out. I painted both pieces black. It was technically chalkboard paint because that was the only black paint they had at Dollar Tree (and I didn't have any at home). For the piece that connects the two tiers, the YouTubers usually use one of the standard Dollar Tree candlesticks. My store didn't have any of those when I was there shopping, so I wandered the store for a while to try to find something that would work. I eventually chose a stemmed wine glass. When I got home, I painted that black as well. Then, following the tips from the people on YouTube, I used a combination of super glue and hot glue to connect everything together. The super glue gives you a permanent hold, while the hot glue gives you a semi-instant hold so you don't have to worry about your piece falling apart while you wait the hours for the super glue to cure.
With the tray done, now I had to fill it up. I decided that I would give this to my mom for Mother's Day, so I chose items that would fit her personality. I went with a "birds" theme because she loves birds. Some of the items I used almost as-is, and some I DIY'ed a lot.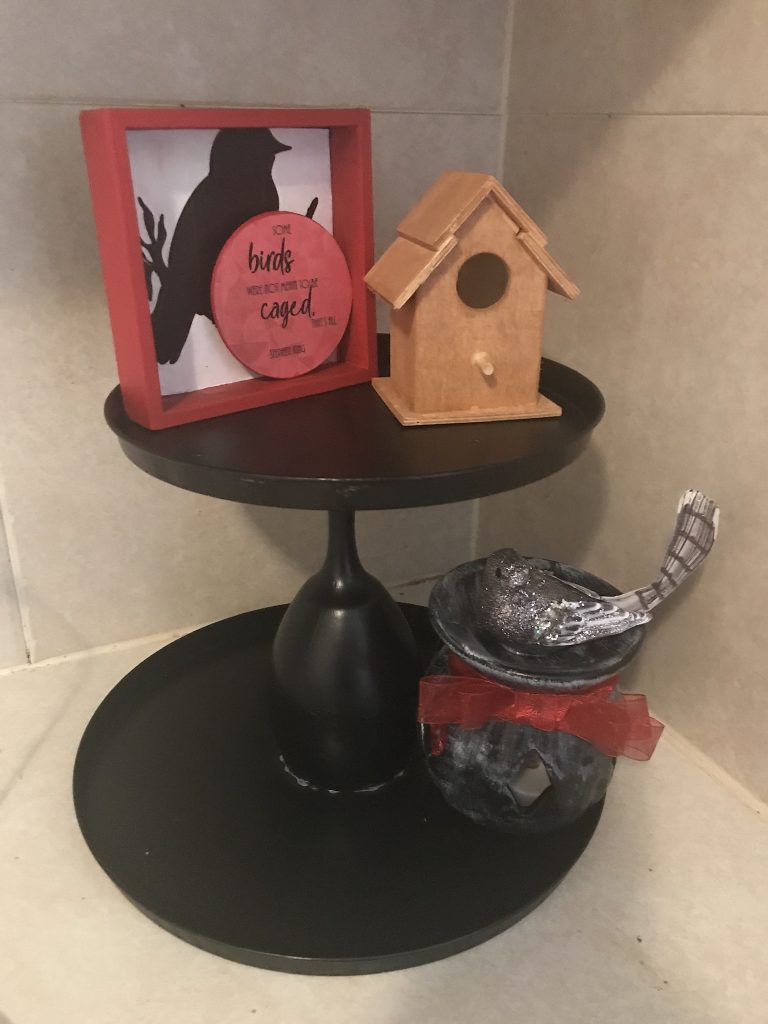 First up was this candle holder. It was gray when I started, but I wanted it to be black so I painted it with my chalkboard paint. I distressed it a bit with some white dry-brushing, and then glued a Dollar Tree bird decoration on top of it and tied a red ribbon around the top. I filled the candle holder with an LED candle from DT because my mom doesn't use real candles in her home for animal safety reasons. That went onto the tiered tray.
Next, I chose one of the birdhouses from Dollar Tree. I wanted a stained wood look for that, so I took some brown acrylic paint and watered it down. I brushed this all over the bird house, and it gave me exactly the look I wanted. I kept the bird house pretty plain.
I found a packet of wooden dragonflies at the Dollar Tree too, and I painted one of them with the chalkboard paint. I primed the new mini-chalkboard and wrote "Love U" on it, mostly to show that it was a working chalkboard.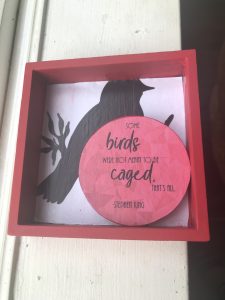 The last piece I added to the tiered tray was the best one I made. I found a cheesy shelf frame at the Dollar Tree. It was sort of like a shadow box frame, but with no glass in the front. It had a wood circle, which I popped off and painted. (It turns out I didn't need to have painted it because I ended up gluing a piece of paper to the circle later. But I didn't know that at the time.) I also painted the bright blue frame with red. Next, I went to the computer and found two things. The first was a picture of a bird. The second was a quote about birds. I found a perfect one for my mom – it was about birds, and spoken (or written, I'm not sure) by Stephen King, her favorite author. In Photoshop, I drew a circle the same size as the cutout I'd removed from the frame. I then added a red textured background and then typed the quote over the top of that. I printed out both pieces – the bird and the quote. Then I used Mod Podge to glue the bird into the back of the frame and the quote onto the painted circle. With a bit of hot glue, I attached the circle on top of the bird – in a different place than it had been originally though. I absolutely loved how this piece turned out.
And that was it. Usually a tiered tray is jammed full of cute themed items, but I was having trouble getting inspired, and I left it at just the four items. I will likely make things for my mom to add to it here and there though.
Have you ever made a tiered tray? Or bought one and decorated it?
Blessings,