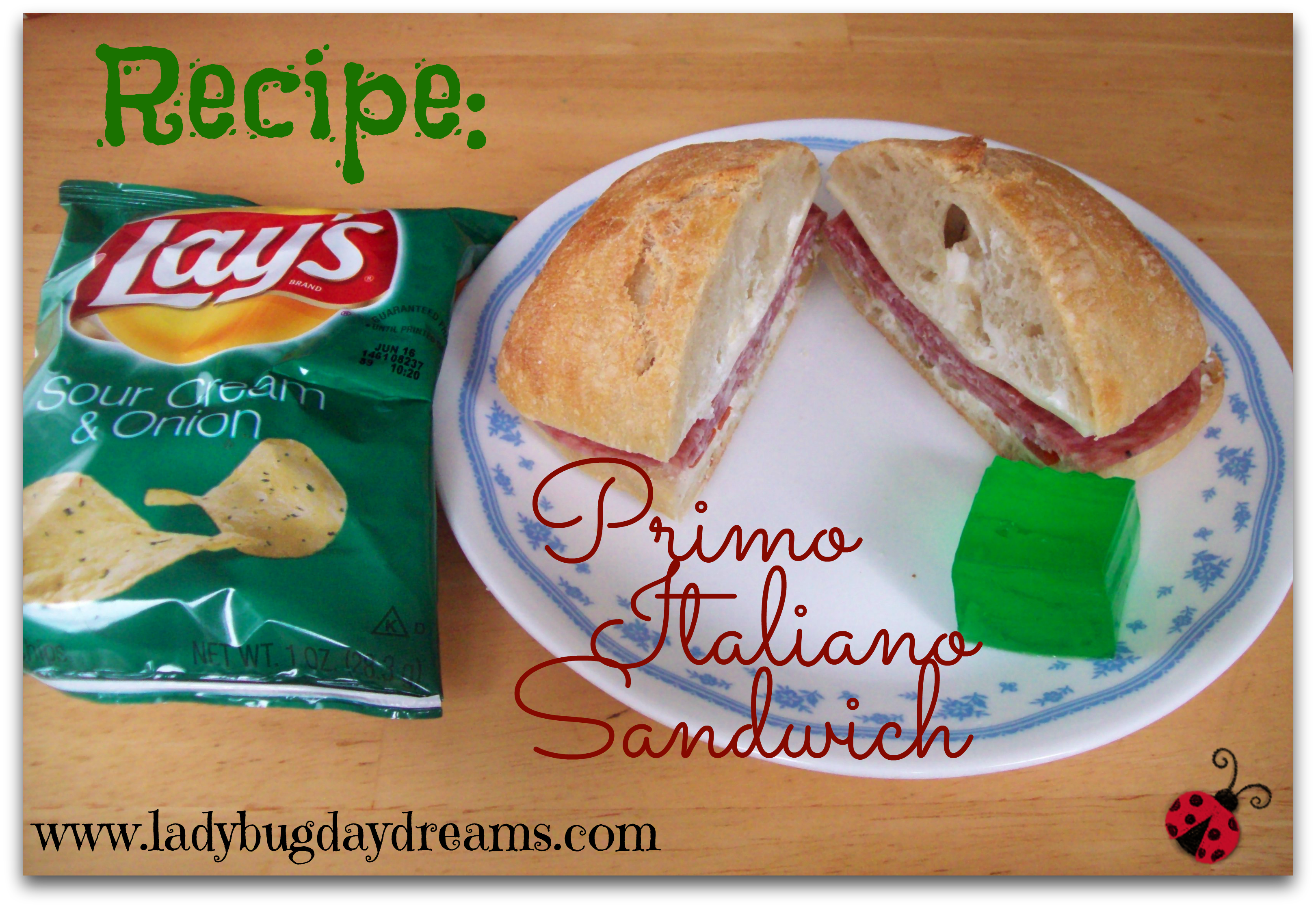 Sandwiches are tough in our home. Everyone likes something different. But the one we can all agree on (except maybe Small Fry, who's still in the "peanut butter and jelly or bust" stage) is this: The Primo Italiano.
Back when Will and I were first married (when we both worked outside the home, before he was self-employed or we had kids), one of the local grocery stores – the one we worked for – decided that they wanted to compete with the sandwich shops, so they installed sandwich bars in all the delis. They had several prefab sandwiches to choose from, but you could also "build your own" like at Subway. One of the prefab sandwiches was this one, and it quickly became our favorite lunch.
Unfortunately, they discontinued this sandwich after a few years, so I've developed this copy-cat recipe so we wouldn't miss out on one of our favorites.
I've been pretty specific about things like the bread, but you can use any kind you like. I would not, however, recommend anything too soft. You want something with a good crust to help hold everything together and give you the right texture to your sandwich. French bread is about as soft as I'd go with this particular sandwich; definitely do not use regular sliced bread. With the olives, if you don't like green, go ahead and visit your local deli and choose something fairly exotic that you like. But don't use regular black olives. They won't have the right flavor. Outside of that, it's pretty flexible. You can use whatever kind of salami you like, in regular or low-fat. Same with the cream cheese.
Enjoy!
Blessings,

Primo Italiano Sandwich
2015-05-04 15:41:04
Serves 4
Nutrition Facts
Amount Per Serving
* Percent Daily Values are based on a 2,000 calorie diet. Your Daily Values may be higher or lower depending on your calorie needs.
Ingredients
4 ciabatta rolls
Soft Cream Cheese
Green or deli olives, sliced or chopped
Deli sliced Pepperoncinis (I use Manzanetti brand, which comes in a jar on the pickle aisle)
Salami
4 slices Provolone cheese
Instructions
If your rolls aren't already split, do that.
Spread the cream cheese on each side of the bread (think mayo on a regular sandwich).
Pile on the olives, peppers, salami, and a slice of Provolone.
Top with the other half of the roll.
Serve however you'd normally serve sandwiches (with chips, fruit, etc)
Adapted from Safeway Deli
Adapted from Safeway Deli
Ladybug Daydreams http://www.ladybugdaydreams.com/