What is a parent's job?
The answer will probably vary from person to person, family to family, but they all center around one theme: Training our children to become responsible citizens. How do we do that? By making sure they are equipped with the knowledge and character to make good choices. We Choose Virtues is here to help. For the purposes of review (and to help me train my sons into being better people!), I received a set of Parenting Cards with all the different virtues on them. The Parenting Cards retail for $38.49 and are geared toward kids in the 3-11 age range. The ideal goal of the program is to introduce one Virtue each week, spending about 10-15 minutes learning about it and doing age-appropriate activities (many ideas of which are included on the cards themselves, or in the Download Bundle which I'll talk about in a minute).
The Parenting Cards are a lovely set of 12 full-color, double sided, 8.5 x 5.5 inch cards. Each one has a different virtue on it: Content, Self-Control, Obedient, Perseverant, Patient, Kind, Honest, Helpful, Gentle, Forgiving, Diligent, and Attentive. Each virtue is taught as an affirmative statement: I am Obedient. There's no room for "I will try to be obedient" or "I wish I was obedient" in this program. The idea is to give kids the self-confidence to be virtuous, right from the beginning.
Each virtue taught in the program has its own character, and that character is essentially the virtue personified. For example, the card for "I am Content" introduces us to "Cake Jake."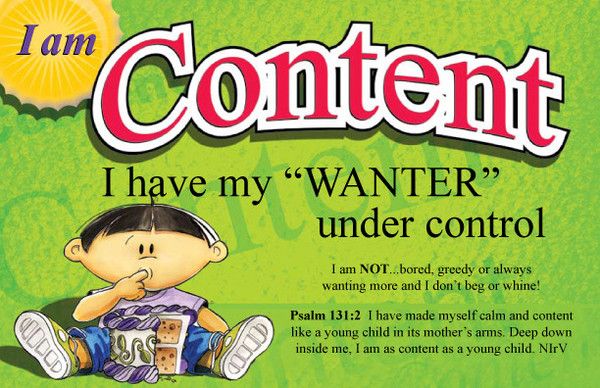 Jake is a boy who loves to eat cake. His parents own a bakery, so he's able to eat lots of it. But sometimes Jake wants more choices – he isn't content with the current options. Kids are reminded through Jake's story that it's important to not want too much. We should be happy with what we have. Each card has a character and story like this.
Additionally, there are activities on the backs of the cards to help parents with ideas for putting the concept behind the virtue into practice. These include things like games and discussion points. The cards also have Bible verses on their fronts. You can choose from the NIrV (New International Reader's Version), which includes both Old and New Testament verses, or the KJV (King James Version), which is only Old Testament. The KJV includes only OT verses because it was designed with Jewish customers in mind, but you definitely don't have to be Jewish to appreciate the product. They're also available in Spanish.
In addition to the Parenting Cards, I was blessed with the WCV Download Bundle. There's all kinds of cool stuff in there, and it sells for $7.99. This includes all sorts of neat printables including a Teacher's Handbook, Family Character Assessment, Coloring Pages, Awards, and Sing-Along Sheets. Because we don't do much printing, we didn't utilize these too much, but I still think they're great resources. (Also, my kids aren't huge fans of coloring, so that would've been a waste of money to have the coloring sheets printed. But if your kids enjoy coloring, these would be awesome! They're absolutely adorable.) We did, however, do a handwritten version of the Character Assessment, and that was very eye-opening. But mostly we just used the Parenting Cards for our Virtue lessons.
There are two specific instances that were memorable during our time reviewing We Choose Virtues which I would like to share with you guys today. The first is when we were working on Obedience. I chose that one first because it's the area my kids need the most help in. I'm not saying they're bad kids, but the focal point on the obedience card is more than just "I do what I'm told." It is "I obey exactly what you say right away." The difference is subtle, but it's there, and it's important. Did you catch it? The part my kids had trouble with was "right away." On the back of the Obedience card is a game to help kids practice their obedience. The basic gist is that you whisper an instruction to one child, and everyone else is supposed to guess what you told them while they're doing it. It was a good for my boys to put this into action in such a simple, fun way. (And it had them do my living room tidying that day!)
The second one is a bit more "real life." We were studying Perseverance (I do what needs to be done, even when it's tough; I don't give up) the same week we did our soap whittling project while we read Little House in the Big Woods, and Munchkin was getting incredibly frustrated. He was nearly to the point of tears when I took him aside and reminded him of our "Virtue of the Week." He was able to go over the meaning of perseverance with me and recite the catchphrase. Once we'd done that, he took a deep breath and finished his carving. He even liked it in the end! To me, that's a beautiful example of what We Choose Virtues is all about. The idea is not simply to teach your children (or students) what a virtue is, but to help them apply them to their everyday lives.
The long and the short of it is this: We Choose Virtues is a great product for helping parents raising upright, virtuous children. And that's what we want in the next generation.
Blessings,
Wendy
We Choose Virtues has a blog, and they're also on Facebook and Pinterest.
Interested in trying We Choose Virtues? From now through the end of August 2014, use code BTS20 and you can take an additional 20% off anything from their online store.