Because I knit garments, I know the importance of gauge. I don't worry too much about it when I crochet because I use crochet almost exclusively for things where gauge doesn't matter (toys and blankets). When I made a pink elephant a couple of months ago, using the same pattern designer as all the toys I made last year (Jess Huff), it felt a bit small to me. I'd given away all of the toys I made last year (it was really nice having gifts for my kids' friends' birthdays all year long!), so I couldn't compare it to any of those. But just in case I was right and it was too small (maybe my gauge had gotten tighter over the past year), I made a dog with a larger hook size. For the dog, because Jess Huff doesn't have a dog pattern, I used her "Benedict the Bear" pattern, but swapped the ears out for those from Sarah Zimmerman's "Dash the Dog" from the book Crochet Cute Critters.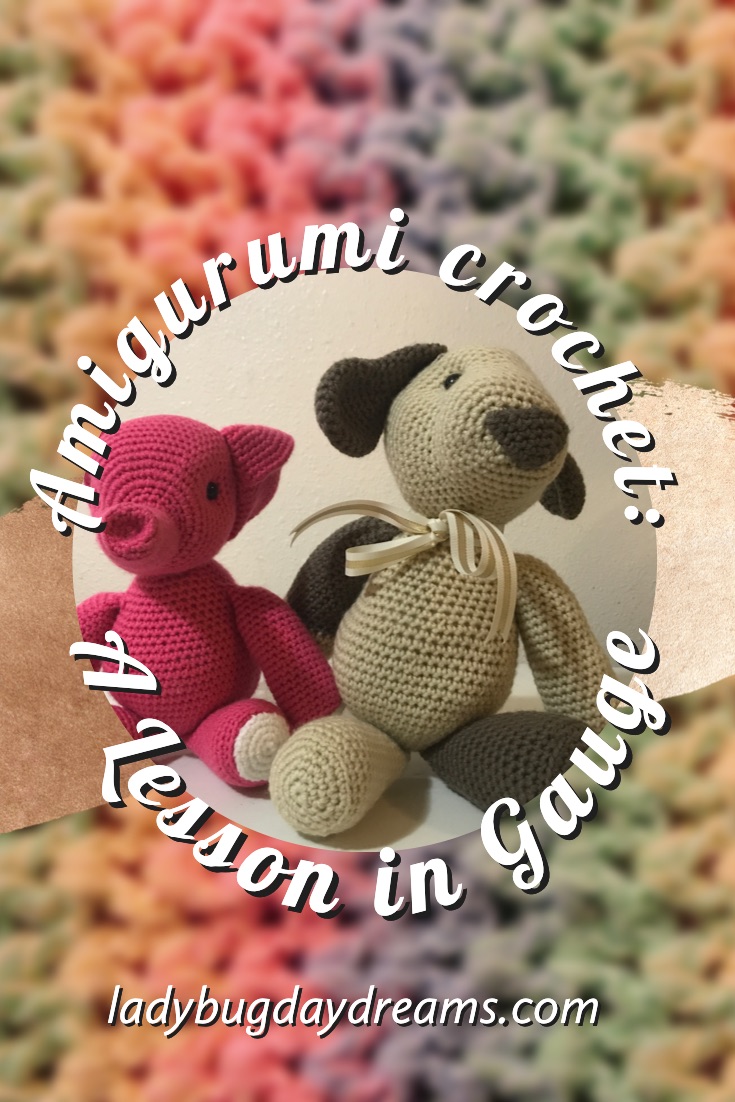 The dog felt pretty good as I was making it. The size was really nice – more what I thought I was expecting when I had been making the elephant. But when I finished him and then got the elephant out to compare the two, I was really surprised at just how big the difference was. I wasn't so clueless as to expect them to be the same size, but the difference between an E hook (3.5mm) and an H hook (5.0mm) was drastic! And it really goes to show just how important gauge can be when you're making something where it matters a whole lot, like a sweater.
A few things to keep in mind as you're crocheting amigurumi toys, though. While a bigger hook will give you a bigger toy, which can definitely be preferable sometimes, it does that because it makes bigger stitches. This means that if you go too big (without sizing up your yarn too), you could end up with holes in your project where the stuffing can poke out. This is definitely not ideal, especially if you're going to give the toy to a child. It's best to follow the recommended hook size that the designer has listed in the pattern. Because gauge doesn't matter for toys (as I mentioned before), it's likely that the designer has chosen that hook size on purpose to work with the stitch count and make a nice-sized toy. I learned this by "overriding" a recommended H hook in a few patterns last year in favor of an E hook to make sure I had tight enough stitches. Those toys, while *fine*, were a whole lot smaller than I expected or liked. An H hook with size 4 yarn is fine for toys. The stitches won't be too big (unless you crochet really loosely). I wouldn't recommend going any bigger than that, though.
If you plan to give the toy to a young child (under 3), you should crochet or embroider small eyes instead of using safety eyes. While I don't normally have trouble with my safety eyes, they're not not foolproof. If your safety eyes do fall out, I've found that a dab of hot glue works wonders with reinstalling them. (Obviously they can't go back in to a finished project.) Just put a little bit of hot glue onto the post of the eye and poke it back in. The glue will adhere to the poly-fil fibers and stay put quite nicely.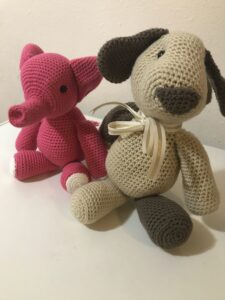 Have you ever been surprised by your knitting or crochet gauge?
Blessings,