The Homeschool Review Crew challenge this week is Fathers – rather appropriate since Father's Day is coming right up here in the US. I'd like to take a small moment to honor the fathers in my life.
Dad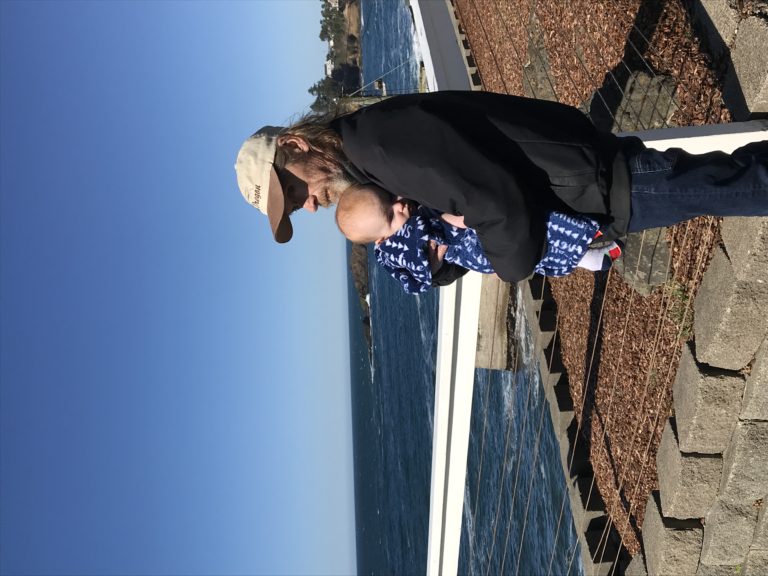 My mom and dad divorced when I was small, so I grew up seeing my dad the standard "every other weekend." Because of this, his love language for us became gifts and experiences – the stereotypical Disneyland Dad. When my brothers (I have two – one is 2 1/2 years younger than me and the other 8 1/2 years younger) and I were small, this meant tons of camping trips, going to the amusement park, bowling and pizza, and movie rentals.
We grew apart during my teenage years, but I realized the folly of my ways a couple years on and clung to him later. When I was old enough to get married, he walked me down the aisle with tears (of joy) in his eyes. When I started having babies, he was always there (maybe not in person, but mentally and emotionally). He was a really great grandfather. I could always count on him to babysit in a pinch, even if he wasn't the "best" at it.
I remember when Dragonfly was a tiny baby, we asked him to babysit so we could take the other boys to see Willy Wonka in the theater (one of the local cinemas ran it when Gene Wilder died). He had to call us before we'd made it all the home because the baby just wouldn't stop crying. Dad was pretty stressed out, but he pulled through. (We were on our way home when he called, so it was just another 10 or 15 minutes of cranky baby for him.)
When Bumblebee was born, Dad couldn't make it to the hospital (he'd moved a couple of hours away by that point), but I called him from the hospital to share the news. Telling him that we'd given the new baby Dad's name as baby's middle was one of the most touching things I've ever experienced. He and his fiancee both cried tears of joy on hearing that news. I don't think I'll ever forget that phone call (I hope I don't anyway).
Last year, I lost my dad to undiagnosed cancer. He was a stubborn man who would never go to a doctor. My mom told me once that when they were still married and Dad was sick, that he made her go to the doctor and give his symptoms as her own in order to get the medicine, and then he'd take it instead of her. Crazy. He knew he had cancer (obviously not officially), but he was tough as nails to the end. I still miss him a lot, but things are easier now than they were a year and a half ago.
John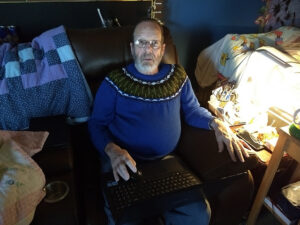 When my parents split up, I was just 5. By the time I was 6, my mom had remarried, and she and my stepdad are still married to this day. John was always a good provider for us. He worked really hard to support the family, and was never one that I had to fight with ("you're not my dad"). He taught me to drive when I was 15, and a lot of the cooking I did in my earlier years came from his recipes too. He has been as much a father figure to me as Dad was. I asked him to join in the "walking down the aisle" duties, but he declined, not wanting to step on my dad's toes on that special day. My kids call him "Grandpa John," and I think he has definitely earned that title.
Will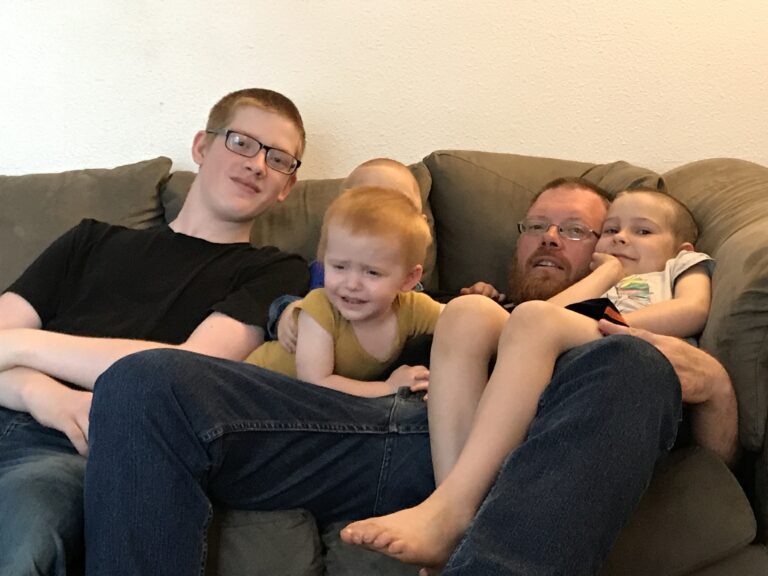 My husband… He is an amazing man, and I don't think I praise him enough. We got married very young, but have stuck together through thick and thin. You know in your wedding vows when you say "for richer or poorer"? We've been both! Fortunately now, we're in a "richer" time in our lives, both financially and in family. He humors me through all of my hobbies, never being stingy on getting me supplies. He has always been supportive in our quest to keep our kids out of daycare. This means that we've been a single-income family for over 17 years. I know that's been stressful for him before, but he never complained. It was important to him too.
When our oldest son was eligible for Kindergarten, sending him to public school was never even something we talked about. Even though sending him off to school would have made things easier (I could have gone back to work), it was as big a priority for Will as it was for me (maybe more so) to keep the boys home for school. He was always willing to help me try to figure out what homeschooling should look like for our family. We spent many hours together in Lakeshore Learning Stores, going over different curricula and workbooks when the teens were small. Now that we've got a younger crop of sons in the early years of their homeschool careers, things are different. But Will is always excited to hear from the boys what they "learned about in school today."
Without him, I can't imagine what my life would be like. I know it would be different, but there's no way it would be better. I am thankful every single day for my husband – the father of my children.
Head over to the Homeschool Review Crew website for other people's takes on the theme "Fathers" today.
Blessings,