When Dragonfly turned 6 last weekend, he decided he wanted a He Man and the Masters of the Universe themed party. It was a lot harder to find decorations for that theme than it was for Cocomelon, so we ended up making a lot of them ourselves using the Cocomelon party kit we'd purchased as a guide.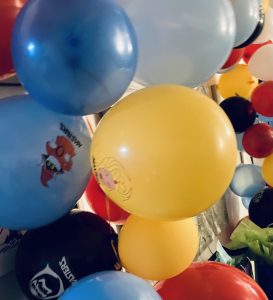 I mostly chose images from online since I wasn't posting them publicly; I knew that within our own home there wouldn't be any issues with copyright. I chose 9 images and used them over and over for the different decorations. Invitations were made easily using a template on Adobe Spark (similar to Canva).
Once those were mailed, it was time for the actual decorations. First, to make the Happy Birthday bunting just inside our front door, I popped each of the images into Photoshop and added one letter to each picture. Then I printed them out, roughly 5×7 (so I was able to get 2 per page). Using the Cocomelon bunting as a template, I cut the images out into a fun shape and then attached them using a blue ribbon.
We were able to find a large banner and a package of themed balloons on Amazon. The day of the party, we blew up the balloons and Ballet Boy tied them all together using a bit of ribbon, and we hung the balloon arch on the wall. We supplemented the themed balloons with some plain ones from Walmart. The banner we were able to get was 9 feet tall and 20 inches wide, so it didn't fit onto the same wall as the Cocomelon banner had. The big kids hung it in the dining room, right over the table where the snacks and cakes were. That ended up being pretty perfect.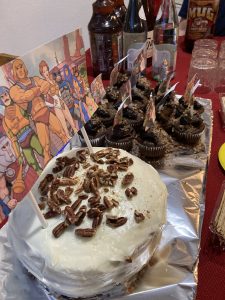 I made two kinds of cakes. I did a carrot cake from scratch and chocolate cupcakes using a box mix. When both were baked, cooled, and frosted, I added toppers to each one. I couldn't find the toothpicks at Walmart, so I used straws to stick them into the cakes. For the big cake, I printed out one of the pictures I mentioned before, but this time without any letters on it.
Our final bit of decor was bringing out all of the kids' He Man toys. They have loads of them; Will was really into He Man when he was a kid, so when the toys started being reissued he was thrilled and has been buying our kids one or two a month for over a year. So yeah… their collection is huge. After the photo ops were done, though, the kids decided to take the toys back into their room and play with their cousins.
Overall, the party was a huge success. It's really fun to prepare and host these themed parties. I'm excited to do it all again next year! (We're all out of birthdays in our family until next July.)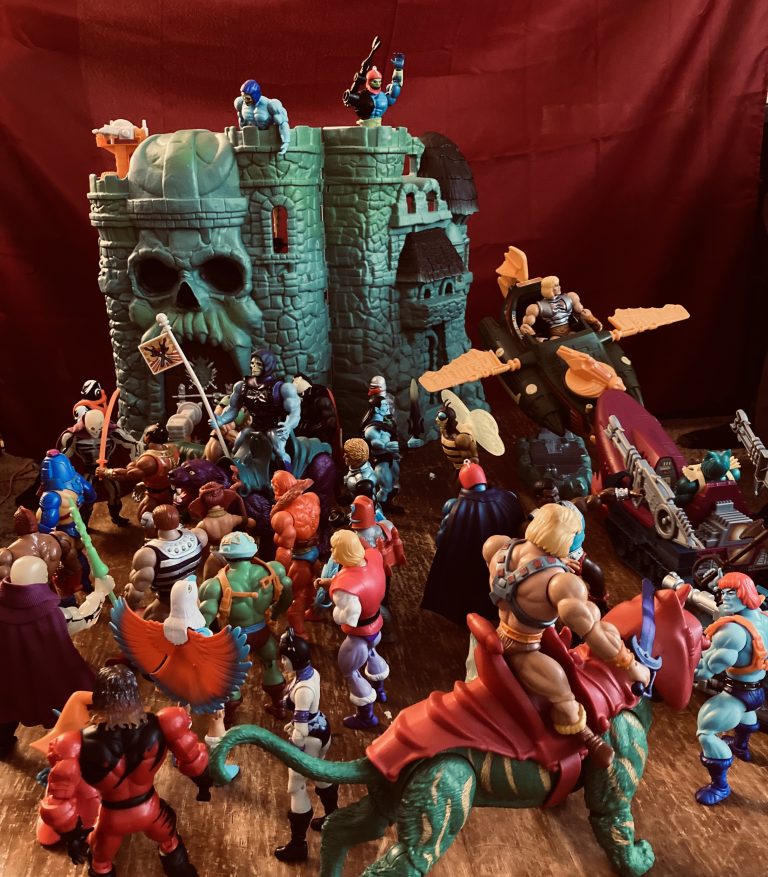 Blessings,