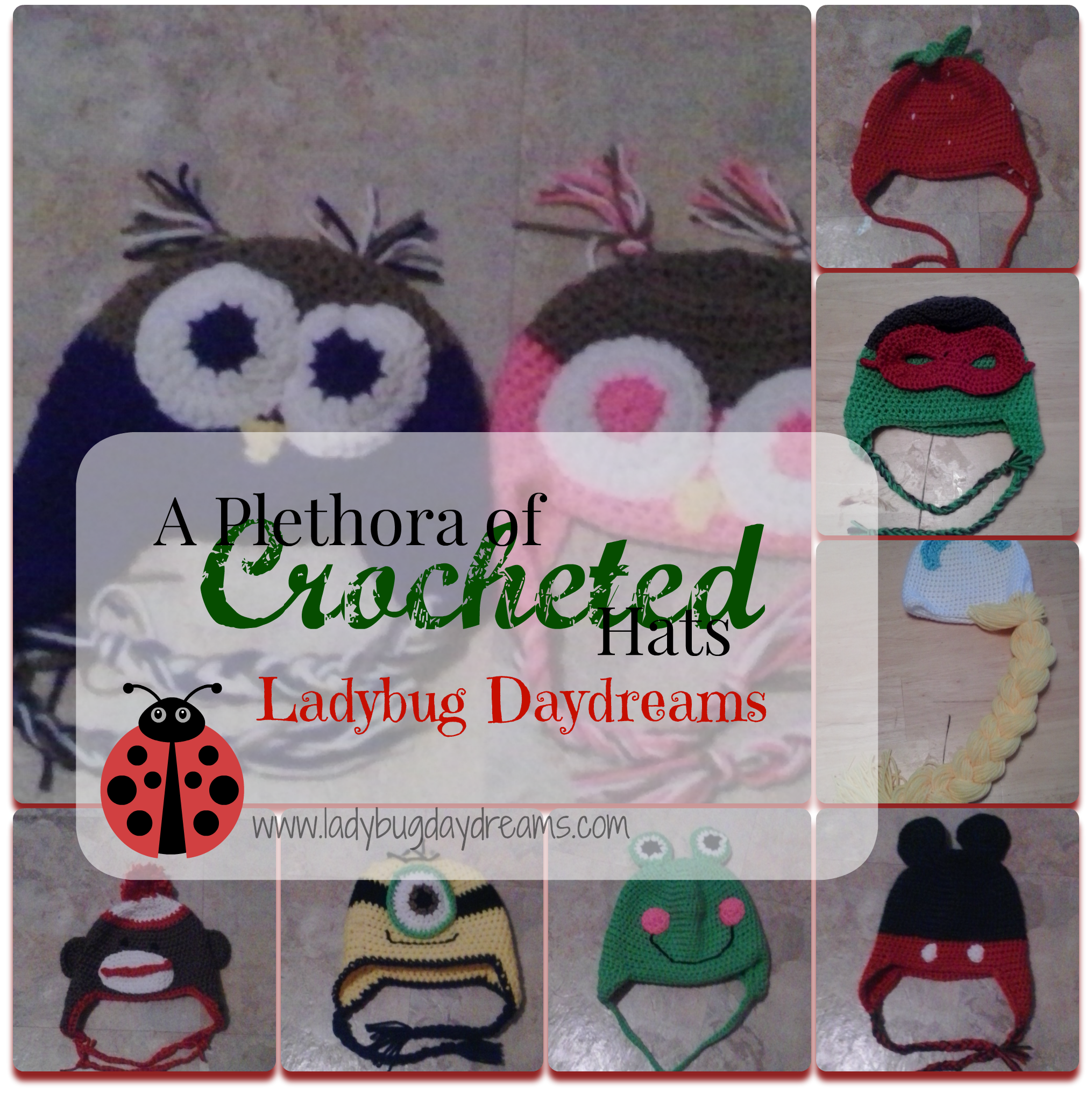 I've been busily crocheting stocking hats for all of our nieces and nephews for Christmas. There are nine of them altogether (five nieces and four nephews), so we could really go broke if we bought toys for each of them, because those are in addition to our own three children. Besides that, it kind of goes against our life philosophy of simplicity to buy cheap plastic toys.
So I try to make something for them each year. Last year was purses for the girls; for the boys we regifted some knitted hats that we'd received. This year, I've made all sorts of fun hats – one for each child. Almost all of my patterns have come from Repeat Crafter Me. She has the absolute best blog for crochet patterns that I've ever seen. I love that she has each hat pattern all spelled out in a variety of sizes. It made it really easy to make exactly the right size for each child.
After having done several using her patterns, I was a bit more confident and ended up modifying one of her hats (the Mickey Mouse one) designing one all on my own (the Ninja Turtle one).
Here are the hats I made, along with a link to the tutorial I used (where applicable).
For my brother's sons:
Mickey Mouse for the four-year-old. (I adjusted the size on this one up using another pattern of hers, but the colors and embellishments are from this link.)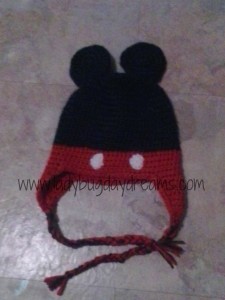 A minion from Despicable Me for his 2 year old brother.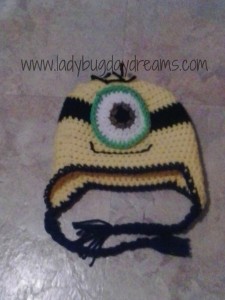 For my half-brother's children:
Elsa from Frozen for the six-year-old girl.
A Ninja Turtle for the three-year-old boy. (No link here because I used the basic theory from Repeat Crafter Me and then embellished on my own.) This one's especially cool because the mask can come off. It's a completely separate piece that's just been woven through a stitch on each side.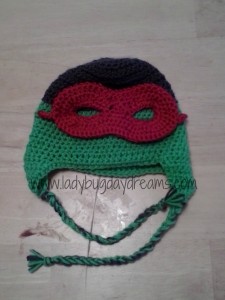 For Will's sister's three kids:
A strawberry for the six-year-old girly-girl.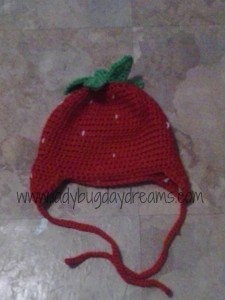 A frog for the five-year-old tomboy.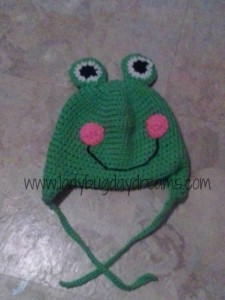 A sock monkey for the 6-month-old baby boy. I chose the sock monkey for him because his mom (Will's sister) loves them. Since he's a little young to have tastes besides "I like carrots" and "I don't like peas," catering to his mom's tastes give this gift the best chance of being a hit.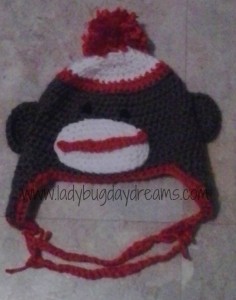 For Will's stepbrother's two girls:
A pair of owls for the five and three year olds.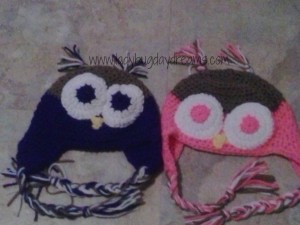 Additionally, our church is doing a "name draw" gift exchange. It wasn't required, but everyone who was interested put their name in a "hat" (a plastic container, really). Babies/toddlers, kids, teens, and adults were put into separate containers, and each person drew a name from the appropriate container. For the three kids we drew (a baby boy, a 6 year old boy, and an 8 year old girl), I'm making hats (of course!). The boy is getting a tiger, the girl is getting a monster (I don't know her well, but my kids assure me she's a tomboy), and I haven't made a firm decision for the baby yet. (The adults we drew are just getting boxes of chocolates.)
On my side of the family, it's just three couples – my mom and stepdad, my brother and his wife, and Will and me. To help alleviate the budget issues there, we alternate which couple we gift for each year. Last year, we had my mom and stepdad, they had my brother, and my brother had us. So this year, everything switches: we have my brother, he has my parents, and my parents have us. Keeping with my theme of the year, I'm going to make adult sized hats (and maybe scarfs, depending on how things go as we start getting closer to Christmas) for my brother and sister-in-law as well. We'll also get them a DVD (or something similarly priced…). Pics of those when they're done :).
Do you have a lot of gifts to buy outside of your immediate family? If so, how do you stay within a budget at Christmastime when it's expected to buy gifts for them?
Blessings,