I recently finished up a blanket showcasing the logo of my favorite NBA team, the Portland Trail Blazers.
For this blanket, I looked in Google images for a pixel graph, then I stitched it up using the corner-to-corner method. I set it aside for a while then to work on other projects (including the Mickey Mouse blanket and some of the sampler squares). One of my sampler squares caught my attention as a wonderful design – so easy and somehow outrageously satisfying – and knew that I wanted to use it for the border of the blanket. It was a simple half double crochet, chain 1 repeat. Perfect for TV or audiobook time!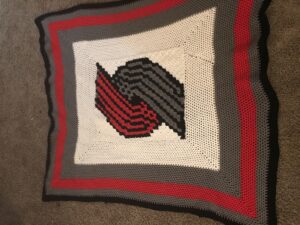 As a bonus, once I finished the blanket and posted a picture on Instagram, an old friend contacted me and commissioned a blanket for her son. It will be a similar design, but with his favorite team.
Have you ever stitched anything in honor of someone else?
Blessings,