It's that time of year again – the time when the Schoolhouse Review Crew votes on their favorite review products from the past year in a variety of categories. I thought it would be fun to share our picks from all the different categories. Links are to my reviews of the products/curricula.
Language Arts
Favorite Reading Program: Star Toaster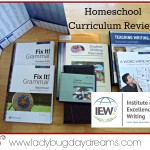 Favorite Writing Curriculum: IEW Student Writing Intensive/Teaching Writing with Structure and Style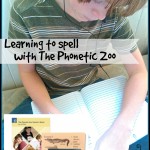 Favorite Spelling Curriculum: IEW The Phonetic Zoo
Favorite Grammar Curriculum: Fix It! Grammar by IEW
Favorite Literature Curriculum: Progeny Press
Other categories that I didn't vote in: Favorite Vocabulary Program, Favorite Penmanship Curriculum
Other Core Subjects
Favorite History/Social Studies curriculum: Brookdale House Drawing Around the World
Favorite History/SS supplement: Brinkman Adventures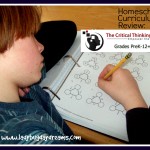 Favorite Science Curriculum: Visual Learning Systems
Favorite Math curriculum: Great Parents Academy
Favorite Math supplement: The Critical Thinking Co. (Pattern Explorer)
I didn't vote in the Favorite Science Supplement category.
Electives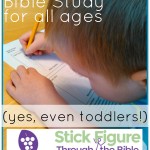 Favorite Christian Education curriculum: Grapevine
Favorite Christian Education supplement: Brinkman Adventures
Other categories: Favorite Foreign Language curriculum, Favorite Fine Arts curriculum, Favorite Elective curriculum
Products for Various Age Groups
Favorite Preschool Product: S is for Smiling Sunrise (book from Wordsbright)
Favorite Elementary Product: The Critical Thinking Co. (Pattern Explorer)
Favorite Middle School Product: Progeny Press
Favorite Parents' Product: Koru Naturals
Other categories: Favorite High School product, Favorite College/College Prep product, Favorite Planning product
Miscellaneous
Best resource I didn't know I needed: Super Teacher Worksheets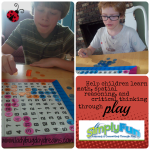 Best online resource: Visual Learning Systems
Best e-product: Progeny Press
Favorite Book, Novel, Audio Drama, or Audio Book: Brinkman Adventures
Just for fun: Simply Fun: Expanders
Where I didn't vote: Favorite Video
Overall Favorite Product from the entire review year
Kids' Choice:
Seahawk: Brinkman Adventures (it was a tossup for him between Brinkman Adventures and Pattern Explorer)
Munchkin: Koru Naturals (I was completely taken aback by this choice, but then I remembered that he'd had a cold during the review period for this product. The emu oil really helped his nose to feel better.)
Small Fry: S is for Smiling Sunrise (He's a bit young to understand what's going on, but he still asks for this book time and time again, so I'm confident that if he knew what "which product did you like best?" meant, he'd pick this one.)
Parents' Choice: IEW The Phonetic Zoo (My biggest frustration/failure as a homeschooling parent is Seahawk's spelling. We've tried a myriad of different curricula and methods, and none seemed to work until this one. He's still got a ways to go, but he's learning spelling rules applying them to his other subjects. That's something he's never done before, so I think we've finally found a winner.)
Obviously, we didn't vote in the Teen Choice category since my oldest just turned 12.
Make sure to check the Crew blog on Monday, November 16th, to find out who the winners are!
Blessings,

Update: The winners are now available on the Schoolhouse Review Crew blog. Make sure to head over and find out who won!