A few months ago, Will bought me a copy of John Grisham's (then) most recent book, A Time for Mercy. I had skipped the past few Grisham novels (nothing wrong with them, I'm sure, but he had been venturing away from legal thrillers, which are my favorites from him). I was excited to read this one, though, because it was to be a sequel to his first novel, A Time to Kill. I had read that book years ago, but had recently rewatched the movie version starring Samuel L. Jackson and Matthew McConaughey.
This post contains spoilers of the book A Time For Mercy.
Plot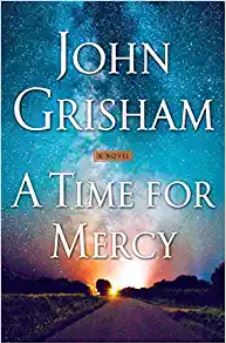 Even though I was in the middle of another book when Will presented me with this one, I dove in right away anyway. The story starts quite dramatically, with a young family (mom Josie and two young teens, Keira and Drew) terrified in their home. They live with the mother's boyfriend, Stuart, and they can hear him coming in, drunk from his night out. This isn't a new thing for Stu, and he often beats the family when he comes home like this. If they had anywhere else to go, they would. This night, he takes things much farther than he ever has before. Drew and Keira hear him beating Josie, but they lock themselves in Keira's room out of sheer terror. When the noise from downstairs ceases, and the kids are fairly sure Stu has gone somewhere else for a while, they sneak down to the kitchen. The sight before them is nothing any child should ever have to see: their mother's boyfriend has literally beaten her to death. Drew, age 16, makes his way to Stuart's room and finds his gun, then shoots the man who killed his mother.
Keira calls 911 and the police and ambulance arrive at the residence. It turns out Josie isn't dead after all, but Stuart certainly is. This, combined with the fact that Stu had already fallen into bed asleep, makes Drew's assumption of self-defense a lot stickier. To make matters worse, Stuart Kofer was a well-respected sheriff's deputy in town. Drew was unknown. So the dead man has a lot more friends than his killer, and in small town Mississippi, something like that can make or break a case.
No lawyer in the entirety of Ford County will touch the case with a 10-foot-pole. The judge finally forcibly assigns it to none other than Jake Brigance, the hero lawyer of A Time to Kill. After having been promised over and over again by the judge that the assignment is only temporary – just until he can get another lawyer to take the case – Jake reluctantly agrees. But of course, being the type of case it is (automatic death-penalty due to the fact that the victim was a cop), no one ever steps forward and Jake is stuck with it all the way through trial. After many twists and turns, including definitive proof that Stuart wasn't the upstanding citizen he was assumed to have been, the case ends in a mistrial. This means that in some future, unwritten novel, young Drew will be forced to stand trial for this murder again.
My Thoughts
I was enthralled by this book from the very first page. I was so excited to have a fresh legal thriller from John Grisham that I had trouble putting the book down at night, no matter how tired I got. I was excited to see how that "definitive proof" I mentioned before (Stuart had been raping Keira and she was pregnant with his child) landed with the jury. As I read the book, I tried to see things from both sides, to be a juror on that case myself, and figure out how I'd vote. It was impossible.
And then I got to the end. The jurors in the novel agreed with me: it was impossible to decide whether to convict young Drew or not. On the one hand, he absolutely killed Stuart, a cop – mandatory death penalty. There was no question about that. On the other hand, it wasn't like Stuart was innocent himself. But, as the prosecutors pointed out, Stuart wasn't the one on trial. Drew was. But that didn't persuade all of the jurors. They simply couldn't agree, and the hung jury meant a mistrial. While I'm confident that was probably an accurate representation of what would have/could have happened if this was based on reality, I found it immensely unsatisfying in a novel. I wanted a more solid conclusion than that.
Despite that, I think Grisham stayed very true to his fictional Ford County, and it was good to see so many familiar characters seamlessly woven in with the new ones. If you don't mind reading a book now that you know all the twists, I highly recommend A Time for Mercy.
Blessings,