Sara Gruen is one of my favorite authors. In fact, having read her 2015 novel At the Water's Edge is what inspired me to start the book club series on my blog.
But that's not what inspired me to read Water for Elephants the first time.
When I first heard of the book back in 2011, it was already five years old. But it was getting the movie treatment right in the midst of the Twilight craze, and back then I was a crazy Twilight fan. How are the two related, you wonder? The male lead in Twilight, Robert Pattinson, was one of the stars of Water for Elephants. Because he was slated to be in the film, I wanted to read the book and then see the movie when it came out. So I got it on Audible and listened to it while making cloth diapers for Grasshopper before he was born. And now I've just read it (really read it, not listened) for the first time. I also rewatched the movie (with Scorpion, who'd never seen it).
And I loved both. Such a great story!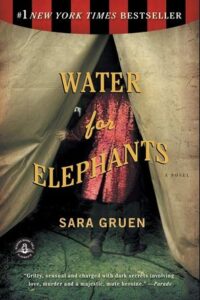 The remainder of this post contains spoilers for the novel and movie Water for Elephants.
My plan for this post, at least in part, is to answer some of the book club questions from my e-book, but first I want to spend a little bit of time comparing the book and the movie.
The story is the same, but there are a few big differences. First, the Uncle Al character in the book didn't make it to the film. Instead, movie-August encompasses both roles. I don't think this took away from the story at all. In fact, as I was reading I found Uncle Al almost distracting because he didn't really seem to add much (despite being the owner of the Benzini Brothers Most Spectacular Show on Earth circus). I liked having August take care of both roles. The fact that he was played by the amazing Christoph Waltz was just icing on the cake.
In the book, we hear from "Old Jacob" about every third chapter. In the film, he appears only at the very beginning at the very end. I think both ways actually work pretty well, but the film version just ekes out the win for me here. It feels more like Old Jacob is actually telling the story from start to finish in the film rather than fighting not to forget his past due to his old age in the book.
Here's a good article describing more of the differences between the book and the film if you're interested. But now, on to some book discussion questions.
In connection with Jacob's formal dinner with August and Marlena in their stateroom, Jacob remarks, "August is gracious, charming, and mischievous." To what extent is this an adequate characterization of August?
This seemed like a pivotal moment in the story to me. It marks the exact time that August first sees Jacob as something of an equal. But Jacob wasn't fooled by August, at least not fully. He can spot the graciousness, the charm. But that mischievous nature is always there, just underneath the surface of August's demeanor. You can never trust him, and in the end that proves more true than anyone realizes.
In his Carnival of the Animals, Ogden Nash wrote, "Elephants are useful friends." In what ways is Rosie a "useful" friend?
I would love to have an elephant for a friend, wouldn't you? They are my absolute favorite animal. And Rosie is a special elephant, for sure. She helps Jacob to survive the Benzini Brothers fiasco (and I don't just mean the stampede at the end). She becomes his best friend, outside of Marlena, and personally I found it a lovely relationship – vet and animal. I'm not sure Jacob would have made it through the ordeal of August, Uncle Al, and his forbidden affair with Marlena (August's wife) without her. That makes for a very useful character, I think.
After Jacob successfully coaches August in Polish commands for Rosie, he observes, "It's only when I catch Rosie actually purring under August's loving ministrations that my conviction starts to crumble. And what I'm left looking at in its place is a terrible thing." What is Jacob left "looking at," and what makes it a "terrible thing"?
This goes back to the first question, doesn't it? That mischievous nature of August's, which slowly morphs and shifts to pure evil by the end of the novel. He's able to perform when needed. He hates Rosie – that's clear from the very beginning of their relationship – but through a careful recitation of words that Rosie can actually understand, he's able to appear to care for her. And that difference – caring vs performing – is a very dangerous thing.
That's all I've got for my book club today. I hope you've enjoyed reading my thoughts on Water for Elephants. Have you ever read the novel? Seen the film? What did you think?
Blessings,