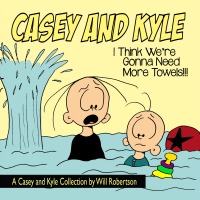 A few weeks ago, Will's new book hit the market. Casey and Kyle: I Think We're Going to Need More Towels!!! is the fourth comic book featuring his characters. To celebrate, we had a book launch party at the library. They graciously offered not only to let us use the room for free, but to be the official hosts for the party. This meant that we were included in all of their email blasts, on the official calendar, and got a spot on the reader board for a few days prior to the event. They even purchased a cake with the book cover on it!
We provided a giveaway (Will donated two of his original "Sunday" cartoons as prizes) and a few games: draw your own Casey and Kyle, "The Rejected Idea Toss" (bean bag toss with crumpled paper instead of bean bags), and get your picture taken with Casey and Kyle (we had life-size cutouts of the characters made).
There was quite a good turnout (better than Beverly Cleary's 100th birthday celebration, but not quite as many as the Elephant and Piggie party). There was a lot of good feedback from the librarians as well as fans of the books, and Will sold quite a few books which was a blessing for our family, too.
If you're interested in learning more about Casey and Kyle, check out Will's website. If you'd like to buy a book, you can do that in his online store (or email me, wmr1601(at)gmail(dot)com, and I can hook you up).
Blessings,