The Schoolhouse Review Crew year is winding down, and as my second-to-last review of the year, I'm pleased to talk about The Brinkman Adventures. These wonderful audio dramas are completely family friendly, and a real delight to listen to. We were blessed to review season 2 last year, and this year we have the privilege of listening to – and writing about – The Brinkman Adventures: Season 3.
The Brinkman Adventures are, like I just mentioned, audio dramas – like the old-time radio shows of the past. What makes them different is that these are dramatic retellings based on the lives of real-life missionaries. There are stories of the fictional family mixed in as well to help keep things interesting and cohesive. I received the physical CD set this year ($27.99 for the physical CDs and $17.99 for the digital downloads), which was nice because it made it easier for us to listen to in the car (that's where our CD player is). We often put the Brinkmans on when we were going on a drive far enough to get through one full episode. Each episode is about 25-30 minutes, so we didn't listen on every trip, but we did often. In addition to this, I used Windows Media Player to transfer the CD files to mp3 and put them on Munchkin's player so we could listen in the house, too.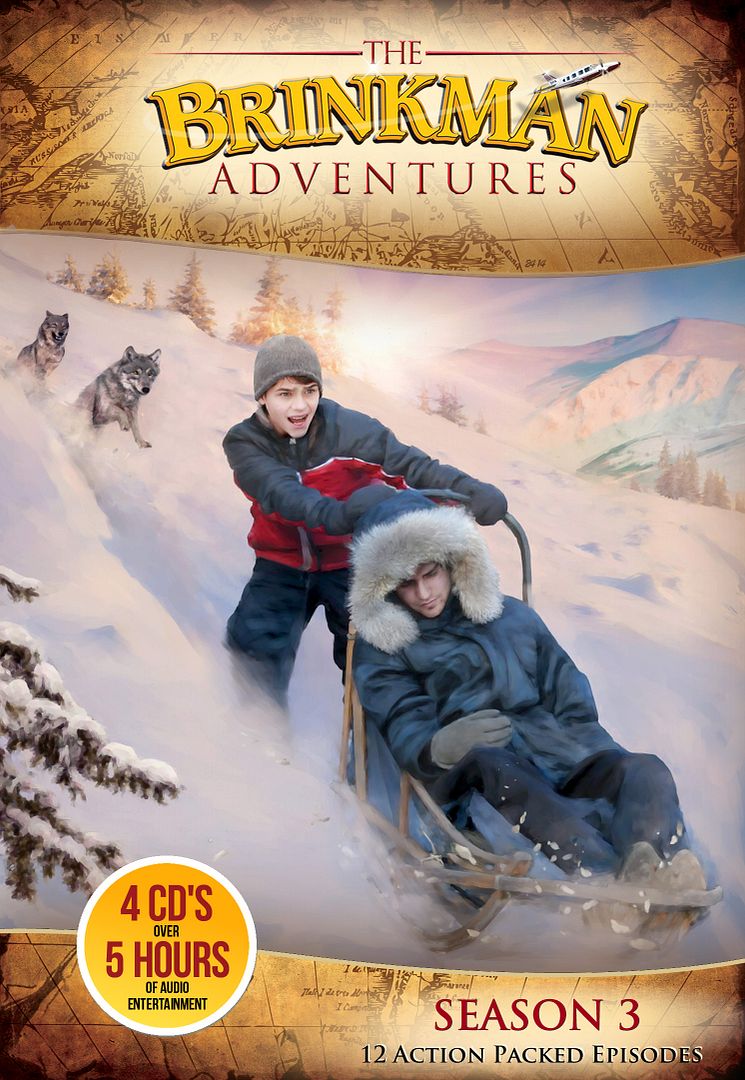 It had been a while since I'd listened to Season 2, but there are some things that are the same – the music and voice actors, for example. I was instantly filled with happiness when the music kicked in on the first episode. I felt like I was rejoining some old friends I hadn't seen (or heard from, more like) in several months. It was really nice.
Season 3 does not pick up where season 2 leaves off, so that makes it feasible to pick up just one season at a time for your family – each series of episodes is stand-alone. The third season opens with the retelling of a story from a missionary who sacrificed everything he had to do God's work. Not only did his father disown him – and cut off all of his financial support – but then, after years on the mission field, he knew that he wasn't doing enough. (My apologies for not remembering the name of the missionary offhand. It's been a while since we listened to this episode.) He prayed that God would give him an "impossible" task. And boy, did He! The missionary was tasked with smuggling bibles into a country where they were illegal. The story of his success is nothing short of miraculous, but I don't want to give the whole thing away here.
And this exciting opening is just the beginning of The Brinkman Adventures: Season 3! We listen to stories from missionaries caught amongst terrorists, spending time in a Taliban jail, and fighting off wolves in Alaska. And that's just the tip of the iceberg for these based-on-true-stories adventures.
Our family really enjoys these stories, and I feel blessed to have gotten the opportunity to listen to the past two seasons of the show. It really helps to uplift your spirits, listening to stories from real life people doing God's work. Adding in the bits about the Brinkman family is simply icing on the cake. Even Will and Small Fry (who didn't listen to Season 2 with us) enjoyed these CDs. I highly recommend them for any family.
If you're unsure as to whether you want to dive in and purchase the whole season yet, you can listen to a full episode absolutely free (it's season 3, episode 9) right on the Brinkman Adventures website. If I can't convince you how good this show is with my words, I know they'll be able to with this sample episode. I hope you'll take a listen. And when you're done listening, you can also find the "stories behind the stories" on their website as well. This turns a casual listening experience into a full-on learning experience. It's simply wonderful.
Blessings,

Click the banner below for a link to 84 other reviews of this season of the Brinkman Adventures from my colleagues at the Schoolhouse Review Crew.