It's October already! I don't know about you, but I'm super excited about that. I adore October and November; they're my favorite months all year long. And I think there are going to be big changes for our family this month. But for now, my fingers are tied on that front.
Instead, let's talk about what books we're reading this month!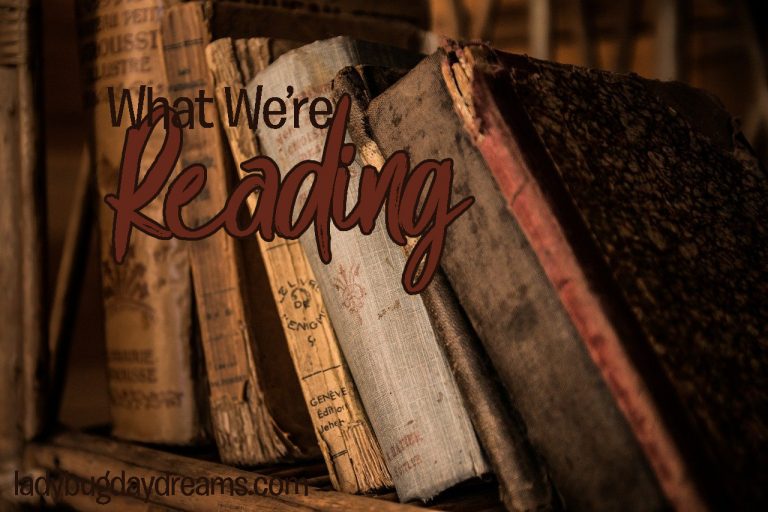 Read Aloud
We're still working through our shelf of beautifully illustrated novels. This month we're going to spend wrapping up both Pinocchio and Harry Potter and the Sorcerer's Stone. (We didn't do as much reading of those as we should have last month.) We're also reading A Cricket in Times Square, and we will have a review on the Progeny Press study guide for that book later in the month!
Scorpion (9th)
As I briefly mentioned last week, Scorpion is reading Frankenstein by Mary Shelley. He will have a hefty portion of guest posting on that Progeny Press review when it comes up in a few weeks. Scorpion has always loved classic novels. From the time he was very young (like 6), he's been reading them. Of course, back then he read children's versions. Now that he's older, I'm glad that he'll get the opportunity to read some of them in their entirety rather than as a "Great Illustrated Classic."
Grasshopper (4th)
We're making great progress with Wayside School, and when he finishes it we'll dive into a book I read a few years ago (it's a kids' book, but I saw it in the store and was intrigued by the plot so I bought it and read it anyway): Circus Mirandus. This is the story of a magical circus that only those who already believe in it can find. The main character must make himself believe so he can find the circus and get in touch with the one person who can help him save his ailing grandfather.
Me
I recently finished reading a book that had been on my to-read list for months, Sooley by John Grisham. It's a stray from his normal legal thriller and explores the world of high-end college basketball through the eyes of a South Sudanese young man in America on a series of emergency visas. I love basketball, so I was pretty sure I'd like this book. It was not entirely what I expected, though, and Amazon reviews on the book are mixed. (I would give it 5 stars.) But that's all I'm going to say for now, because more of my thoughts will be outlined when I feature it in this month's book club post. For my new book, I'm sticking with my Grisham streak and reading an older novel called The Racketeer.
What are you reading this month?
Blessings,