Happy Thanksgiving!
I have a wonderful review and giveaway for you today, and I think the timing is quite fortuitous. Not only are Americans being especially conscientious about thankfulness today, but this book reminds of us of the absolute best gift ever – Jesus Christ.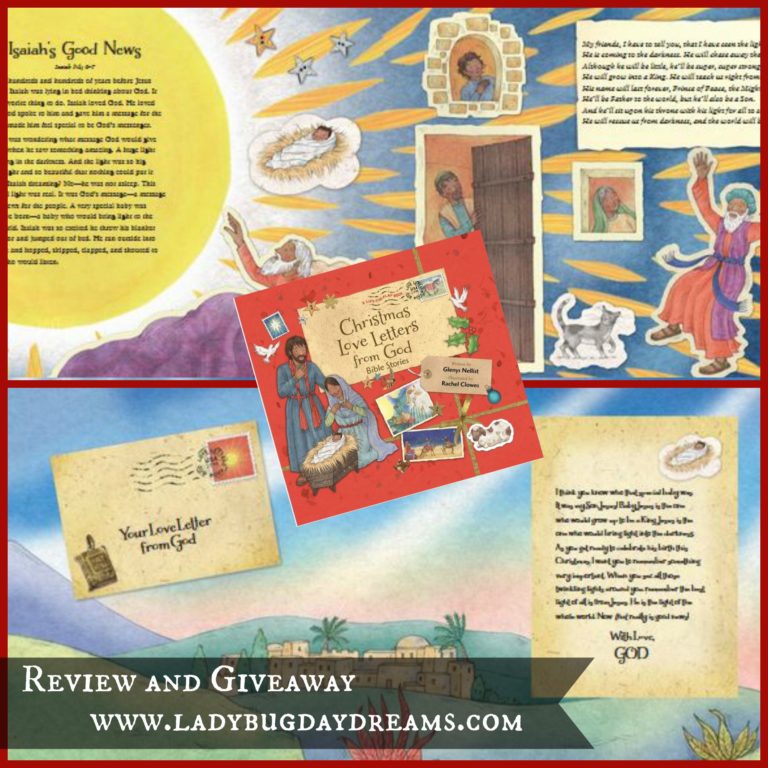 Christmas Love Letters from God is a beautifully illustrated hardcover book that combines prose and rhyme to tell a series of Bible stories, all related to Christmas. The stories are:
Isaiah's Good News
Mary's Song
Joseph's Dream
Bethlehem's Road
Jesus's Joy
Shepherd's Surprise
Wise Men's Wonder
Each of the stories is short – just a couple of paragraphs plus a poem – so it's easy for children as young as 3 or 4 to pay attention. My third son is 4 years old, and he had no problem listening to this book. Once you finish the story, there's a lift-the-flap section that goes along with each one, and these were Small Fry's absolute favorite. These are designed to look like envelopes, and when you open it, the text inside is a letter "from" God that relates to the story. There's even a space on each one to fill in your child's name.
Pictures in this review are from the Kindle edition of the book. In the hardcover, which I received and the winner of the giveaway will receive, the love letter from God is a lift the flap, not a separate image like it is in these pictures.
The words and illustrations in this book work really well together; each is a great complement to the other. The pictures reminded me of a quilt, and I thought that was pretty cozy. Overall, we really loved reading this book, and will continue to read the stories again and again as we near Christmas.
As usual with FlyBy reviews, I get to give a copy of this away to one of you! It's a lovely book that anyone who has or knows a little kid (the book was written for ages 4-8) would be lucky to have. Just fill out the Giveaway Tools widget below to enter. One winner will be chosen randomly sometime during the day on December 1st, 2016. Giveaway is open to residents of the US only; sorry, internationals (I don't make the rules, I just follow them),
I hope everyone (especially fellow Americans) have a wonderful Thanksgiving today.
Blessings,