Over the past 6 months or so, Ballet Boy has been slowly building up his Instagram account. The focus of that account is cool pictures of his ukulele, which he has named "Ben."
When we got to the colder weather, he had an idea to dress Ben up for the cold. He asked me to make a tiny stocking cap and scarf for it. Then, within a week or two of that, we actually got a good amount of snow! That almost never happens around here, so Ballet Boy made sure to take advantage of the beautiful landscape and get some photos.
Today, I want to share his photos as well as the pattern for the tiny hat and scarf. I don't expect many of you to want to dress up a ukulele, but these accessories might fit a doll or favorite stuffed animal too.
For my version of these accessories, I used Big Twist Cotton yarn. This is the JoAnn house brand, and their cotton is actually a cotton/polyester blend. Normally I would use a 100% cotton, but I happened to have this on hand and the color was perfect for a wintry landscape picture.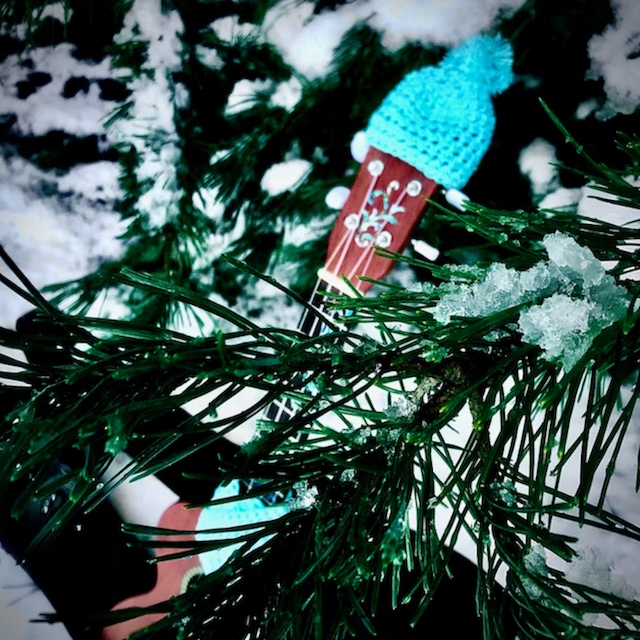 Tiny Crochet Hat
Using a size H crochet hook, make a magic ring. Chain 1 and make 6 half double crochets in the ring. Tighten the loop to close the hole. join to first st with a slst. Ch 1.
Round 2: 2 hdc in each stitch around. Join. Ch 1. (12)
Round 3: *2 hdc in first st, 1 hdc in next st* around. Join. Ch 1. (18)
Round 4: *2 hdc in first st, 1 hdc in next 2 sts* around. Join. Ch 1. (24)
Rounds 5-10: 1 hdc in each stitch. Join. Ch 1.
Fasten off and weave in ends. Optional: Attach a small pompom (homemade or purchased).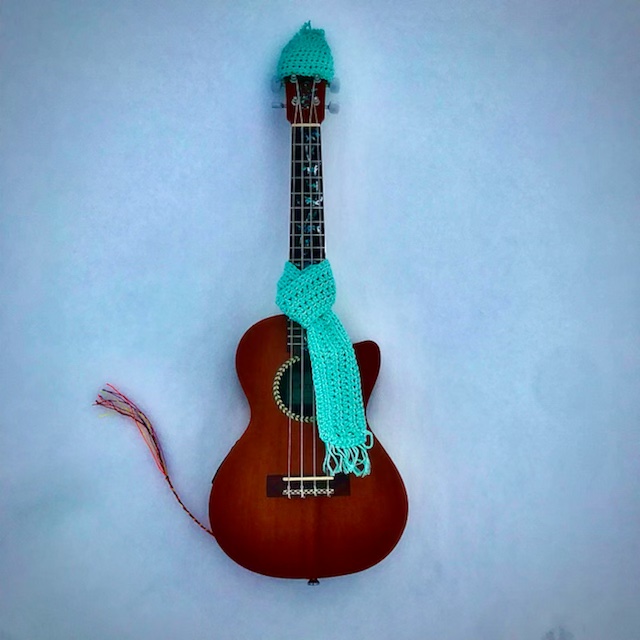 Tiny Scarf
Chain 65.
HDC in second chain from hook and each chain across. Ch 1; turn.
Rows 2-7: HDC in each stitch all the way across. Ch 1; turn.
Fasten off. Weave in ends. Optional: Attach fringe using matching or coordinating yarn.
If you enjoyed seeing these pictures, make sure to follow "A Ukulele Named Ben" on Instagram. Ballet Boy has lots of amazing pictures of his ukulele there!
Blessings,