I have a fun crochet pattern to share with you today. A couple of weeks ago, Ballet Boy asked me to make him a long cowl, but I've been so busy with other projects that it took me a while to get done. I finally found the perfect yarn for the project and was able to get started. It only took a few days for me to make (it was one of two projects I had going at the time), and we are both so happy with how it turned out. He gets compliments on it everywhere he goes (so he tells me).
I used Big Twist Party yarn in the color Beach, but you could use any worsted weight yarn you'd like and it would turn out beautifully. The ribbing on the scarf is so well defined all the way through, and I think it's a really nice texture for a scarf. It gives a lot of visual interest without being difficult to crochet. And because of the infinity scarf style, there are a thousand and one different ways you can wear it! Ballet Boy's favorite way (which turned out to be a surprise to us both as it wasn't something he'd been considering before I finished the creation) is to put it around his waist, cross it over his chest, and loop it over his neck. This gives him extra warmth around his body as well as up around his neck for those really cold days.
Crochet Vertical Rib Infinity Scarf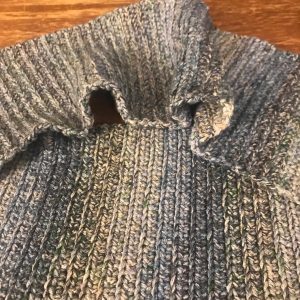 Chain 35.
Row 1: HDC in second chain from hook and each chain across. Chain 1; turn. (34)
Row 2: Slip stitch into the back loops only (BLO) of each stitch across. Chain 1; turn. (34)
Row 3: HDC into the BLO of each stitch across. Chain 1; turn. (34)
Repeat rows 2 and 3 until scarf is desired length. I made Ballet Boy's 55 inches, using a size I crochet hook. You use whatever hook and yarn you like, though, so long as they play nicely together.
End the repeat with a row 3. Loop the two ends together, right sides out, and slip stitch through the front loop of one side and the back loop of the other side to join.
Blessings,