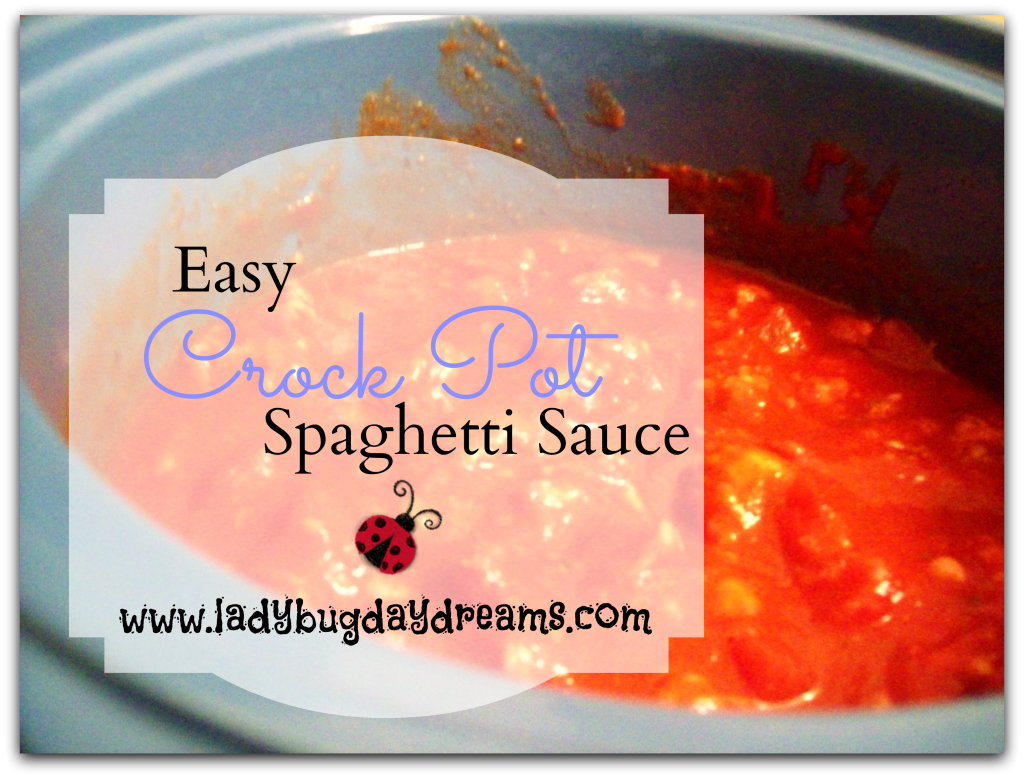 On last week's menu plan post, I was asked about my crock pot spaghetti, so I decided to do a post about it. It's really very simple, and I hope the recipe isn't disappointing to you guys. I only cook the sauce in the crock pot, not everything, but I gotta tell you: it sure makes our house smell wonderful to come into on Sunday afternoons after church. We love this tradition!
I hope you like this recipe as much as we do.
Blessings,

Crock Pot Spaghetti Sauce
2015-03-12 01:11:36
Serves 5
Quick and easy spaghetti sauce prepared in the crock pot.
Nutrition Facts
Amount Per Serving
* Percent Daily Values are based on a 2,000 calorie diet. Your Daily Values may be higher or lower depending on your calorie needs.
Ingredients
2 cans tomato sauce (8 ounces each)
1 can diced tomatoes (14.5 ounces)
1 cup water
2 packets spaghetti seasoning (any brand)
1 pound Italian sausage, uncooked
Optional
mushrooms (canned or fresh)
Instructions
In your crock pot, combine the first 4 ingredients, and the mushrooms if using. Mix well to dissolve the seasoning mix.
Crumble the sausage into over the top of the sauce. (Your hands are the best tool for this job.)
Mix the sausage into the sauce.
At this point, you can cook the sauce immediately or put it in the fridge until you're ready for it.
When you're ready to cook it, place the crock into the base and cook on high for 4-5 hours.
At the end of the cooking time, prepare your pasta according to package directions.
Serve the sauce over the pasta.
Ladybug Daydreams https://www.ladybugdaydreams.com/