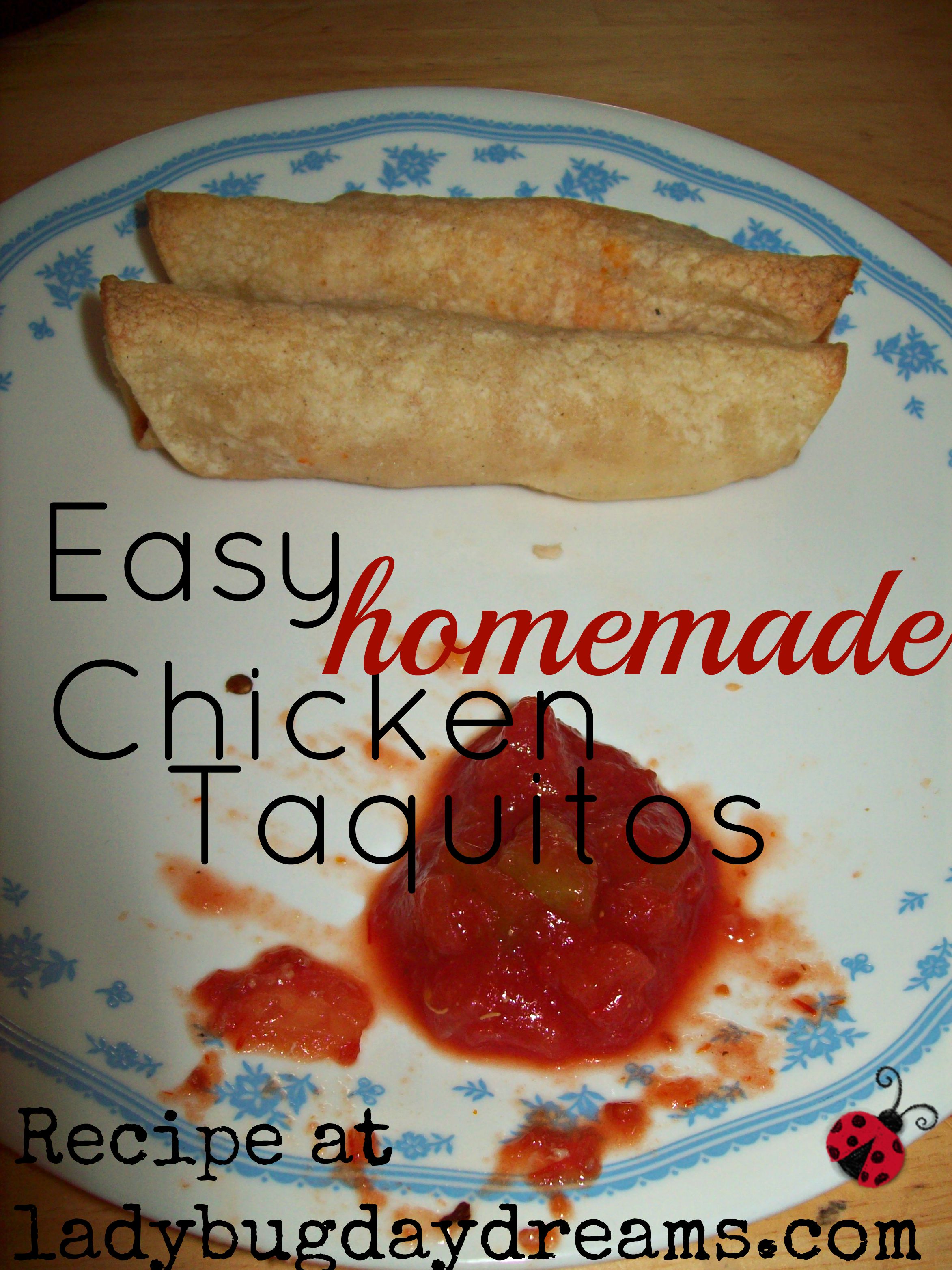 Have you ever had taquitos? I only have a few times, but the other day, I got one of those pregnancy cravings for them. Don't ask where it came from since they're not something I eat often enough to really "know" about, but there it was. So I looked up the basic method on my favorite recipe website (allrecipes.com) and modified it to fit our tastes, budget, and what we had on hand. Enjoy!
Blessings,

Easy Chicken Taquitos
2015-07-18 23:48:50
Nutrition Facts
Amount Per Serving
* Percent Daily Values are based on a 2,000 calorie diet. Your Daily Values may be higher or lower depending on your calorie needs.
Ingredients
30 corn tortillas
6 boneless, skinless chicken breasts
1 cup salsa (your favorite)
1/2 cup shredded cheddar cheese, optional
oil, for brushing
For the filling
Poach the chicken breasts in broth or water for 10-15 minutes, until cooked through. (Poaching is recipe talk for boiling.)
Shred the chicken using two forks.
Add the salsa and toss to coat, using the same forks that you shredded the chicken with.
To build the taquitos
Coat a large baking sheet (mine is 11x17) with oil.
Warm your tortillas. This makes them easier to roll and less likely to crack and break. You can do this by wrapping them in damp towels and microwaving, placing them in a hot oven for 10-15 minutes, or warming them in a dry skillet for 30-60 seconds per side.
Place a small amount of the chicken mixture on the edge of a tortilla.
Top with a slight sprinkling of cheese, if using.
Roll the tortilla up tight.
Place seam side down on the prepared baking sheet.
Repeat with remaining tortillas.
Brush each taquito with oil. This helps them get nice and crispy in the oven without drying out.
Bake at 475F for 15 minutes.
Let cool 5 minutes before serving.
Notes
When the taquitos are rolled properly, they should look like super-skinny enchiladas without sauce.
Serving ideas
Add additional salsa, some sour cream, and/or guacamole to each plate for dipping.
Serve taquitos just like you would enchiladas or other Mexican fare, with Spanish (or Mexican) rice and refried beans.
Ladybug Daydreams https://www.ladybugdaydreams.com/