Bonjour! I think it's important to teach children a foreign language, and in the past several years I've read conflicting reports about what the "most used" language in the world is. It seems to vary between English and French, depending on which report you read. (The most recent one I read said that French had overtaken English, but it's been a few months so it might have changed back again.) Combine that with the fact that I learned French when I was in high school (forever ago!), and it was an easy choice to have my boys learn French as their foreign language.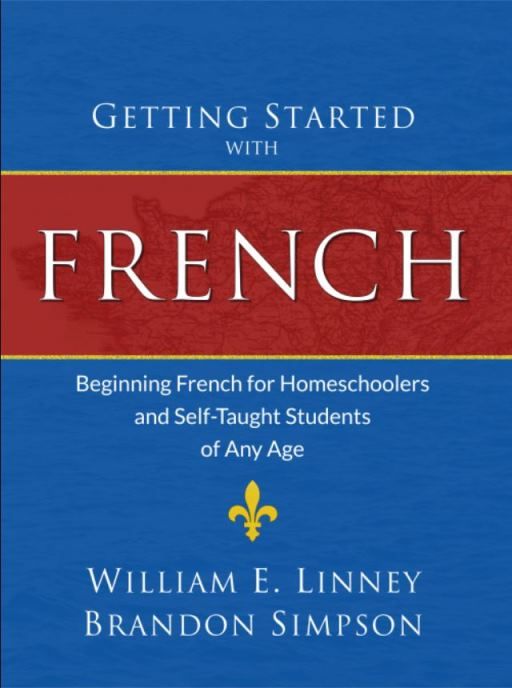 In our pursuit of the "perfect" language curriculum, we've tried lots of different things. (Spoiler alert: there's no such thing as the perfect option.) We typically use computer-based curricula for foreign language because, even though I know some French, I'm far from fluent – even pseudo-fluent enough to teach it effectively. When I learned that members of the Schoolhouse Review Crew were being offered the chance to try out Getting Started with French from Armfield Academic Press, I wanted to give it a chance.
Getting Started with French is a softcover book with 172 lessons and over 280 pages. The lessons are very short (usually just 1-2 pages, sometimes not even a full page), with each one introducing just a few vocabulary words or a single concept. Some of the lessons don't even teach any new French, but instead a concept in English that you'll need for upcoming lessons (what an article is – a, an, the – for example). A lot of the early lessons focus on French pronunciation, which is quite different from English. To help even further with this, the company's website has a free set of mp3 recordings you can download to help you.
As  you progress through the lessons, they get more complex (as should be expected). You learn the different ways to conjugate verbs and how to read and build sentences. Getting Started with French relies on a translation method, which can be "controversial" depending on who you ask (a lot of scholars say that immersion is the best technique for learning a new language). Once the new word or words are introduced and explained, there's a list of French phrases (no more than what's already been taught) and students are instructed to translate them into English. This can be done in writing or orally/mentally.
My intention when I asked to review this book was to work through it with Will in the evenings after the boys went to bed; I thought it would give us something constructive to do at night rather than just watching TV. Unfortunately, he wasn't keen on the translation method and opted not to work on it, so I did it myself. I was able to skip the first several lessons because of my history with the language. The book was a bit easy for me, even though I haven't used my French language skills in so many years; I had a great teacher, and the things she taught me have really stuck with me.
That said, I think this book would be a really good starting point for anyone who wants to learn French and is more comfortable having some English to rely on. Immersion might be the "best" technique, but it can definitely be frustrating at times. I personally don't think there's anything wrong with the translation method, especially for older students (it's how I learned). I find that even in an immersion program, you find yourself trying to translate, so it's okay to just embrace that and allow yourself to understand what you're learning.
I would highly recommend this book for someone looking for a gentle introduction to French. The approach is slow and steady, but you really do learn a lot in just a few minutes (they recommend 30) a day. If you have a friend who's willing to learn along with you, that's even better because then you can practice with each other! Because this is such a slow build to the language, I think it would also be good for children who are beginning to learn English grammar, too. They can learn the concepts in English and then apply them in both English and French.
Overall, even this book wasn't exactly what I was hoping for, I did get some good stuff out of it, and I will definitely employ some of the vocabulary and technique as my family continues to expand our knowledge of the French language. In fact, the more I think about how I used it myself, the more I think I missed an opportunity with the boys; by starting them at a later lesson (because they definitely don't need the early stuff about how French pronunciation is different from English pronunciation), I think this would be an amazing supplement to their other curriculum, and one I'll probably implement later this week.
And what if you don't want to teach French in your homeschool? No problem! Armfield Academic Press also offers Getting Started with Latin and Getting Started with Spanish. They're also developing Getting Started with Russian, which will be available soon (though I don't know exactly how soon).
Blessings,