Disclosure: I received this complimentary product through the Homeschool Review Crew.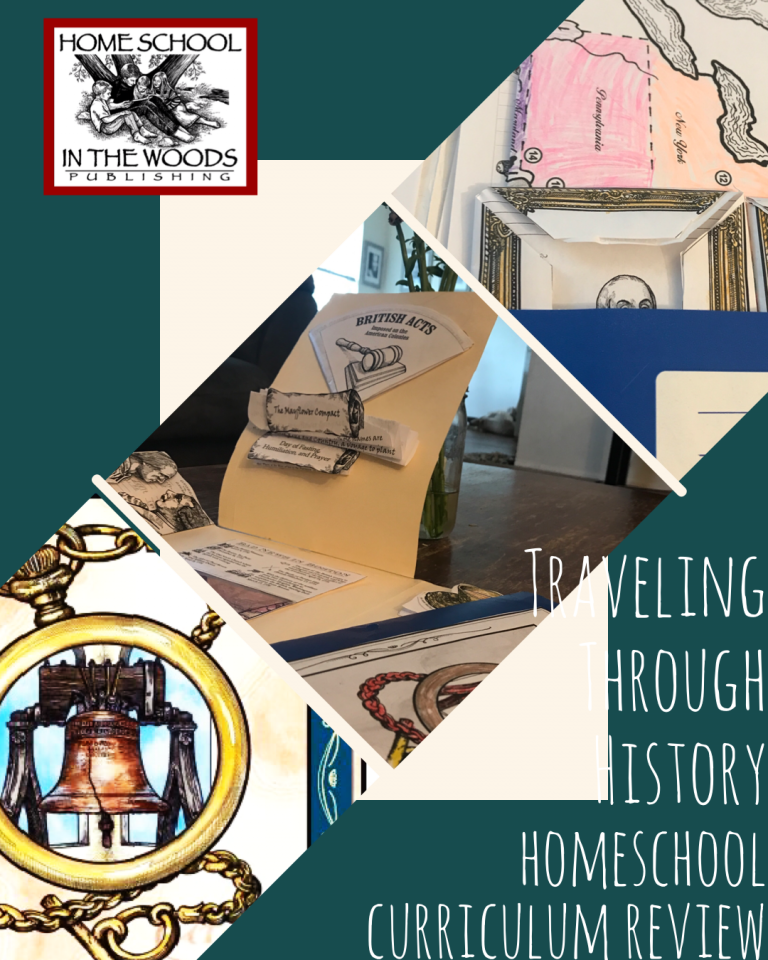 I have reviewed quite a few products from Home School in the Woods in the past, and I've got the biggest one yet to share today. For the past five weeks or so, Grasshopper and I have been diving into Time Travelers U.S History Studies: The American Revolution. I knew this would be a well-written, intense curriculum, but I was amazed by just how in depth it went! Let me tell you all about it.
The Files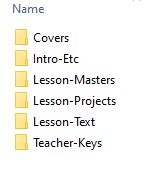 When you purchase a Time Travelers digital download kit (of which there are many!) from Home School in the Woods, it downloads as a zip file. It's super easy to extract the files; just use the extraction wizard on your computer. I was super overwhelmed by the sheer number of files at first, but as I continued to dig around in the folders in preparation of teaching the unit, I really got a good feel for how they were organized. They are sorted into four sections, but I only ever used two of them: Menus and PDFs (and Menus was only used once or twice). PDFs in the main bread and butter of the program, and where you'll spend most of your time.
When you open the PDFs folder, there are 6 subfolders, and most of those will get used quite often, with the exception of "covers." You'll only need that one for the initial printing (as its name suggests, it has the cover images for the lap book and notebook portions of the study).
Intro-Etc has things like the acknowledgements from the authors, a list of additional resources you can utilize while working through the study, and tips for using the study. But the most important thing in that folder is the lesson planner. For the first week, I referred to in on the computer, but after that I decided it would actually be better to have it printed out even though it felt kind of wasteful to me. But because it was a landscape oriented document, it was sideways in Adobe Acrobat, and that made it a bit cumbersome to read on the screen.
Lesson-Masters is the real meat of the product, and this is where you'll do most of the printing for your students from. It has every single thing you need to complete the notebook and lap book for the unit study. I'll dive more into these pages in the next section, "How we used it."
Lesson-Projects is a very useful folder. It is divided up into lessons (there are 25 in this study), and it explains how to create each thing you do in the day. This is especially helpful in some of the more complicated lap book elements.
Lesson-Text is the reading portion of the study. Each day gets its own PDF, and each of those is 1-3 pages long.
Teacher-Keys is just what it sounds like: answer keys for the different pages.
How We Used It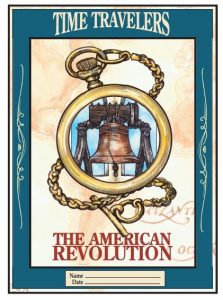 I spent a bit of time just getting a feel for the study before I did anything else. I received the files in my email on a Thursday, and spent much of Friday and the weekend going over everything so I could understand how it all worked. By Sunday night, I had a pretty good idea, and then I did the first week's printing. (I did all of the printing one week at a time; it was less cumbersome for me that way. You could, of course, do all the printing at once and store the pages until you need them if that works better for you.)
Each day, I would look over what projects were expected to be completed and would pull those papers out of our folder. I set everything aside, only giving Grasshopper one page/activity at a time. I'd usually find a simple one for him to work on while I read the lesson text aloud to him. I tried to stick to things like basic coloring or cutting for the lesson time so that he could focus on listening to me read.
Besides the lesson text, there are two main components to the study: the lap book and the notebook. You can choose to do just one of them, but we did both. Grasshopper is at that sweet spot where he's young enough to still love doing lap books, but also old enough to benefit from notebooking. So I seized on that ability. The schedule clearly labels whether something is "notebook" or "lap book," so if you're only doing one of them, it's easy to cherry pick the pages you need.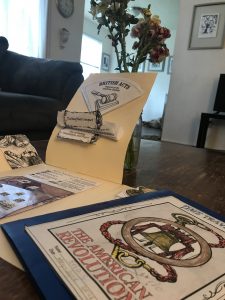 For his notebook, we just picked up a basic folder from Walmart (I think it cost me a quarter), and then I also bought a packet of file folders for the lap book because we didn't have any. We've been keeping all of the completed notebook pages on the right side of the folder, and the week's worth of printouts on the left. This relaxed organizational method might not work for others, but it's been great for us.
One thing we've done differently from the suggested schedule is building the lap book. The schedule has your child create all of the mini books and store them in a baggie, then create the entire lap book on day 24. We were too excited for that! So we have been building the lap book as we go. It might end up slightly less "rigid" in the end, but that's okay. Grasshopper is learning so much and having fun every single day.
Final Thoughts
I can't recommend Home School in the Woods enough. A lot of their things can feel pretty overwhelming, but that's because they're so well written. I won't lie: it takes a lot of printing. A lot, a lot. So if you don't have access to a good printer (and by "good" I mean one that will give you more than 30 printed sheets per ink cartridge), this might not be the product for you (and believe me, I've been there in the past). But if you do have access to a good printer, you should seriously consider looking at the different Time Traveler kits. They have them for pretty much all periods in American history (up through WWII).
If you're looking for something more "supplementary" and less "full curriculum," allow me to suggest the Timeline sets. There are four to choose from, and they go from Creation to modern times. The timelines are a great visual for kids of all ages, too – in fact, Home School in the Woods has them listed as a K-12 product, which means you can supplement literally curriculum and make an awesome family-wide keepsake. You can choose from Creation to Christ (Beginning – 100 AD); Resurrection to Revolution (0 – 1799 AD); Napoleon to Now (1750 – modern day); and America's History (explorers to 21st century).
Members of the Homeschool Review Crew have had the honor of reviewing a wide variety of products from Home School in the Woods (including all of the timelines I mentioned before, different eras of Time Travelers Studies, and more), and I highly recommend you check out their reviews! You won't regret it.
Blessings,