My oldest son decided to go the GED route (which I've mentioned before). But I'm encouraging my second son, Scorpion, to pursue a homeschool diploma instead. He'll be starting 9th grade in September, so we're in full on planning mode now. In my internet searches, I found Khan Academy. I've heard of them before, but never really looked into them very much. But when I saw that they have an app, I knew that it just might be a good fit for my technology-loving, visual learner!
This post will likely feel a bit like a review, but it's completely unsponsored. I just want to talk about our high school plan for Scorpion, to both share with you a potentially new curriculum as well as give us some accountability moving forward.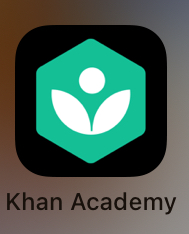 I signed up for an account before I ever told him about the idea of using this program, and from there I was able to easily create a student account for him. I used the website to go over all the different options for classes, and then I assigned him the subjects I want him to take. We're on summer break now, but he spent a couple of weeks in the app to get a good feel for it so that it would be smooth sailing when school starts in the fall. Here's what he'll be working on.
9th Grade Reading and Vocabulary
This course is still in beta mode, which means they're potentially working out some kinks. It also redirects to the website because of that, rather than showing up right in the app. The course has three main components: Borders, Social Psychology, and The Apocalypse. Each of the sections follows the same basic outline, but with a different emphasis (fiction vs poetry vs informational text for example).
Grammar
It's no secret that I'm a grammar nerd. I live for good grammar, and it's one of my favorite subjects to teach my kids. I even do professional copy editing for Will's book design business. But I care more about making sure that commas are properly placed and shouldn't be a semicolon instead, rather than keeping track of all the nuanced and advanced concepts of high school grammar. So I am more than happy to let Khan Academy take over the teaching here!
The Grammar course has 10 sections, and each one has between 600 and 1300 "mastery points." Students work through all the different topics, earning their points to pass the class. It starts easy, with things your student should have learned in elementary school (nouns and verbs). By the end of the course, they're into more complicated things like "syntax: sentences and clauses." It even includes a style section at the very end of the course!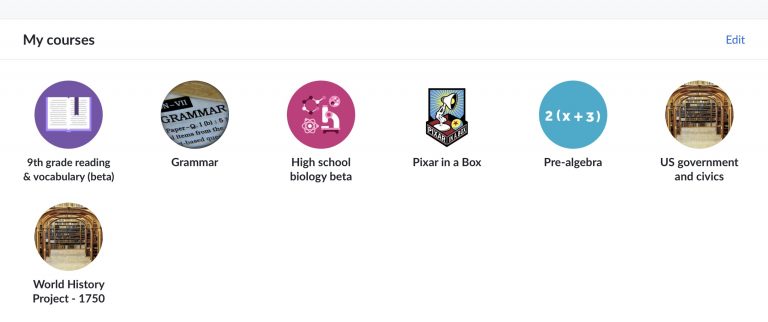 High School Biology
This course is also in beta mode, but it works in the app. At the time of this writing, it has two main sections: Matter and Energy in Ecosystems and Interactions in Ecosystems. Each of those sections, when you click through, has a fair number of lessons. Scorpion hasn't delved very much into this course, but it looks to be a good balance between videos and digital worksheets.
Pre-Algebra
I have a hard time remembering sometimes that my kids are not the same as me – or each other. Scorpion has always been better at reading and literature than math. He has always struggled with math, which is why he's taking pre-algebra in ninth grade instead of seventh. (I know that sounds like a slight on him, and it's not. It's just that pre-algebra in seventh grade was the only reference point I had for the subject until recently because that's when I took it.)
This class works pretty much identically to grammar, with mastery points. The difference, of course, is that the subject is numbers and not words. I'm excited for him to get a good grasp on these concepts this year!
US Government and Civics
This is another mastery points course. It has a fraction the number of mastery points available, so I think it's a semester course. It covers everything needed for a good foundation in government: foundations of American democracy, interactions among branches of government, civil liberties and civil rights, citizenship, American political ideologies and beliefs, political participation, and more.
World History (1750-)
There were two or three world history courses on Khan Academy to choose from, so I let Scorpion choose what he wanted to do, and he picked 1750-modern times. Again, this course works on a points system. There are a total of 9 main headings, and each one moves through 3-6 subheadings.
Pixar in a Box
Animation is Scorpion's passion. He has his own YouTube channel where he posts original animations he's made. So for his elective this year, I found found this Pixar course for him to take. I'm excited to see how much he learns from the course, and especially to see how well he likes it once he gets into it. It will be neat to see how he takes what he learns in this course and applies it to his own animations over the course of the school year.
As I mentioned before, Scorpion has done just a little bit of the work so far, enough to get a feel for the program before we dive in fully next academic year. Here are his thoughts so far:
Khan Academy is an online learning platform for kids of all ages. So far I've been using it for a few weeks, and I'm loving it so far. It has a very user friendly interface, and easy to complete lessons. The lessons take about five minutes to complete and are fun and not too difficult. Khan Academy is a perfect choice for children and teenagers alike.
What's your plan for homeschooling high school? I'd love to hear in the comments what you are doing/have done.
Blessings,