I was privileged to get to review the "plain" set of Kwik Stix earlier this year as a part of the Homeschool Review Crew, and recently The Pencil Grip, Inc. contacted me to see if I'd be interested in doing a second review and giveaway, this time of the "Metalix" and "Neon" varieties. I asked my kids if they were interested, and I was met with a resounding, "Yes!" So here we are.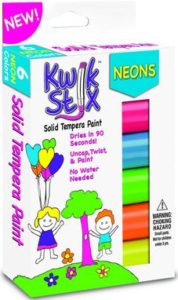 In case you missed it last spring, Kwik Stix are solid tempera paints in a tube, not unlike a glue stick. The main difference is that instead of a solid glue, they're filled with a solid paint. These are ideal for young kids for a few reasons. First, they're solid. There's approximately 0.5% chance of making a mess. (I can't say that it's an absolute zero because a: kids might paint where they're not supposed to and b: if your kids are too impatient, there is the possibility of smudging paint from the paper to the table or other surface.) Second, they dry very quickly. Very quickly meaning, in about 90 seconds.
So, what can you use Kwik Stix to paint on? Anything! I've used them to paint primarily on paper and wood, and they work very well on both of those mediums. For this review, I want to focus primarily on our holiday decorating uses for them.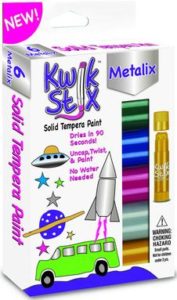 As I've mentioned before, I've been busily knitting sweaters for our extended family members for Christmas gifts. Some of them will undoubtedly get wrapped in boxes and wrapping paper, but some will end up in gift bags. My local yarn store provides really nice paper bags instead of grocery-store-style plastic bags, and they look just like plain gift bags, so we've been saving those and keeping them nice each time I buy yarn or other knitting supplies. Then we used the Metalix Kwik Stix to paint holiday designs on them. I think they turned out just about perfectly.
Unfortunately, I don't have any photos good enough to post here of the artwork we've made using Kwik Stix, but we have definitely been using them.
Because I know they work well on wood, these would also be a great way to create your own Christmas tree ornaments. The possibilities for Kwik Stix are borderline endless!
Kwik Stix are available on Amazon, Target.com, and in Target stores. If you're not in a hurry to get your set, though, be sure to enter the giveaway below for your chance to win a set of either the Metalix or Neon Kwik Stix. Use the Giveaway Tools widget to enter.
Blessings,