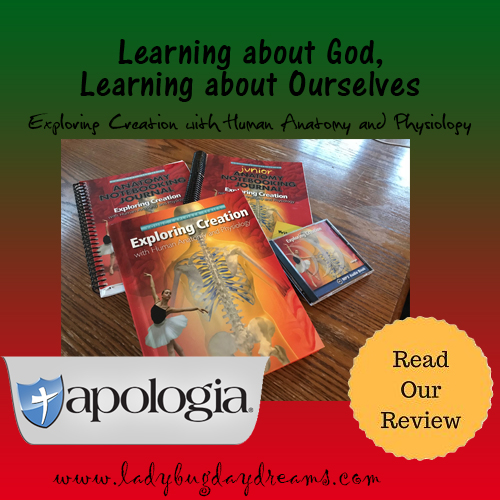 Munchkin, Small Fry, and I have had so much fun the past few weeks working on our new anatomy course – Exploring Creation with Human Anatomy and Physiology from Apologia. We were blessed to receive the full set, including the text book, the notebooking journal, the junior notebooking journal, and the mp3 CD. I love that we have both of the notebooking journals. The regular journal is perfect for Munchkin (a young 6th grader) and the junior version is just right for Small Fry (a typical kindergartner). Not having any kids in between those two means they can't often do any lessons together, but this one was one that they both are enjoying immensely.
As many in the homeschool community know, Apologia is one of the biggest providers of faith-based science curricula (besides their other offerings). They have a multitude of options, and their "Exploring Creation" series (of which Anatomy and Physiology is a part of) is geared toward the K-6 crowd. Each title in the series goes in-depth through an aspect of elementary-level science with honoring God and his creation at the forefront of each topic.
How We Used It
In each notebooing journal, there is a suggested schedule to follow, which has you "doing" science twice a week. Being a bit unsure as to how else to run things, I started with this as my baseline.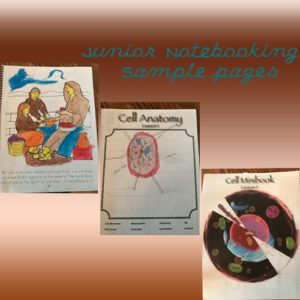 Each day starts with some reading. Older children could easily do this on their own. Because I was also working with a kindergartner (who doesn't yet read on his own), I decided to read the text aloud to both of my boys. We'd gather up the three books at the dinner table and dive in. The reading is broken up into manageable chunks, which is good for both the reader and the student(s). After reading roughly 2-3 pages, there's a place (printed in blue in the textbook so it's hard to miss) to stop and have your student narrate back to you what they just learned. I really liked this aspect because it helped me to make sure that the boys were understanding what was being taught. They both did a very good job of being able to remember the things in each section, which really pleased me. They may not have remembered the exact names of things, but they remembered enough of the basics to satisfy me that they were, in fact, learning the material.
In case you're not really digging the idea of reading an entire textbook aloud, or you student isn't much of a reader, you can get the companion mp3 CD. The CD opens with an introduction explaining what you're about to hear and how you should use the audiobook – namely, with the textbook in front of you because while the text itself is presented in the audiobook, things like the experiments are not. Where those show up in the text, the narrator (who happens to be text author Jeannie Fulbright) just tells you that a "Try This" exists there and that you should stop the CD to look over (and hopefully do) the experiment. This intro is given by a man with a pleasant speaking voice.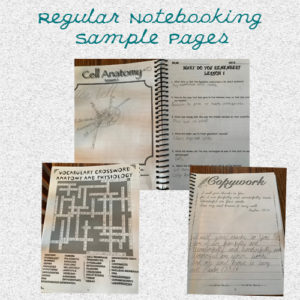 After the introduction is over, the text begins right at the opening page. The author reads her book with great diction and expression. It's obvious from her reading that she's very passionate about her work, and that's a good thing. The thing that surprised me the most about her reading was how young her voice sounded (but that's not a bad thing!).
The CD is split up into tracks based on the lesson number and topic heading within that lesson (if I was reading the mp3 reader on the computer correctly). That makes it quite easy to navigate right to where you need to go on lessons after the first one, which is a nice feature considering each lesson is broken up into four days of work.
One thing to know about the CD is that it's not a regular CD; it's an mp3 CD, which means it won't play in a traditional CD or DVD player. You need something with mp3 capabilities (in our case, Will's laptop), which is the main reason we didn't use it. His computer is rarely available for us to use for school because he needs it for work most days.
After this reading (or listening), there is a page or two in the notebooking journal to work on. In the Junior Notebooking Journal, this is usually coloring pages. I let Small Fry color these pages while he listened to me read – I know I have an easier time focusing if my hands are busy, and he's proving to be the same (actually, all of my kids are). In the regular Notebooking Journal, it was pages to make note of what was learned (which helps to reinforce concepts beyond just the oral narration).
Then there was more reading and narration (some days).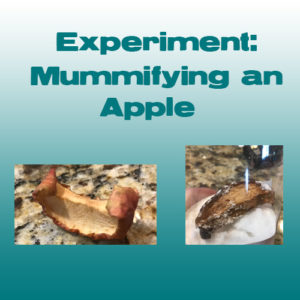 Sprinkled throughout are also experiments, so even if/when there was a lot of reading, there were some really fun activities to break it all up besides just the "worksheets." These experiments are described right in the text, so there's no need to try to find things that correspond with the lesson you're working on. You will need some supplies for these experiments, but they're nothing super abnormal. For example, of the first two activities, one required plastic cups, apple slices (one apple's worth), salt, Epsom salt, and baking soda. Stuff that a lot of people have on hand anyway, and even if you don't, they're quite inexpensive in the regular grocery store. The second one only required a zipper-top baggie and a bit of water (to make a magnifying glass of sorts). Easy. If you're concerned about your ability to get all of the supplies in time for the lesson, you can find kits online for this course that include every single thing you need for each experiment in the book, all sorted out by lesson. We didn't get one of these this time, but it was definitely something I considered. In the end, we opted to just pick up the stuff as we needed it, which hasn't been a problem yet. And if you don't get a kit and do find out that you're short on supplies for an experiment, it's not a major deal to skip some and just do the ones that work into your home and family. This is what we ended up doing (though I did make sure we were able to cover as many of them as possible). Included in the front of the textbook was an experiment page that included the basic questions – what is the procedure for the experiment? What do you expect to happen? What actually happened? What did you learn from this experiment? For each experiment, I photocopied this page for each child. I had Munchkin do the page on his own and I let Small Fry dictate to me his answers.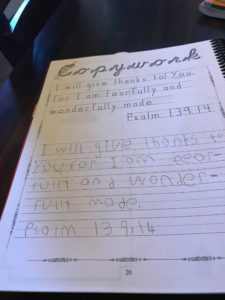 When you finish up the lesson reading (on day 4), there are a few other pages in the Notebooking Journals that you have the option of having your child work through, including things like mini books, copy work, and crossword puzzles. We did most of these because besides reinforcing what was learned over the past two weeks, they were just fun.
What We Thought
As I've mentioned throughout different points in this review, we have really enjoyed this science course. I love that my kids are learning all about their own bodies and how they work, all under the heading of "God made you this way; isn't it amazing?" The kids, especially Small Fry, have really like learning about human bodies (their favorite so far is the chapter on bones). I think Small Fry really thrives on the consistency of the lessons – knowing that it will happen a couple of days each week is really good for him. He craves a schedule, and has really thrived on having one in these lessons. Munchkin is similar, but at the same time old enough to a) schedule himself what he needs to do each day and b) feel lucky when things work out to where the school day is shorter than expected for one reason or another.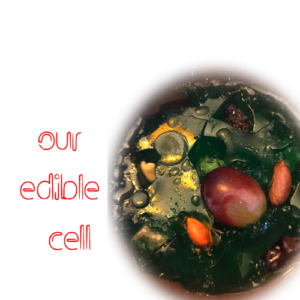 Bottom line: Will we continue to work through this class now that we don't "have to" (per our obligations as curriculum reviewers)? Yes! I can see how my kids are thriving on these lessons, and I have no desire to take them away from the boys. We will absolutely be continuing this course.
There are lots more reviews of Exploring Creation with Human Anatomy and Physiology on the Homeschool Review Crew this week. Make sure to click the banner below if you're interested in reading more thoughts from real-life homeschool moms and kids on the class.
Blessings,