My mom recently gave me a decor piece that she's had for as long as I can remember – a wood cutout of a crescent moon with stairs and banisters, and three stars to match. She told me that her grandfather made it, and I'm really glad to have it in my own home now (even though it'll be weird going to her house and not seeing it anymore). Even though I never met her grandfather (that I can remember), it feels like a piece of my own history to have this, and I'm really glad that she gave it to me.
But… I've been watching a lot of Dollar Tree DIY videos on YouTube lately, and they inspired me to take this family heirloom piece and give it a bit of a makeover. As much as I loved the piece before, I really like it a lot more now. Here's what I did.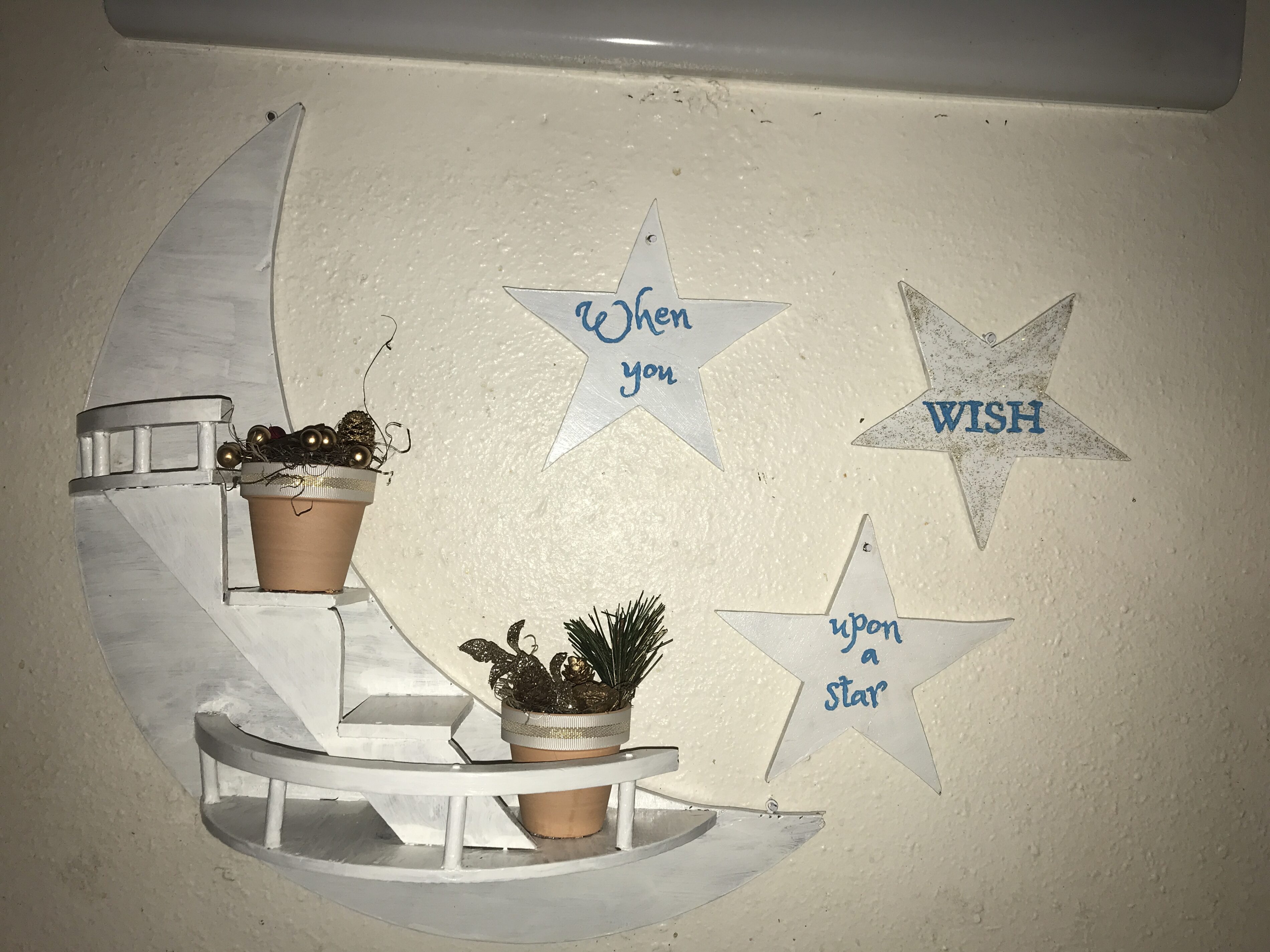 I started with a coat of white paint. I just used Apple Barrel White gloss finish paint because that's what I had on hand. I really like the feeling of the gloss finish paint, and it's not so glossy that it's shiny. It just gives a very smooth finish to your work. I didn't trust myself to be able to put the piece back together if I took it apart, so I did my best to just paint into the nooks and crannies of the entire piece. The stars were a lot easier because they're flat. I didn't bother painting the backs of any of the elements. I like knowing that they're still the original color wood – it's another reminder of my ancestry and the man who created the piece.
I chose to put the phrase "When you wish upon a star" onto the stars, and I knew I wanted the word WISH to be on its own star, and I wanted that one to have gold glitter. Other than that, I didn't have a super specific design in mind. So I got onto the computer and found a font I liked (I used Garamond in all caps for WISH and Princess Sofia for the rest of the words), then typed the phrase into Word and printed it out. I used the same transfer method as on my most recent welcome sign to add the words to the stars, then painted them with Apple Barrel paint in the color Cool Blue. When the paint dried, I added a bit of gold glitter glue to the WISH star and spread it out with my finger to cover the entire star.
My mom never put anything on the stairs that I can remember, but I wanted to utilize that space for something pretty. I picked up a package of 3 mini terra cotta pots from the Dollar Tree, as well as a roll of ribbon, some Spanish moss, and "vase filler," which was basically some miniature gold painted pinecones and other random bits of stuff that matched. I used hot glue to attach the ribbon to the tops of the pots, right where the rim is. Then I filled the pots with the moss (hot glued in place for security), then hot glued some pieces from the vase filler on top. Each one is a little different. (There are only 2 in the picture because I wasn't sure I wanted to use all three, but decided later that I absolutely did want that.) Finally, I hot glued the pots onto the stairs. I did this so that I wouldn't have to worry about them falling off, but also so that in a pinch, they would be removable.
Have you ever taken a piece from your past and given it new life?
Blessings,