Disclaimer: I received a FREE copy of this product through the HOMESCHOOL REVIEW CREW in exchange for my honest review. I was not required to write a positive review, nor was I compensated in any other way.
When you're homeschooling a wide age range of students, I don't think you can have too many subscriptions to homeschool help services. This is why I was open to reviewing My Teaching Library when asked. I knew that there would be plenty here that we would be able to use. For this review, I'll be talking about the Download Club, to which I received a one-year membership.
My Teaching Library is a site that has a huge range of resources for kids PreK-12, and this makes it different from other services, and makes it different from what I thought it would be. I expected it to be mostly worksheets, but it's so much more than that! You can browse their offerings by age/grade, subject, or newest resources. They have options for all your regular subjects (math, language arts, etc), but also some that can be harder to come by, like foreign languages (American Sign Language, French, or Spanish). In addition to standard things you'd use for your students, they also have classroom posters, printable diplomas, games, flashcards, and more. Let's dig a little deeper into what we used in our home.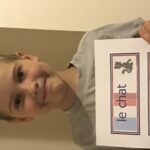 I was immediately drawn to the French curriculum. We used to use Rosetta Stone to learn French, but that was on an old computer that has since died, and we haven't put it on my new laptop yet. And besides that, sometimes paper things work better for younger kids. So I downloaded from the French archives: animal names, family vocabulary, months of the year and days of the week, basic weather terms, number words 0-20, and the colors poster.
Some of the items were flashcards and others were posters. All follow the model of "show, don't translate," though. The animal flashcards, for example, name the animal in French and offer a picture. None of them have the English name for the animal. The same goes for all of them. The main difference between the posters and the flashcards is that the flashcards have definition lines to cut; the posters are a series of images with a common border.
One thing that threw me off a little bit at first was that when you click "download," the files don't go to your computer straightaway like a normal download. From the point you click download, they go to your downloads folder within the site itself. You have to then go to your account screen, then to downloads, and download "again," at which point it will go onto your computer. I think I would prefer to have it be a traditional download instead; I don't see the purpose behind having to go to a different page to download the files properly. Or at least give the first "download" a different name, like "add to your dashboard" or something.
The Download Club is available for $45 a year, or for $225 you can buy lifetime access. It allows you unlimited downloads to every single one of their worksheets, flashcard sets, and unit studies. If you're not sure you want to commit fully to that, you can also buy things a la carte. The French PDFs we used range from $1-$3 each. They have full textbooks available in many subjects (including upper grades science and math) for a wide price range. There is quite literally everything you could possibly need available for one price – and it covers ALL of your children! What could be better than that?
I am super excited about all of the different options available on My Teaching Library. This will definitely become something I go back to again and again for resources.
Make sure to head over to the Homeschool Review Crew blog for more reviews.
Blessings,