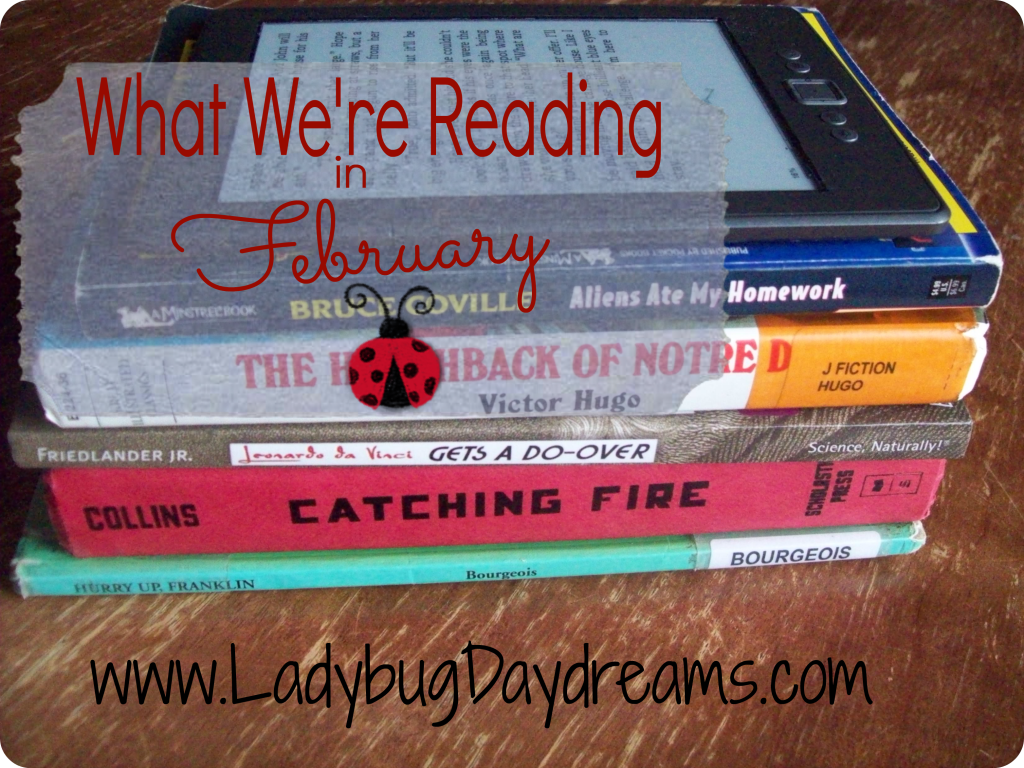 So. Reading lists. We didn't do so well last month, I'm afraid. Actually, I suppose that's not entirely fair. I didn't do so well. The children did wonderfully. Allow me to elaborate. And explain.
First, our read-aloud didn't happen. Don't get me wrong; I tried to read it to the kids. But Elijah of Buxton wasn't a very good book. (My apologies to Christopher Paul Curtis.) It was one of those books that is written from the point of view of someone with bad English, and so the book itself was riddled with bad grammar and pronunciation (afore instead of before, for example). I just have a hard time respecting books like that. I don't have a problem with the authors – unless the book is badly written due to incompetence. Just the books. The point behind reading is to help the kids learn to read, write, and express themselves properly, and when authors write bad books on purpose, they don't accomplish any of those things. So, even for book club, I wasn't going to endorse that book. And for the record, the kids didn't go to book club in January, either. I have a rule that if they don't read the book, they don't go to book club. Even if it wasn't their fault this time, we still didn't send them. (Not all of the parents have this rule. Munchkin says that any given month, only about half or less of the students have read the book.)
I didn't write about what I was reading in January. That's probably because I didn't have anything I was really "into." I did end up reading most of The Strange Case of Dr. Jekyll and Mr. Hyde by Robert Louis Stevenson. We got that for free for the Kindle forever ago, and Munchkin read the Great Illustrated Classics version last summer. I decided it was probably time I should read the real one, and I could have a conversation about the book with him. But, since I'm a girl, it didn't really move me that much. (Not to say that girls can't enjoy a good thriller/murder mystery. That's not my point at all. Just that this one didn't grab me as much as I'd hoped.) I probably will finish it at some point, but for now, I'm reading other things.
And this brings me to our February reading list…
Read-Aloud – Everyone
We have two this month. First, Will is reading the Great Illustrated Classic version of The Hunchback of Notre Dame to everyone. We typically read three or four chapters in a shot, and are about two-thirds of the way through it now – after only 3 sessions. He's a huge fan of Victor Hugo, and has read quite a few of his books. His favorite is Les Miserables, but there's not a kid-friendly version of that, so the next best thing in his opinion is Hunchback.
I'm also reading a book to the boys during our school hours. I received for a review (which won't show up here on the blog, but will eventually be on The Old Schoolhouse homeschool review site) a book called Leonardo da Vinci Gets a Do-Over. It opens on the (fictionalized) death scene of the famous artist and inventor, and then the first chapter jumps forward in time 500 years. The main idea is that da Vinci was so far ahead of his time that he must have been born in the wrong era. So, thanks a gypsy's spell, he gets to come back to life in our time, with the catch being that he must invent or discover something that will better mankind. If he doesn't, his "second death" will be even worse than his first one was. If this sounds like the kind of book your kids would enjoy, you can get the book fairly inexpensively on Amazon, and if you go to the publisher's website, they have a free teacher's guide you can download to turn the book into a whole unit study.
Me
You know that I finished reading The Bracelet recently, so I'm reading my second book as a Book Look Bloggers reviewer. It's called Love at Mistletoe Inn, and while I'm not quite as enamored with it as I was with The Bracelet, it's a light, easy read.
Seahawk – 5th Grade
After successfully completing The Hunger Games, Seahawk will be moving right along to Catching Fire. I look forward to him finishing this one, because it was my favorite of the three when I read the books (back when Small Fry was a newborn). I'll be interested in seeing if he shares my opinion. And, more specifically, seeing if he shares my opinion of Mockingjay when he reads that in March. (Short story: I hated it. Thought it was a lousy ending to a great series. It was probably the ending the series needed, but I didn't find it entertaining to read at all.)
Munchkin – 3rd Grade
He, of course, is reading the new book club book, Aliens Ate My Homework by Bruce Coville. I'm not familiar with the Alien books, but I have read others by Mr. Coville when I was a kid (Jeremy Thatcher, Dragon Hatcher, anyone?), so I'm confident that this book will have proper writing. Book club happens on February 18th this month (it's always the third Wednesday of the month), so he'll have about a week and a half to fill when he finishes Aliens. I'll probably let him choose his own book to finish out the month when we go to book club – something fairly easy that he can read quickly.
Small Fry – age 2 1/2
Our little guy is still totally into Franklin, but we've expanded his horizons this month to include Curious George. We started with just one from the library – Curious George and the Dinosaur – and he really likes it. He'll frequently ask for someone to read "rawr" to him. This is, of course, the sound a dinosaur makes. 🙂
What are you reading this month?
Blessings,

This post was shared on Read-Aloud Wednesday at As We Walk Along the Road.