Bible storybooks are a great way to introduce the scriptures to young children. As our society becomes more and more technologically inclined, apps and programs come out that can be a distraction, though. Planet 316 and WorthyKids/Ideals have combined to create the Planet 316 Story Bible and the companion Planet 316 Story Bible App, a physical Bible storybook that works simultaneously with an app to create a super fun, "augmented reality" experience.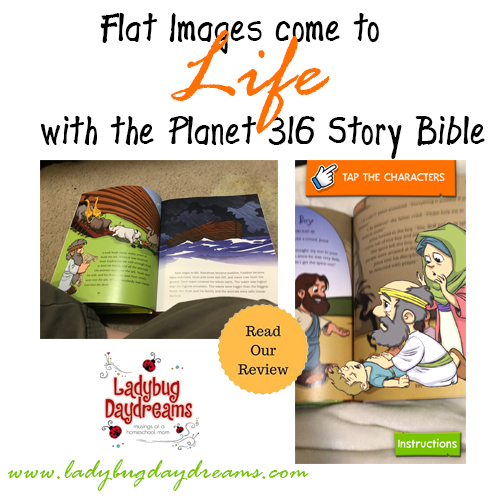 The way it works is this: purchase your book (the cover price is $18.99, but when you click the "buy" link, it takes you to Amazon where you can get it for $14.96 as of the date of this post) and download the free app, which is available for both Android and Apple products. I downloaded it to both my iPhone and iPad, just so we'd have options in case one or the other wasn't available (dead battery, for example). The first time you use the app, you'll need to grant it access to your camera, otherwise it can't "read" the images on the book's pages. Once you have both, open the book and aim your device's camera shutter at the picture. On the screen, you'll see the Bible come to life! Parts of the pictures appear to literally jump off the page, music plays, and most of the time the characters even talk. It's really neat.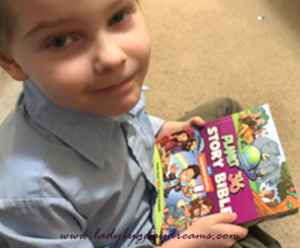 I used this with both Small Fry (5) and Dragonfly (2). It was our go-to bedtime story for a while. I would read the pages to them, then we'd do the augmented reality portion for that page. The kids would take turns tapping the characters (which is how you make them say their lines). Several of the stories run just one spread, but many of them take more than one also. In a single night, it was easy to read 4 or 5 stories without it seeming like too much for a bedtime story (not that there's ever such a thing as too much scripture, but you know what I mean).
My kids have really loved this product. It combines two of their very favorite things: being read to and getting to use the iPad. I really enjoyed it too. The augmented reality technology is really fascinating, and it really helps to bring the stories to life for young children. Sometimes the characters' words are quite comedic (for example, on the day he was created, Adam says, "It's my birthday!"), but sometimes they're somber enough for the mood of the story they're in. Adding that little bit of life to the Bible really helps kids to be able to understand that those things actually happened, too. Even though they only speak a sentence or two at a time, something about having a voice besides Mom saying the words gives kids a sense of reality. One of the best features is that once you have the app downloaded, you don't need internet in order to run it. All the stories are contained in the app itself, so if you find yourself unable to connect to internet for one reason or another, your Planet 316 Story Bible App will still work.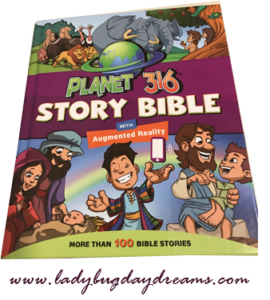 As much as we loved it, there are two things I would change. First of all, it was a bit difficult to get the iPad far enough away to be able to see the entire image (on the screen) and not be standing over the book. This is very likely a camera issue, not an app issue though. I just would love to have the option to zoom out. The second thing is that it can be quite difficult to run both the book and the app-running-device with just one person. It was okay for me (just okay, not great) because I was reading to Small Fry, who is old enough to help. But the book, being a brand-new hardcover book, didn't like to stay open unless you (someone) were holding it. Having to do that while also aiming the camera at the book proved to be difficult most of the time. The Bible being available in a spiral-bound edition would eliminate this problem completely, and that would be a very good thing, I think.
Despite those two issues, they're not enough to keep us from using this product. The kids love it, I think it's really cool, and they're getting a reasonable Biblical foundation from the stories. That's what matters most of all.
Blessings,