Most of the products I have the privilege of reviewing from the Homeschool Review Crew are things for the boys and their schooling. But every now and then something just for me comes along. Today's review is one of those.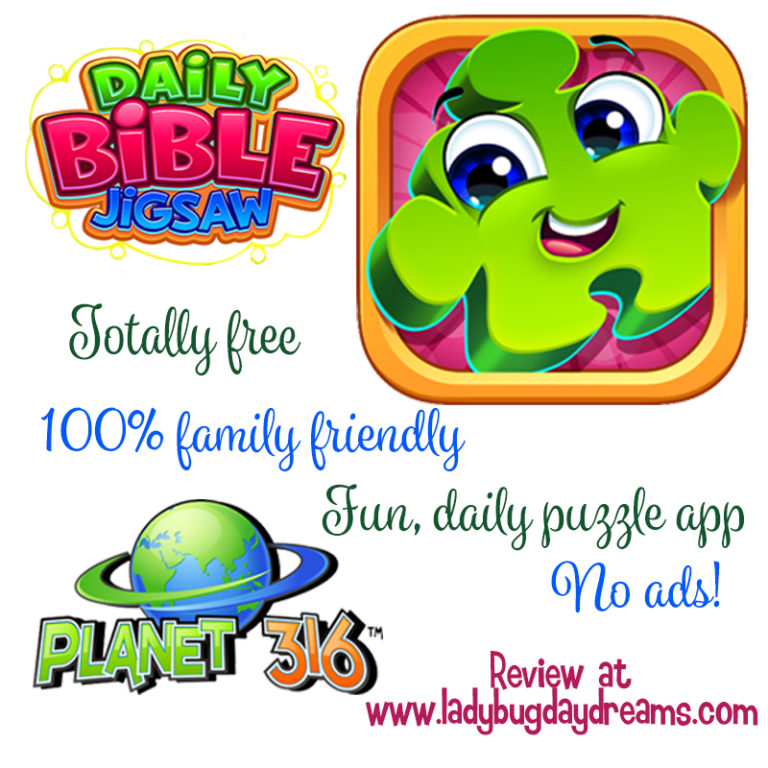 For the past few weeks, I've been playing the Daily Bible Jigsaw game, offered for free on Android and iOS platforms by Planet 316. It also works as a Facebook game. As the name suggests, this app is at its core a digital jigsaw puzzle. Each day, a new one is available, absolutely free. The daily puzzles aren't difficult; each one takes me between 3 and 8 minutes to complete, and I'm not that great at puzzles. If one comes along that I do find difficult for some reason (or I don't have a lot of time to work on it), no matter. There are "cheats" you can use (separate the edge pieces out, rotate all the pieces to their correct orientation, connect two random pieces, see a picture of what the finished image should look like, and sweep all the pieces not currently attached correctly off of the playing board). Each of these cheats costs "puzzle coins," which are the currency of the game. One way of acquiring puzzle coins is by purchasing them. There are a wide variety of options to fit almost any budget, and "the more you buy, the more you save." For example, 20 coins is $1.99 but 780 coins is $59.99, which is a 30% bonus. For this review, I was given a pack of 500 coins to use as I see fit ($39.99 value).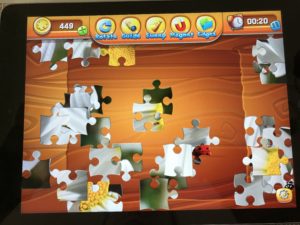 You can also earn puzzle coins for free. How? You can watch ads (completely optional – the game, unlike a lot of other free apps, never requires you to watch ads) or you can correctly connect the "power piece." About a minute into the puzzle, one piece starts emitting stars and a task bar appears at the top of the screen. This is the power piece. If you can attach it to any other piece correctly, you earn one free coin. Another way to earn coins is by completing puzzle goals. For example, when you complete 5 "Resurrection Sunday" puzzles, you earn 1 coin. Solve 25 of them, and you get 5 coins. Solve 100, and you earn 10 coins. The same goes for every day of the week. You earn 5 coins when you've solved your 100th total puzzle. There are also coin awards for solving a puzzle quickly (under 5, 3, 2, and 1 minute).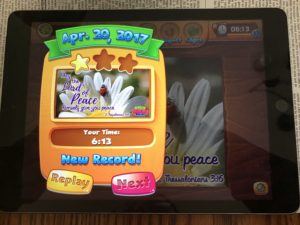 In addition to cheats, puzzle coins are able to be used for previous puzzles. Remember the name of the app? Daily Bible Jigsaw. This means that the creators issue a new puzzle each day. But the puzzles from previous days are still available right in the app. If you want to do a puzzle from a day besides the current one, it costs 3 puzzle coins.
What sets this puzzle app apart from others I've used in the past is the "Bible" part of Daily Bible Jigsaw. When you put the last piece in place, all the lines fade away leaving you with a "smooth" image, and then a Bible verse appears over the image. Oftentimes, it relates to the puzzle in some way. If you have a Facebook account, you're given the opportunity to share the verse on your wall (is it still called that? I haven't used Facebook in years…). There are other benefits to connecting with Facebook if you have an account, too. By doing so, you get 10 free coins. Also, you can compare your times to those of your friends who are also playing the game.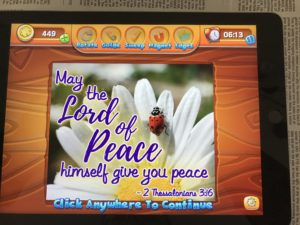 I've used this app on a variety of devices over the past several weeks, and it worked fine and looked great on all of them. When I first got it, I had an inexpensive Android phone, and it was fine. Partway through the review period, Will and I upgraded to iPhones, and the graphics are great on it. With the account creation for our new phones came iPads also, and the app is awesome on it. I love the bigger size, but there's absolutely nothing wrong with doing it on a phone. Connecting my account to a new device was no problem, either. I just had to download the app, open it, and sign in using the email address and password I'd chosen in the very beginning. All my progress shows up every device. Easy peasy.
Overall, I've really enjoyed playing Daily Bible Jigsaw each day. I haven't missed one yet, and I don't plan to – at least not in the near future. I highly recommend this app!
Blessings,