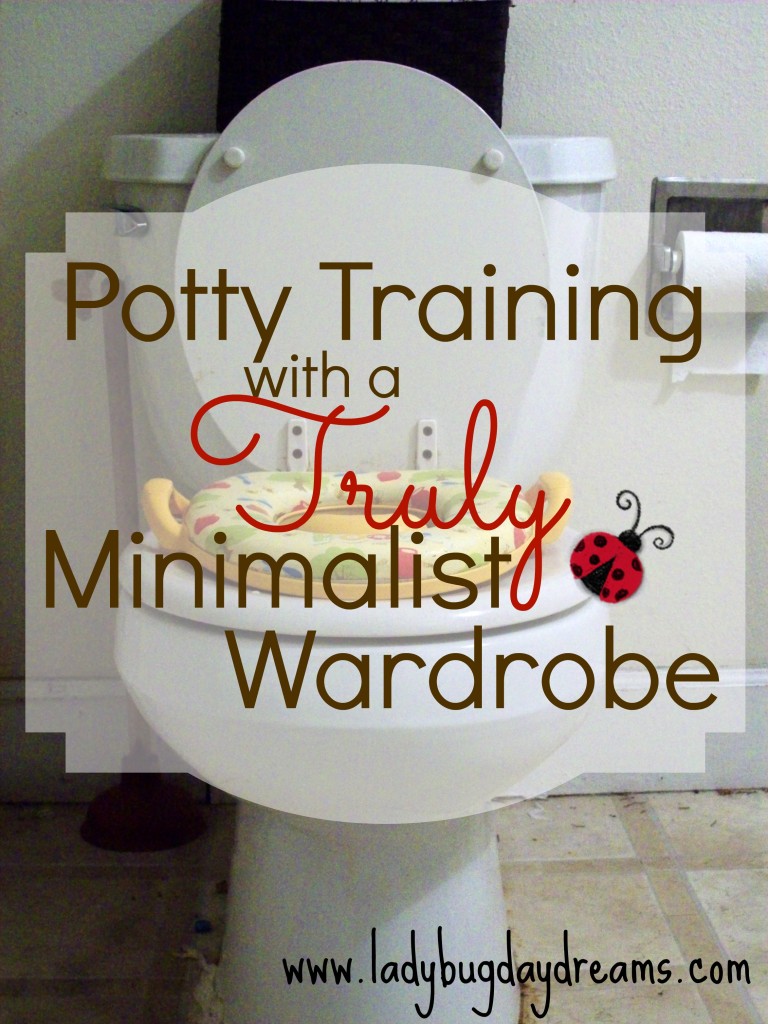 It's no secret that our family has fewer clothes than an average family. Much fewer. It's not because we can't afford more; we just choose not to have as many. This has its benefits and drawbacks. A benefit is that we have fewer clothes to wash, and therefore less laundry to do. A drawback is that we have to wash our clothes more often, so there's more laundry. I know, I know, completely contradictory. We have more loads of laundry to do, but each one is smaller. It's a trade off. Since putting the laundry away is the part of the chore that I hate the most, I'll take more loads with fewer items in them.
But that's not the point of today's post. Today I want to address something that was asked of me during my last wardrobe post: How do you potty train a toddler if you don't have a lot of clothes to change him into? The answer is very simple. During toilet training sessions, I don't put any clothes on him at all. This doesn't work when you go out, obviously, but at home, it works swimmingly. And honestly, I've found that it's too stressful for the child to go more than a few hours at a time when they're learning anyway.
So, you want the nitty-gritty about how I do toilet train? The short answer is, "I don't."
What?
That's right. I allow potty training to be entirely child-led. The timing will be different for all children, but most of them will show an interest in using the potty between the ages of 2 and 3. This was the case with Munchkin (who came up to me one day shortly after his third birthday and informed me that he was done with diapers and never had an incident again) and now with Small Fry. He hasn't told me that he's done with diapers (since he's still learning to talk), but he started showing an interest in the bathroom a few months ago. So I got out Munchkin's old toilet seat (the kind that goes over the top of the regular one, making it smaller for little tushes) and put it in the bathroom. I didn't stress over pushing Small Fry to using it regularly. I just asked him once or twice a day if he wanted to try to sit up on the seat. If he said yes, I put him up there. If he said no, I didn't worry about it. Pretty soon, he was the one asking to sit up there. It started just with bowel movements (he would grab my hand or skirt and pull me toward the bathroom while pointing at his behind). He was very good at feeling when those were coming and went several weeks without messing his diapers. Since we use cloth diapers (and don't have a diaper sprayer) this was wonderful! And as long as he was using the toilet at least some of the time, I was happy.
As the weeks went on, he regressed a little bit. I will admit, that was frustrating. But I kept on with the whole "keeping him naked for a few hours at a time a few times a week" method. What I learned was that as long as he was naked, he used to toilet. As soon as we put a diaper – or even just pants – on him, he didn't bother. It was easier to just go in his diaper. But until his third birthday (this coming July), I wasn't going to stress about it.
He was doing so well at using the potty while naked that a couple of weeks ago, I decided to see how he did with pants. (He has more pairs than any of us at around 6, so it would be okay if he went through two or three pairs that day.) It took a couple of days of messing his pants (usually just once near the end of the day) for him to get it. The final straw for him seemed to be when he pooped his pants with no diaper on. He did not like that one bit, and we haven't had any accidents since then.
I still put him in a disposable diaper at night, for my own sanity. Our cloth diapers don't hold enough to last all night, and unless we've got a newborn, I prefer to sleep during the night. But over the past couple of weeks, he's been dry in the mornings as often than he's been wet, so we're making progress there too. And that's a good thing.
Do you have a favorite method for toilet training toddlers?
Blessings,