Do you have a student who thrives on worksheets? Do you need a resource from which to get tests for your child? Or would you prefer to write your own tests but not have to deal with the formatting in a word processor? Then HelpTeaching.com just might be the right fit for you. For the past few weeks, I've been able to review their Help Teaching Pro to do some of the things I just mentioned.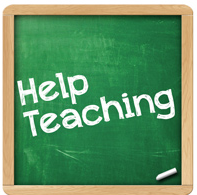 My older kids have plenty of schoolwork to keep them busy, but for Small Fry (Kindergarten), I felt like we needed something more, which is why I asked to review this product. After looking over the website, I determined that there would be lots of options there for his age, and I was right. It's been a true blessing to have these premade worksheets the past few weeks so all I have to do is print them out and teach him the concepts. HelpTeaching.com makes it so easy!
I initially expected that my son would be fairly slow going with the worksheets (since this would be his first experience with them), so in my first perusal of the website after getting my access code, I decided to print off 5 language arts worksheets and 5 math worksheets, figuring that would get us through one week of classes. Boy was I wrong! My 5-year-old loved these, and he burned through all of them on the very first day. So that night, I hopped back on the site and found more to get ready for him.
The site is very organized, which I appreciated. I was easily able to narrow my search down to exactly what I wanted because all of the worksheets are arranged by both subject and grade. By choosing the "Kindergarten" age level, I was taken to a page with hundreds of choices in all of the major subjects. Because we already had a science curriculum we were working on together, I didn't pay much attention to those, but I looked at nearly all of the options for both language arts (including things like word building, reading comprehension, and sight words plus many more) and math, and over the past few weeks Small Fry has done many of them.
The worksheets are listed by title, and when you click on the name of the worksheet it opens up a visual of the worksheet right in your web browser. From there, you have options to
Have your student complete the worksheet online
Print the worksheet straight from the website
Download a PDF of the worksheet to print from your PDF reader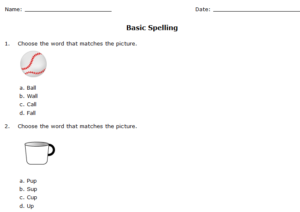 I opted for the last choice, just because I was able to control the print quality (black and white, ink saver mode, double sided when appropriate) better. Once the worksheets were printed, I put them all in a folder for safe keeping. I stored blank worksheets on the left and completed worksheets on the right. It hasn't been a perfect solution (sometimes the folder gets misplaced, the completed worksheets don't get put in at the end, and the math and English worksheets are all mixed together), but it's generally been fine.
It seems that I've forgotten to take pictures of the worksheets that Small Fry has completed; I assure you, he's done many of them. Please forgive this oversight and use the sample image at the left to see what kinds of worksheets are available.
So that's how I used the site. But what about those tests I mentioned in my opening paragraph? Well, that's easy too! Just click on the Test Maker button at the top of the page, and you're taken to a page with lots of options. You can fill it in completely with your own questions, you can populate the test with questions exclusively from the HelpTeaching.com library, or you can mix and match. How cool is that?!

Overall, I've been very happy with our Help Teaching Pro membership. I will definitely continue to pull worksheets for my boy for the foreseeable future; it's too good a resource to not use.
Blessings,