Disclosure: I received this complimentary product through the Homeschool Review Crew.
If you've been here very long at all, you know that I'm always excited to review Progeny Press study guides with my children. Every single year I've been a part of the Homeschool Review Crew, we've been blessed to work with these guides, and 2021 is no exception. This year, Grasshopper (4th grade) and Scorpion (9th grade) are the lucky recipients.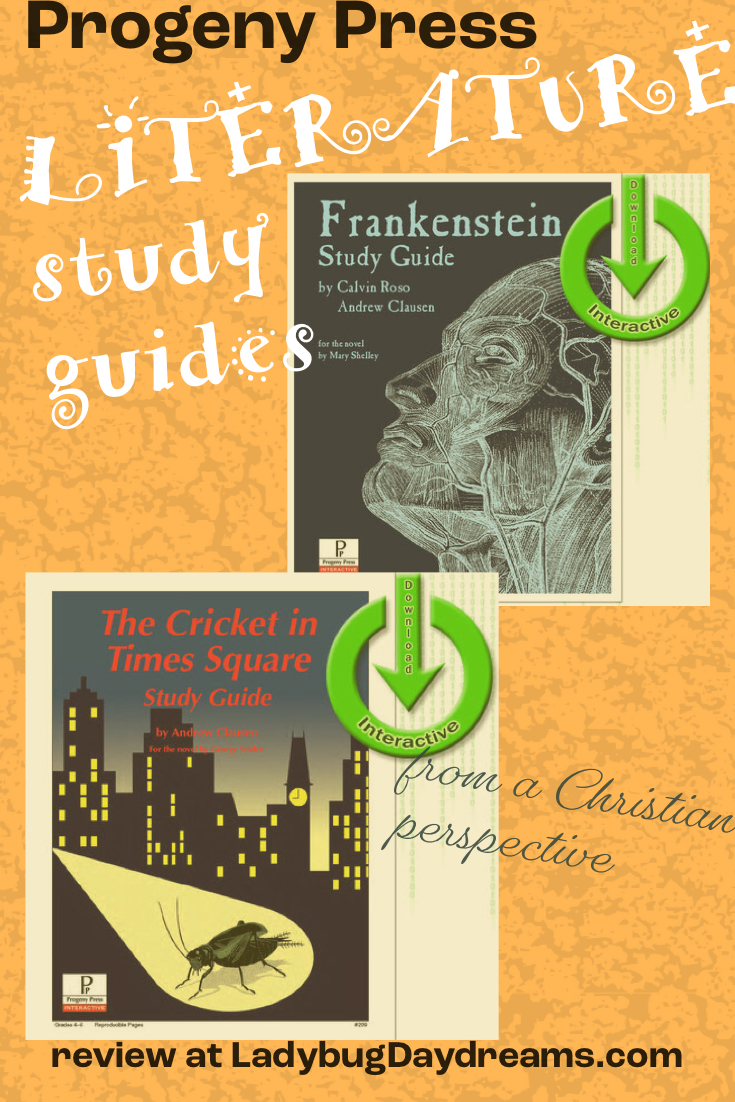 About Progeny Press Study Guides
The study guide we received is the digital edition, as always. Each study guide comes with the guide itself and an answer key, both in PDF format. I had no problems downloading the files to my computer. I've got a folder full of our past Progeny Press study guides, and I added this year's guides to it. When it was time to begin work on the study guide, I printed off the pages we needed as we went, rather than printing the entire study guide at once. These guides are also designed to be editable PDFs, so if you prefer, you can have your student work directly on the computer. Printing works better for us, so that's what I did.
Progeny Press officially recommends that you/your student read the entire book within the first week of the unit and then work through the study guide at a pace of 3-5 pages per week, depending on your kids' ages. That's never worked for us. It's just too much time between finishing the book and going back to answer the questions when you do it that way. So I looked at the breakdown of the study guide and we worked in those chunks – reading the chapters, then printing and working on the questions. Then we'd read the next set of chapters and answer those questions. And so on. I had Scorpion work the same way with his book.
When you purchase a study guide from Progeny Press, you get as many downloads as you need for 1 year. After that time, if you don't have a copy saved somewhere you will need to repurchase the guide if you want access to it again.
This is a classic book written by George Selden in 1961 about a group of unusual friends: a country cricket, a city mouse, a city cat, and a young boy. We are introduced to the characters in turn over the first four chapters, and then quickly move through their adventures together in NYC. The animals all teach each other valuable lessons through their various life circumstances, and none are more important than the others.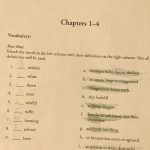 Grasshopper and I have been reading this book together out loud. He is capable of reading it on his own, but it's nice to have a bit of snuggle time with him as he's getting older. When I found out we were getting this study guide to review, I checked the digital library and the book was only available as an audio book with a 6-month wait (!). So I ended up purchasing the Kindle edition and we've been reading that. (This was before I got my new library card.)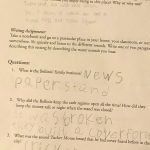 The study guide for A Cricket in Times Square is 52 pages, including the cover and copyright pages. Progeny Press is really great for Christian parents because every single one of their study guides is from a Christian perspective. This means they always include spiritual lessons that can be learned from even the most secular books. Cricket is no exception. Grasshopper and I were able to practice finding Bible verses together and interpreting them and culling lessons from them that related to the book we were reading. This was really good for him. There are also the "basics" of study guides in Progeny Press – your standard reading comprehension questions and opinion questions as well as vocabulary words and longer writing assignments.
Scorpion has been working through the Frankenstein study guide on his own. He didn't have a firm reading or literature class in his curriculum, so it was fairly easy to just add this in. We started with a digital library book for him (because it's a classic novel, it's "always available"), but he didn't really like reading on his iPad. So when we were able to start getting physical books from the library, we found him a copy to check out. Even our tiny town library had a copy of Frankenstein!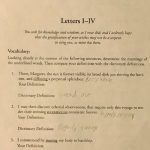 The Frankenstein Study Guide is 79 pages, as like I mentioned before, it is able to be typed right into as a PDF on the computer or printed out. We printed out just the pages we needed as Scorpion completed his work and reading. It took him, on average, about 1-2 weeks per section to complete. There are a total of 8 sections in this guide, so he's got a ways to go still.
Because Frankenstein is a book for older students, the study guide is more complex than that of Cricket. The vocabulary pages rely more on the student being able to rephrase the definitions on their own than simply choosing the correct definition from a list. The comprehension questions are a lot more difficult, too, and there are a lot of writing assignments that are more essay-length than simply requiring a few words to answer.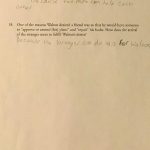 As always, the Progeny Press study guides have been a fantastic addition to our school days. Members of the Homeschool Review Crew were able to choose from a total of 4 study guides this year: Wagon Wheels, A Cricket in Times Square, Redwall, and Frankenstein. Click through to the main website to read more reviews!
Blessings,