Disclaimer: I received a FREE copy of this product through the HOMESCHOOL REVIEW CREW in exchange for my honest review. I was not required to write a positive review, nor was I compensated in any other way.
Sometimes as a member of the Homeschool Review Crew, you get assigned products that you're unsure will be a good fit for your family. Part of being on the team means you do your best to give those products a fair trial, and in that process you are sometimes right about it not having been a good fit. But sometimes you are very, very wrong, and a product ends up being an amazing asset for one or more of your children. Reading Unlocked has been such a product for us.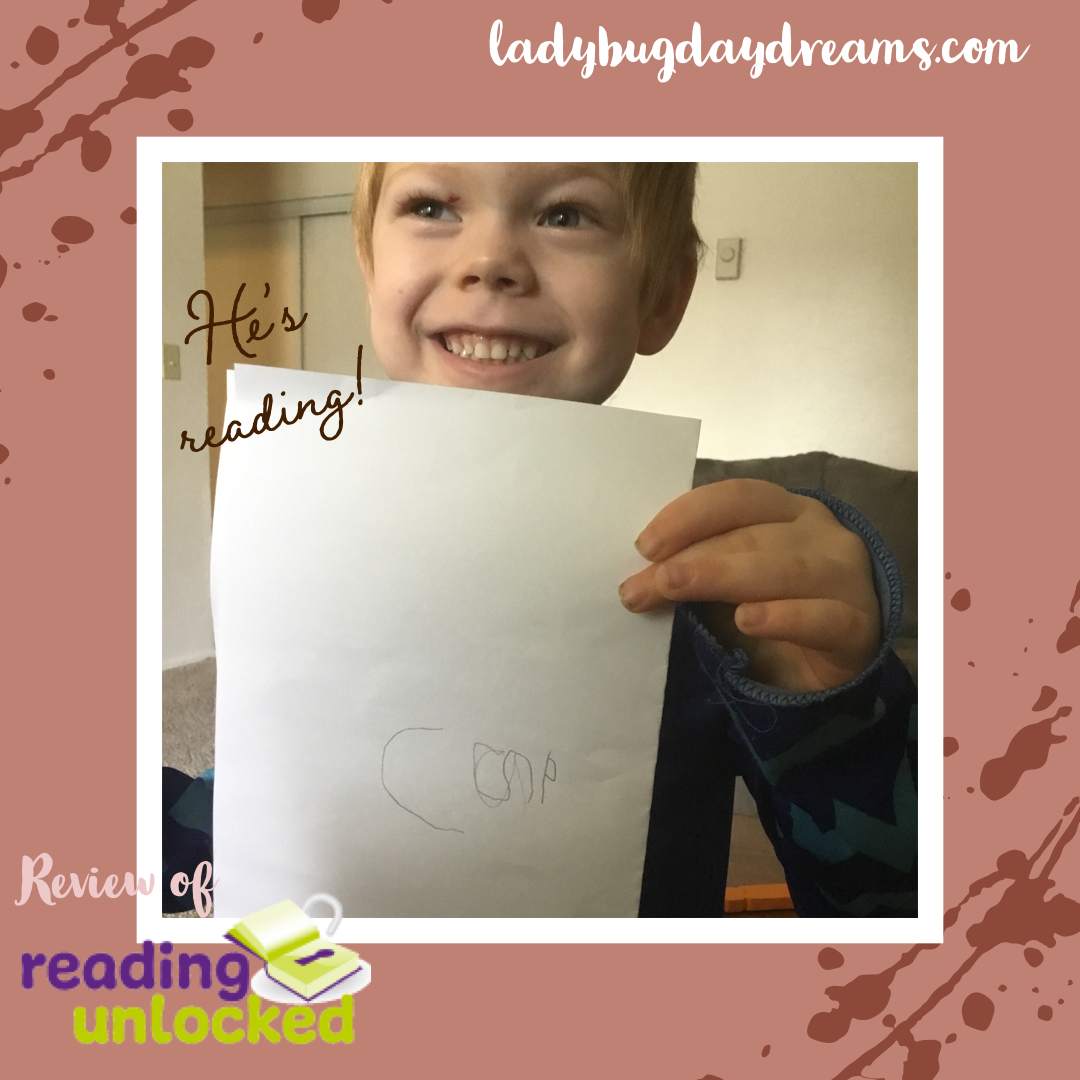 Because I didn't want to mix things up for Grasshopper now that he's finally getting the hang of reading, I decided to use Reading Unlocked with Dragonfly, who is just 4 years old. I was really hesitant to start him out because he's so young (in fact, I asked specifically to not be on this review because of that). And there were moments in the early days when I was sure I was right. It was really frustrating at first. But, as we kept on it (admittedly too slow and irregularly for a while), things started to click for him. I was stunned, and ridiculously pleased. But let's back up a bit and talk about the program itself.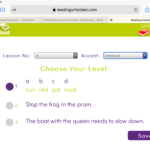 When you first go to the website, you have to log in (of course). When you do, you're taken immediately to to the lessons. There are 3 levels of the program, and by going to the settings (which are available straight from the lesson page; there is no "parent portal" as near as I can tell) you choose which one is best for your child. The choices are given in examples rather than descriptions. Because Dragonfly has never had any sort of reading instruction before, we started at "a b c d sun red pot mud." Also in the settings, you can choose which lesson within the level (each stage has 25 lessons) and whether you want a British or American accent.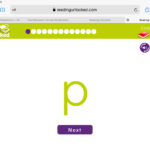 Lessons at level one teach letters and simple CVC (consonant-vowel-consonant) words. Each instruction and teaching moment is spoken by the program itself, and children are instructed to do things like "say it with me" followed by a letter sound, touch the correct picture associated with a specific beginning sound, write letters on paper, read words and match the right picture, and more.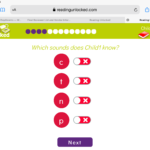 Periodically, parents are asked which of the recently taught sounds the child knows. You "give" the answer by toggling the switch red or green. Any letters that are left red are reviewed one more time before moving on to reading words.
It's a very simple program, but it works! A month ago, my 4-year-old could recognize an A (because it's the first letter of his name), but that was as far as his "reading skills" went. Now, he can easily tell me the sounds of 5 letters and read words like "can," "pan," "nap," "cat," and "cap." My skepticism about this program, even for young children, is gone, and I can't recommend it enough.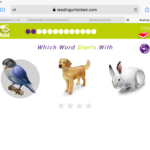 Now, all that gushing said, there are a couple of issues I need to address. Earlier, when I mentioned there was a choice between a British and American accent, that is technically true, but I must have changed the setting to American and clicked save a dozen times or more. But every time a lesson started (immediately after clicking save), it had reverted to the British accent. That didn't cause too much trouble, but that could be because I was super involved and basically repeated everything for my son (much slower than the program). Because it wouldn't allow the American accent setting to stick, it used British phrases too, like "draw" instead of "write" in reference to letters and words. Also, the recording of the voice wasn't the same from slide to slide, which I found a little distracting, but it didn't seem to bother Dragonfly. And finally, you could hear the white noise on the recording a little before and after each instruction. Again, not a deal breaker, but potentially an issue for some kids.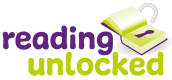 So, in conclusion, Reading Unlocked is a fantastic program, but it has a few minor bugs that would be nice to see adjusted. That said, will we continue to use it? Absolutely!
Blessings,


As always with my reviews, other members of the Homeschool Review Crew are also discussing this product this week. Make sure to click through for more information!