Will was recently at a restaurant by himself, and he ordered something he normally wouldn't – a pasta dish from a burger place. But he really liked it and decided to have us try to replicate it on our own. Here's what we came up; he says it's pretty close, and even if it wasn't, it's totally delicious. And the best part is that it works two ways: as a hot dish on its own (it's a fantastic lunch), and as chilled leftovers in a pasta-salad type of way. The quantities I give will make a huge batch – enough for lunch one day and a side dish the next.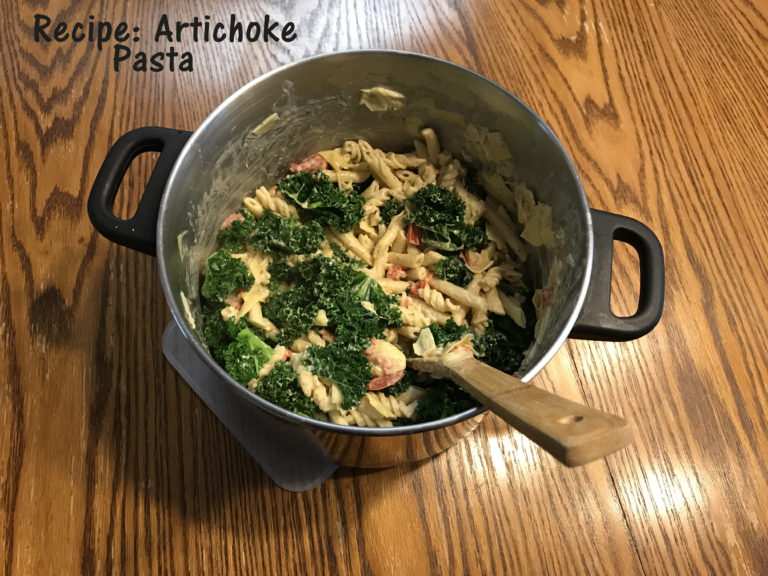 Artichoke Pasta
2 pounds rotini pasta (or your favorite bite-size)
Approximately 3 cups pesto-Alfredo sauce (we use 2 jars of Classico basil Alfredo)
1 bunch kale
2 cans artichoke hearts, chopped (but not too finely)
3-4 diced Roma tomatoes, or equivalent grape or cherry tomatoes
Bring a large pot of water to boil. While you're waiting, get the kale ready by removing the leaves from the stems and chopping it roughly.
Add the pasta and kale to the pot together. Cook according to pasta box directions. Drain. (Don't do what I did on picture day and forget the kale. It's really much better if you cook it long enough.)
To the same pot, add the sauce, artichoke hearts, and tomatoes. Cook for a few minutes to heat the sauce and gently cook the vegetables.
Add the pasta-kale mixture to the sauce mixture and stir well to combine. Serve hot or chill and serve cold later.
Blessings,