One of our favorite places to eat is The Old Spaghetti Factory. Will and I were there recently and he decided to try something new: the chicken piccata. It was really good, so I decided to try to recreate it at the house so everyone could taste it without breaking the bank. This is the result, and it's become one of absolute favorite meals.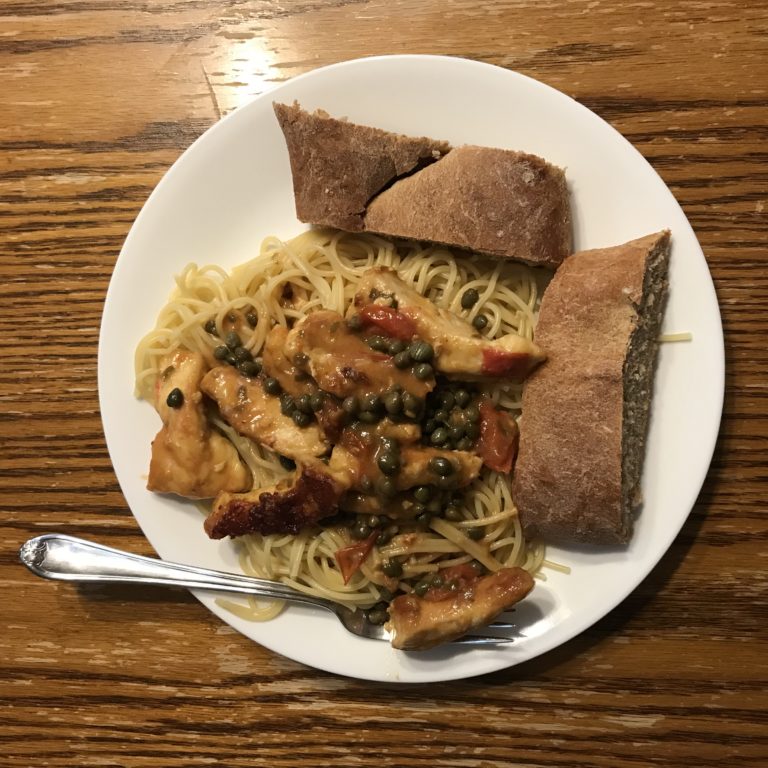 Chicken Piccata (serves 6-8)
2-3 chicken breasts, cut into strips
flour, for dredging
salt and pepper to taste
1 cup white wine
1 cup lemon juice
2 jars capers
3-4 Roma tomatoes, chopped
1 pound spaghetti or angel hair pasta, cooked according to package directions
Season the chicken strips with salt and pepper, then dredge in flour. Cook them in a bit of oil until cooked through.
Remove the chicken to a plate and keep warm. Add the wine to the pan and cook it for a minute or two until the alcohol cooks off. Add the lemon juice, capers, and tomatoes. Cook until the sauce thickens a bit.
Place the chicken back in the sauce and stir to coat.
Serve over a bed of pasta.
It takes a bit of time to make this recipe because of the frying of the chicken, but it's not too bad. I can normally get dinner on the table for our entire family in about 45 minutes using this recipe.
Blessings,