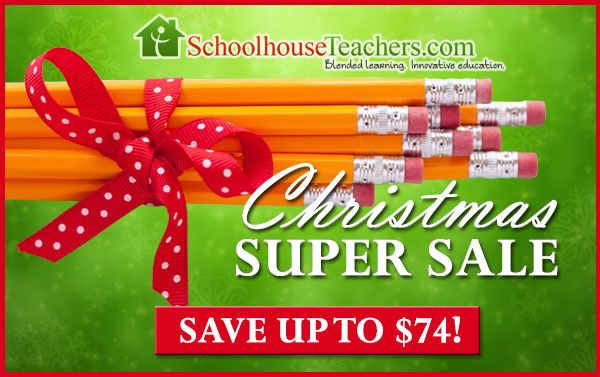 This post contains affiliate links. By clicking through using my link, your purchase will help support this site at no additional cost to you.
Hey guys! I just wanted to put up a note to let you all know that SchoolhouseTeachers.com, the homeschool curriculum site of The Old Schoolhouse magazine, is having a fabulous sale right now.
Here's how it works: You can sign up for an account and choose to pay either monthly or yearly. The normal price for the monthly membership is $12.95. If you sign up by Christmas (at 11:59 p.m. Pacific Time), you'll get a 40% discount, making your monthly membership $7.77.
The normal annual rate is $139, which is 10% off of the normal monthly rate. If you sign up for an annual account by the Christmas night deadline, you'll get a 50% discount, making your fee $64.26.
Now, here's the best part: If you sign up during this sale, you will be locked in at this discounted rate until you cancel your membership. That's right: whether you keep it for three days, three months, three years, or more, you will never pay more than the discounted rate. How cool is that?!
In case you're still not sure if this is a good site for you to invest in, you can read my review from a year ago. Additionally, there's a whole new crop of Schoolhouse Crew Reviewers doing reviews of the site this week, so you can get an idea of what other homeschool moms think of this valuable resource.
Just click on the above banner to take you to the sale page if you're interested in buying, or just want more information.
Blessings,