Kids love music. I've never met one who didn't. But the mainstream stations aren't always appropriate for them. To respond to this need, Smart Kidz Media has developed an online radio station for kids called
Smart Kidz Radio
.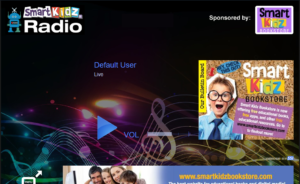 Much like a traditional radio station, you can listen to whatever is on live. Unlike a regular station, though, there are also prerecorded podcasts with things like fairy tales to listen to. When you go to the website and log in, the radio station starts playing whatever the live feed has going on automatically. If you want one of the other options, it's easy enough to find using the "menu" button near the bottom of the screen. (It's a little cut off on my screen shot just because it didn't all fit in the capture.)
At the time of this post, the live portion of Smart Kidz Radio is available for free, but you do need to sign up for an account. There are absolutely no hidden fees included – you only need an email address and a password, no credit card. The "on demand" service, which costs $3.99 per month, has over 1,000 original songs available covering a variety of topics for kids ages 1 and up. Some of the categories are listed as "all ages." The on demand includes such topics as life skills, survival skills, bedtime songs, and even baby sign language.
Dubbed "edutainment," this radio station definitely delivers on that promise. The songs are good for young kids, roughly lower elementary school age, and the station is ad-free. There are times during the live feed that the songs repeat, but it's not really a problem; regular radio stations do that too. In fact, one might argue that it's a good thing as repetition can help kids learn the songs. By learning the songs on the Smart Kidz Radio station, they learn lessons.
It does not currently work for mobile devices, even if you're going through the website. This was quite a problem for us as I don't have a computer in the house during the day (only iPads accessing wifi), so we didn't get to listen to it as much as I'd hoped. The little bit we were able to utilize was pretty fun, though. Small Fry and Dragonfly seemed to really enjoy it. I'll definitely be using it a lot more when they get the apps up and running! (The website has a link to take you to the app store, but when I searched for it on the App Store on my iPad, there was nothing found.)
Blessings,