Does your state require standardized testing? Mine does. Not every year, but it's worked out that both boys will have to be tested this year. (We're required to have testing done four times during their school careers – after grades 3, 5, 8, and 10.) The idea of doing this always makes me nervous that I'm somehow failing them in what I teach. This is probably ridiculous, but I worry about it nonetheless. What if the products we're using aren't enough to teach them what they need to know for these tests? Well, at least in mathematics, A+ Interactive Math is the answer.
For the past few weeks, we've been reviewing their Adaptive Placement Test and Individualized Lesson Plan program. This three-month subscription is an intense math course is a series of tests in a variety of subjects that the student should know based on his or her grade level. After a test is taken, the student is deemed to be either "at grade level" or "not at grade level" in that particular subject. If they're at grade level, then great! You don't have to worry about your child in that subject. If they're not at grade level, the program has a huge variety of video lessons and practice worksheets to help the children get to where they can pass the test.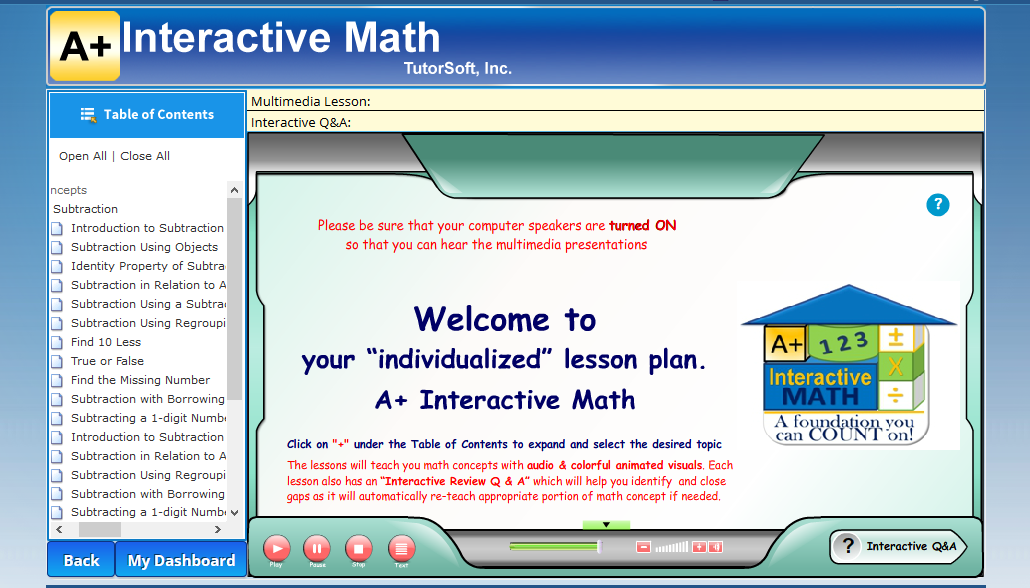 You can see from this image the video lesson player. On the left are the different aspects of the subject at hand – in this case, 3rd grade subtraction. The student (or parent) chooses the one that needs the most work, and a video explanation will play. Then there are practice questions to be done after the video. If your student has already watched the video and just needs more practice before they attempt the test again, that's not a problem. There's a separate section with just practice worksheets. It's all very easy to follow and find what you need.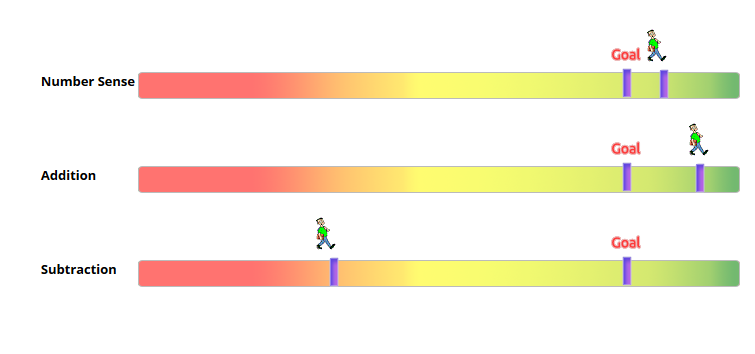 One of the most encouraging aspects of the program (for the children) is the Progress Report. This gives them a visual of how much more work they have to do to be able to pass the test. On the "racetrack" (really just a colored bar), there's a line for the goal and another one showing where the student is on their path to success. The drawing of a child starts at the beginning and walks over to the line that represents their current progress.
So, now that we're all familiar with what the program is and how it works, how did we use it our homeschool? Well, it took the place of our other math curriculum during the review period. Most days, anyway. There were some days when the boys really wanted to do the other one, so on those days they did both. This means that the boys were logged in to their accounts 3-4 days a week, either taking a test or mastering concepts so they could pass the tests they didn't pass the first time out. I had the boys take one test, then do the corresponding lessons/worksheets (if needed) until they could pass the test. Another option is to have your child take all of the tests and then work on problem areas.
Opinions? Well, that depends on who you ask. The kids didn't like it at all. But we've had programs like that in the past, and does it mean that they didn't benefit from it, or didn't need it? Absolutely not! As a mom, I think this program is absolutely amazing. It's really eye-opening to see exactly where your kids are sitting on certain topics. It does a great job of showing you exactly which concepts need more work. And it became clear to me during this process that even if the kids didn't pass a test, that didn't mean they had to review every single aspect of a particular subject. Maybe they did great on adding without carrying, but messed up every time there was carrying involved. Well, in that case, they only had to practice problems that involved carrying. Long story short, I think if you live in a state that requires standardized testing, you need to give this program a try, even if you think your kids are doing well in math.
You can get a 3-month subscription (this is the maximum they offer – it's an intense program, remember?) for $24.99 for one student and an additional $10 for each extra student you wish to add. This price is half of their normal, so if you think you might be interested in this, you should jump on it. I don't know how long the sale will last.
Blessings,