Disclosure: I received this complimentary product through the Homeschool Review Crew.
The Critical Thinking Co.™ is a favorite in our homeschool. We've used many of their books over the years, and always had great success with them. All three of my older children (Ballet Boy, 17; Scorpion, 15; and Grasshopper, 9) have used one of their math books over the years. When they were offered up for review this year, many of the choices were for the Preschool crowd, so I chose Science Mind Benders®: Animals to work on with Dragonfly (5). He's very interested in learning, and animals are always a popular choice for little kids so I thought it would be a good introduction to science for him.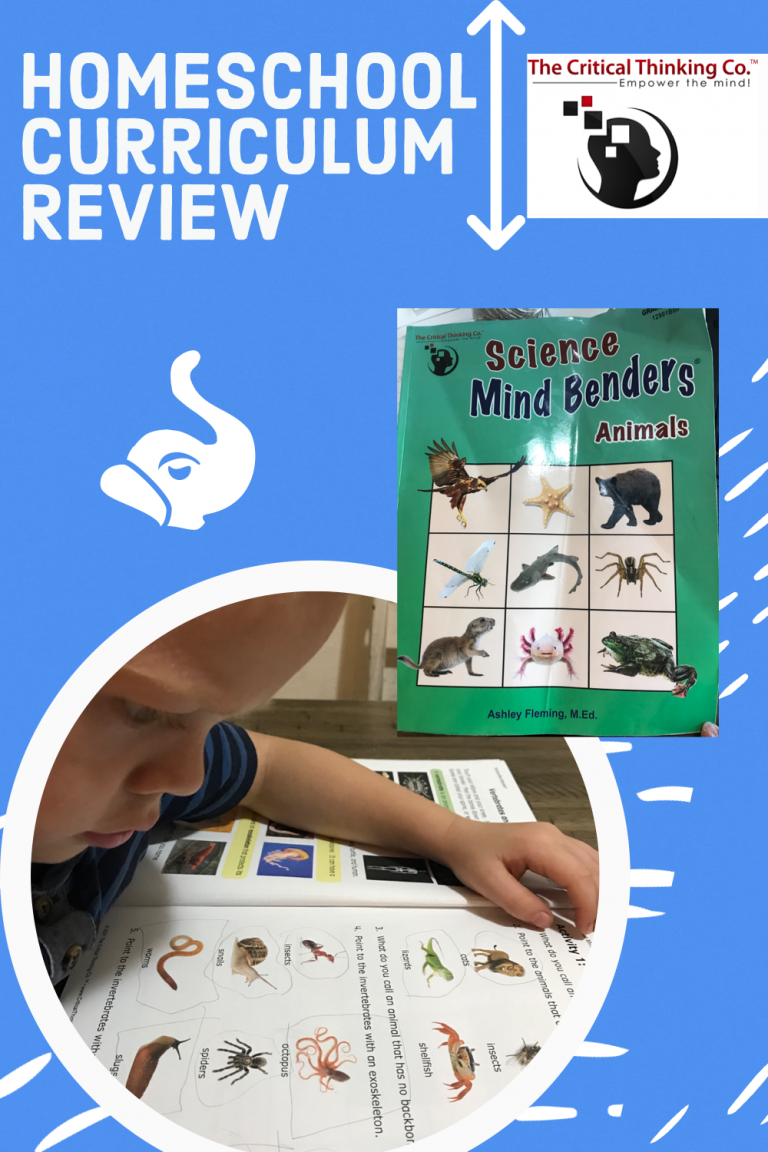 Science Mind Benders®: Animals is an 86-page, softcover workbook printed in full color. The pages are a bit glossy, so it feels almost like a picture book inside. There are 7 lessons, and each lesson has 7 activities. This gives your child enough time to take the book slowly and reinforce the concepts being taught throughout, making sure they remember they remember what they learned over the long term. At the end of each group of 7 lessons, there is a page of "interesting animals in this lesson" and a review page, which you could use as a quiz if you wanted to.
Because this was Dragonfly's very first introduction to any sort of formal science lesson, we just started at the beginning of the book and worked our way through. For an older child, you could use this book as a review for certain types of animals and jump around a bit more.
Let's look at the first lesson – Vertebrates and Invertebrates – fairly in-depth to give you an idea of how you could use this book in your homeschool.
My favorite type of homeschool curriculum is "open and go," which means that there's minimal prep work involved. This not only makes it easier to keep your homeschool day moving, but it also limits the amount of loose papers and other things you have floating around your school area. This book is definitely an open and go science curriculum. Everything you need to teach your child is included all in the one workbook – a simple lesson teaching children what they will be learning about and the consumable workbook pages for them to do themselves.What this looks like in the Vertebrates and Invertebrates lesson is a page with a short paragraph at the top that you can read to your child or paraphrase to teach the concept, and then the other 4/5 of the page is a series of pictures showcasing the different types of creatures, all separated out so children can get a clear understanding.
Once they have the initial learning done, the next seven pages are activity pages. You could do one activity a day, or all at once, or anything in between. We did one lesson per day because I want my son to tuck away that knowledge and remember it long term, not to just breeze through only to forget what an invertebrate is in two weeks when he's working on the Mammals and Reptiles lesson.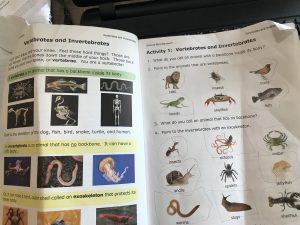 Examples of activity pages are "point to the pictures of animals that are vertebrates." This page also comes with discussion questions. Instead of having Dragonfly simply point to the pictures, I had him draw circles around the animals the question asked about. When we got to the question that compared invertebrates with an exoskeleton vs those without, we drew circles and squares to differentiate them. There are some very basic logic puzzles for the children to work through, which is perfect for developing good critical thinking skills. Activity 3 in the lesson shows photos of 6 different animals and you're given three clues. The child is to determine which clue goes with which animal. Lesson 4 is very much like lesson 3, except that after matching the clue with the animal, the child determines whether each animal is a vertebrate or an invertebrate. Lesson 5 is another logic puzzle. Lessons 6 and 7 mirror lessons 3 and 4. For the review of this lesson, there's a flow chart. Groups of pictures are shown together and the child determines what word from the "choice box" best fits that particular group. There's even a bonus question for further research.
Dragonfly and I have had so much fun learning about animals together! We're not done with this book yet, but we will definitely be continuing to work our way through it. It's the perfect introduction to both critical thinking and science for my Kindergartner.
Members of the Homeschool Review Crew have been reviewing one of 6 different books from The Critical Thinking Co.™. Make sure to click through and find out more about those books, as well as an introductory article that talks more about the company itself than I got into here.
Blessings,