I wrote recently about our trip to see La Cenerentola (Cinderella), and now I want to talk about when we saw Orfeo ed Euridice (or-fay-oh ed yoo-reh-dee-chay). If you read the Cinderella post, you'll know that we took Small Fry to see that show. For Orfeo, we took the big kids (Seahawk, age 14, and Munchkin, age 11). We thought this would be a great one for them because it was advertised to be a combination opera and ballet, and they dance ballet.

The story of Orpheus and Eurydice is one of the oldest on the planet (excluding the Bible), and has been the basis for many, many things over the years. Let me give a short rundown, just in case you're unfamiliar.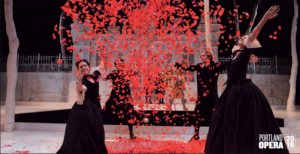 Orpheus is a demi-god in mythology (meaning he was the child of one god and one human). He was in love with Eurydice, and on the way to their wedding she gets bitten by a viper and dies. Orpheus, in his anguish, finds favor with the gods and they tell him that they will allow him to go into the underworld and save her. But there's a catch. There was always a catch with those guys! He's not allowed to look at her during their trip back. If he succeeds, she will rejoin him in the land of the living and they will have a long and happy life together. If he fails, she will be pulled back to the underworld, essentially dying again. They get all the way back to the opening, and Orpheus, so excited to have made the journey successfully, turns to look at his beloved only to discover that she hadn't stepped out yet. Because she hadn't completed the journey fully, she is pulled back to the underworld.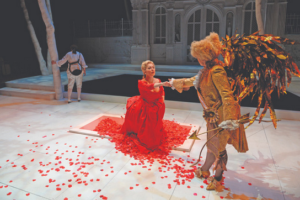 This is the basic story that Orfeo tells, but there was a bit of a twist at the end. I won't worry too much about spoilers since the opera is no longer "playing." After Euridice is pulled back to the underworld, Orfeo sings songs of great sadness and eventually Amor (Cupid) comes to him with good news. Love conquers all, and he has heard Orfeo's anguish and knows that he is truly in love with Euridice. Therefore he is overriding the other gods and allowing Euridice to rejoin Orfeo back on Earth.
For this opera, we arrived early enough to the theater to participate in the pre-show, where an opera expert gives a short (30-minute) lecture on the play and the composer. It was really interesting, and especially good for the kids to get some background on what they were about to see. They got a bit of history (both fictional, in the history of the story, and fact, in the history of the composer) in addition to just having a better grip on the story before it even started.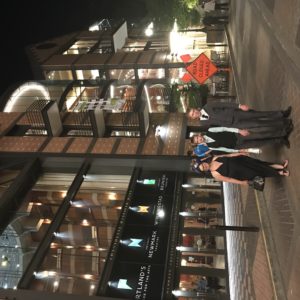 The combination of opera and ballet was stunning, and the sets and costumes were gorgeous. This was one that I wasn't entirely sure about when I found out that Will had bought tickets, but after having seen it, I'm so glad he did! We both agreed after seeing Italian Girl, Cenerentola, and Orfeo that Orfeo was our second favorite. (Italian Girl still wins in our books, and Cinderella came in third despite being my favorite fairy tale.) The kids loved it too.
Blessings,