When you're creating, it's important to be happy with your tools. If you're not, you're not likely to want to continue creating. When I learned to knit in 2015, I took a long break from crochet. When I picked it up again about a year and a half ago, I wasn't entirely sure I was going to want to do much crocheting; I just had gotten a hankering for a specific project. So I bought the cheapest set of hooks I could find, which were (I think) $2.79 for 4 hooks. They were plain white plastic, and they worked pretty well. I made an entire blanket using one of those hooks (actually 2 or 3 blankets, I think).

When I realized that I was going to want to continue crocheting regularly (as well as knitting), I decided to buy a slightly more expensive hook. I'd heard good things about the Clover Amour crochet hooks, and I really wanted to try them. Problem is, the set is about $75, and I didn't really want to invest that kind of money. So when I needed a new hook (in a size I didn't have) for a project, I opened up my JoAnn app and looked at the coupons. I don't remember the exact deal I got, but suffice it to say that I got a pretty good deal on ONE Amour hook. It was less than $4. For that price, I could afford to experiment.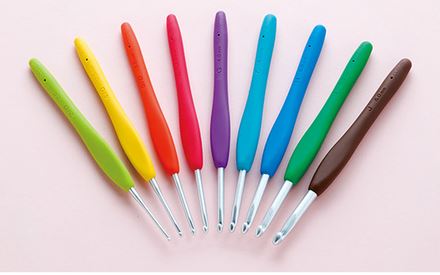 So… after all that backstory (that probably didn't matter!), let's talk briefly about the Amour hook itself. It is a pretty standard length for a crochet hook, and has an ergonomic handle. Each size has a different colored handle, so it's easy to spot the different hooks at a glance. The shaft and hook are metal (at least in the smaller sizes that I mostly use – E through J), but it's a very smooth, brushed metal. (Upon further research, I see that they're made from "polished aluminum.") The yarn glides over the hook effortlessly. I find myself able to crochet very quickly using these hooks. Those two criteria mean that I LOVE THESE HOOKS! Ever since I crocheted my first stitch with one (no joke), I knew I never wanted to use another hook again. And I haven't.
I mostly crochet blankets and toys, so I don't have (or need) the whole $75 set. I currently have 4 Amour hooks (sizes E, G, I, and J – actually I have two of the I hooks because one got lost and I won't crochet with any other anymore, so I bought a new one and then found the other). I can't recommend these hooks enough. For a budget-friendly hook (they run about $8 each at JoAnn, and you can almost always find a 40, 50, or 60% off coupon on their app), they really can't be beat.
Blessings,