Books are the number one way to learn. It doesn't matter what you want to know about, you're sure to find at least one book on the topic. Sometimes you don't really have time to read, though, so what should you do? Listen to an audio book!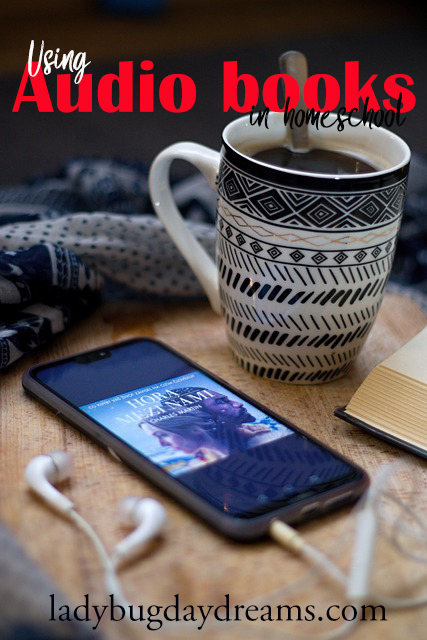 We use audio books often in our home. Grasshopper loves listening to them, and he listens to something pretty much every single night before bed. Listening to books rather than reading them helps him to get into slightly more advanced stories than he's ready to read. He's a smart kid, has fantastic comprehension, but is still easing into reading longer books. So audio books are a great tool for him.
Scorpion enjoys making animations. He also does some art-work (not to be confused with artwork) for Will sometimes. In order to make the most of his time, assuring that he gets his schoolwork done even when he's been given a "real" job by Dad, he utilizes audio books. When I assigned him Tom Sawyer, he was able to find a free audio book version that he listened to while he was doing his other work. Best of both worlds.
I go through phases when there's just nothing on any of the streaming services that I'm interested in. During those "droughts," I often revert to audio books, which I listen to while I knit or crochet at night. I have three main apps I use for audio book consumption. Chirp is a good one because they have reasonably low prices on their audio books. I was able to get 3 books for free once using a coupon code (good for $5) from a YouTube channel I watch. The best thing about Chirp is that it's not a subscription service. You just pay for the books you want, and you have them to keep. Audible is the next one, and I'm sure you've heard of them. It's owned by Amazon, so probably everyone has an Audible account whether you know it or not! For one monthly fee, you get a "free" audio book each month. For a slightly higher fee, you can upgrade and get two per month. Often, you can get a free trial of Audible – with a new Amazon account, or even if you just haven't used Audible in a while. And the final app I use and recommend for audio books is Overdrive. This is a library app, and it's connected to many libraries. If you have a card for your traditional library, you should check out Overdrive (or Libby, which is under the same umbrella; I don't use it though, so I can't vouch for it) and see if your library system is supported. They have thousands of audio books (and Kindle books, for when you do have time to read!) that you can get with your library card. You don't have to worry about returning them, like you would with a booklet of CDs if you were to get an audio book from the physical library. When the loan period ends, the title is automatically returned – no late fines! And Overdrive works even if your library card is riddled with fines (ask me how I know).
There are other uses for audio books, too. Take, for example, the One More Story app that I reviewed a couple of months ago. It's a great audio book option for younger children because it also includes the pictures from the books. As I mentioned back then, sometimes you as the parent want to read aloud but just can't for one reason or another. Audio books are a fantastic resource to use in those times.
Do you have a child who struggles with dyslexia? Audio books can be a lifesaver for him or her. It allows the child to hear the book properly rather than stumbling through the reading, getting words mixed up and becoming frustrated. While I've never tried this, it might even benefit a child to listen to the audio book while following along with a physical copy. Combine the audio and visual components to create a stronger reader.
What other uses are there for audio books in an educational setting?
Blessings,