As you know if read very many posts here at all, my 11 year old son likes to read. A lot. So whenever we have the opportunity to review a book comes up, I give him the option of requesting it or not, and he almost always says, "Yes, please." Such was the case with a new Bible adventure novel from Barbour Publishing called Imagine. . .The Great Flood by Matt Koceich. Biblical fiction has been a genre I've enjoyed in the past in "grown up books," and I'm really excited to see more and more Biblical fiction for kids books being written these days. This one takes a modern kid named Corey and plops him smack dab in the middle of Noah's Ark.
The softcover book (cover price $5.99, currently on sale for $4.49 through the publisher's website) is 110 pages, although the story doesn't actually start until page 7. It's the first book in what will become the Imagine series. Mr. Koceich's goal in writing the books is to offer kids ages 8-12 a place to think and ponder what living through biblical events might be like.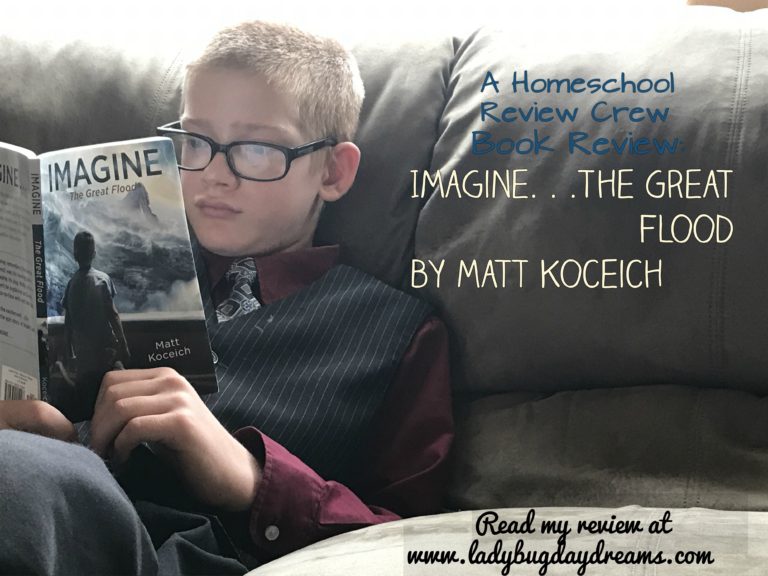 Since Munchkin is the one who read this book, I'm going to do a little interview with him on his thoughts of the book.
~*~*~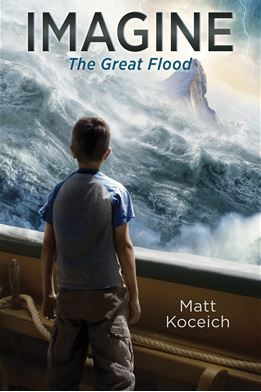 Give me a short synopsis of the plot.
Corey is chasing his dog and he hits his head and gets injured. Next thing he knows, he is flashing back in time to ancient Mesopotamia and living in Noah's flood.
You read this book alone. How long did it take you from start to finish?
Two days. I read for about one hour per day.
Was it too easy for you? Too hard? Just right? Do you think it would be a good fit for other kids your age?
I think it would pretty good for kids my age (11). It was a little easier than things I'm used to reading, but I wouldn't say it was "too easy."
When you first learned what this book was about, what did you think it would be like? Was it as good as you thought it would be?
I expected he would be on the Ark, but he got taken back to modern day before the Ark set sail. That was surprising to me. Yes, it was as good as I expected.
Tell me about your favorite scene from the book.
I like the part where Corey was fighting the Nephilim (giants). He fought them a few times, but I liked the first one the best because he had never seen them before. It was really terrifying because the people were so big. Corey didn't win; in fact, he barely escaped. In most books the good guy always wins, so this was very refreshing in that he almost lost.
Who was your favorite character? Why?
Shem. He fights the most, and I liked those exciting scenes.
In the book, Corey learns a lesson in forgiveness. Did you feel like you learned any lessons reading this book?
Yeah. I was reminded that God always has a plan for what happens, even if it's unclear to us.
Would you recommend this book? Why or why not?
Yes, I would recommend it. It was good because it's time travel with biblical history. I like that a lot. It combines two very interesting types of books into one.
Any final thoughts?
I read in the back of this book that there's a sequel coming out in March 2018. (Mom note: It's about a girl transported to the Exodus and Ten Plagues of Egypt.) I would really like to read that one.
~*~*~
As you can tell by Munchkin's answers, Imagine. . .The Great Flood by Matt Koceich was a hit in our house. As a mom, I like that there are good, Christian books for kids coming out that I can feel good about offering to my sons to read.
Blessings,