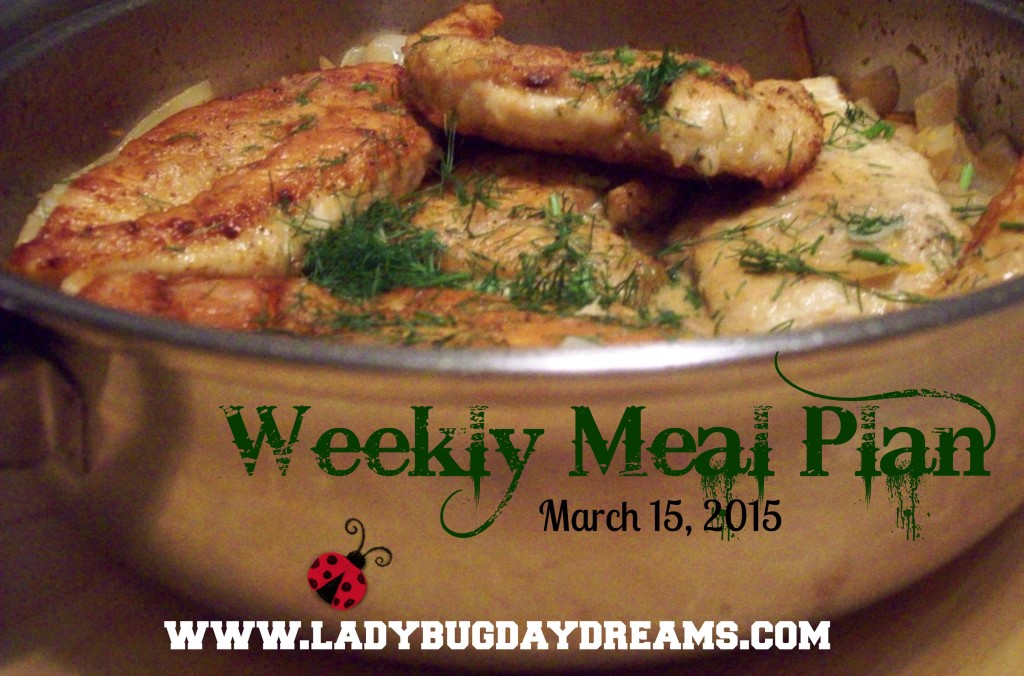 Hello! I've got a book review and giveaway (my first!) for you tomorrow, so I'm posting our meal plan on Sunday again this week.
We did okay at eating in last week. We ended up going out a couple of times – and then remembered why we eat at home. (Hint: it's all about the money!) The chicken and wild rice soup didn't end up happening; I didn't look at the recipe early enough that day to allow proper time to cook the soup, so we just had roasted chicken and pasta with Parmesan cheese that night instead. Other than that, we did pretty well on our meal plan 🙂
Here's what's on the docket this week:
Monday, lunch: Clam Chowder (canned)
Dinner: Mongolian Beef and Broccoli
Tuesday, lunch: Homemade chicken nuggets, fries (frozen)
Dinner: Homemade macaroni and cheese, salad
Wednesday, lunch: Tuna sandwiches, chips or fruit
Dinner: Stroganoff, corn
Thursday, lunch: Chili and Quesadillas
Dinner: Cube steak with mushroom gravy, red potatoes (lightly smashed), corn
Friday, lunch: Peanut butter and jelly sandwiches, chips or fruit
Dinner: Chicken enchiladas, Mexican rice
Saturday, lunch: Lunch meat sandwiches, chips or fruit
Dinner: Pineapple-cranberry chicken, rice, salad
Sunday, lunch: Spaghetti
Dinner: Pork shoulder steaks (shake and baked), roasted potatoes, steamed green beans
What are you eating this week?
Blessings,