There's a challenge going around the "blogosphere" this month, and that is to write something each day all month long. That's 31 blog posts (though I'll have a few more since I have some reviews this month that will be sprinkled in). There are a few different bloggers hosting different versions of the challenge, and the one I chose to participate in is to write a little bit each day about a single topic. I've chosen to focus on my favorite hobby: knitting.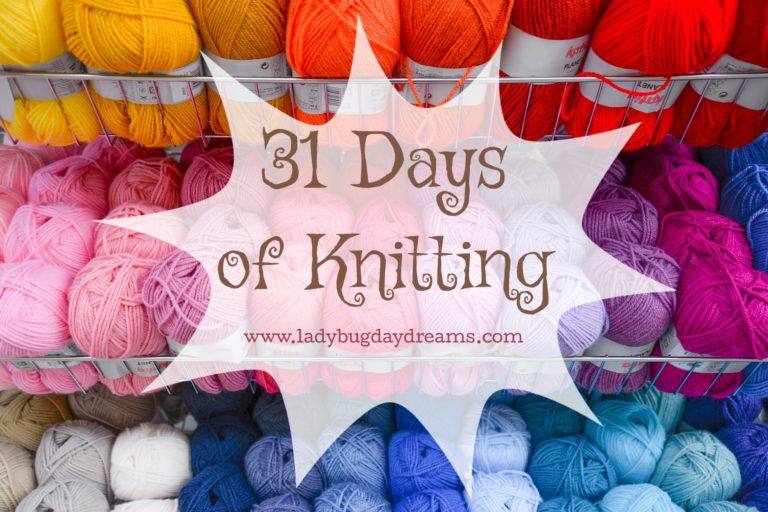 I'll cover all sorts of topics related to the subject. Here's my basic road map for the series:
10/2: Reading a yarn label
10/3: Different weights of yarn
10/4: Different fibers of yarn
10/5: My favorite knitting needles
10/6: The difference between straight needles, circular needles, and double pointed needles
10/7: What is an "interchangeable needle set"?
10/8: Buying yarn for a single project
10/9: Buying yarn "just because"
10/10: The "yarn stash" and how to store it
10/11: Where to buy yarn
10/12: Where to learn to knit
10/13: Teaching children to knit
10/14: My favorite resources (YouTube channels, books, websites, etc)
10/15: Knit vs Crochet
10/16: Basics of Knitting: casting on
10/17: Basics of Knitting: the knit stitch
10/18: Basics of Knitting: the purl stitch
10/19: Basics of Knitting: binding off
10/20: Attaching a new ball of yarn to a project
10/21: Choosing a pattern
10/22: Reading a knitting pattern
10/23: Knitting a gauge swatch
10/24: Knitting flat vs in the round
10/25: Knitting a seamless garment vs knitting pieces and sewing them together
10/26: Knitting things that aren't clothes: wash cloths
10/27: Knitting things that aren't clothes: dish scrubbies
10/28: Knitting things that aren't clothes: bookmarks
10/29: How to dye yarn with food safe "ingredients" in your kitchen
10/30: My experience with food-coloring dyeing
10/31: Conclusion
Some of these will be longer than others, but I'm committing to writing about all of them this month. I'm excited about it, and I hope it's as fun for you as it will be for me.
Blessings,