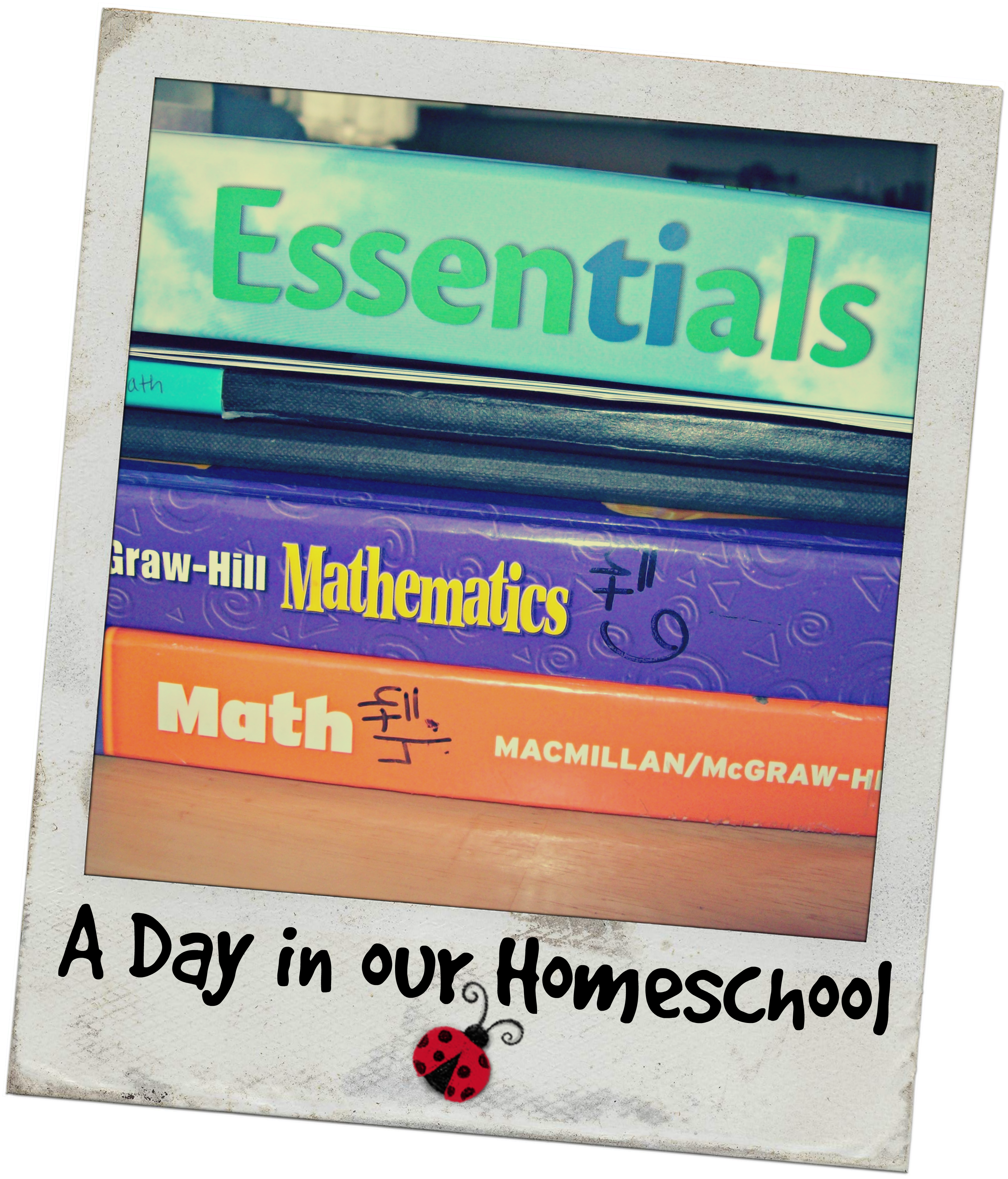 I've never done one of these types of posts before, so I thought it might be kind of fun today.
Here's what our day looked like yesterday.
8 a.m.
Dragonfly and I wake up. I nurse him and we snuggle while I check email and the Schoolhouse Review Crew forum from the mobile web on my phone.
8:30 a.m.
Small Fry wakes up. He's still under quarantine from a bout of (mild) pneumonia so I take him breakfast in his bedroom today. When he finishes eating, it's time for his medicine – an antibiotic and an inhaler.
10 a.m.
The big boys wake up. Normally I'd wake them up earlier, but Will kept them up late the night before, so I let them sleep in. They eat breakfast and wash the dishes. We're ready for school by 11.
11 a.m.
School starts! It's our first day using our new Logic of English curriculum, and that's where we start today. I've spent the past week reading the teacher manual portion of the textbook, so I'm pretty comfortable teaching it.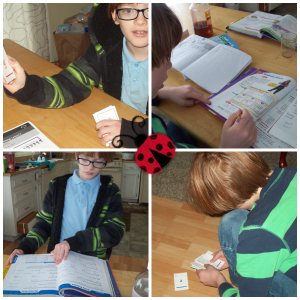 11:30 a.m.
After hearing me get frustrated with Dragonfly for making so much noise while I'm trying to teach a new curriculum to the boys, Will takes him out for half an hour so we can finish working through Logic of English. Before he leaves, he decides that he'll spend the day going to record stores looking for "new" music. He asks if I want to go with him, and even though it's a school day, I decide that sounds nice. So during the 45 minutes or so that he and Dragonfly are out running errands, the boys and I finish up the subjects they need my help with – English and Math. I give them specific instructions to finish up the other subjects on their own while I'm gone. There's one other one that requires my help (writing), but it's designed to be done only twice a week, so I'm okay putting it off until tomorrow. (Since Seahawk is 12 now, he stays home and babysits quite often. Not normally for as long as today, but frequently.)
12:30 p.m.
Will and Dragonfly arrive back home with lunch for the older boys. Confident that they know what to do, Will and I leave. (We take the baby with us.)
1 p.m.
Seahawk calls us to let us know that they've finished lunch and are going to finish their school now.
5 p.m.
Will and I arrive home from our day out. I check the boys' work, and they've done a good job finishing their school on their own – and not burning down the house 😉 I love that I can trust them to be so responsible when we go out.
5:15 p.m.
Will takes the two older boys out for a few more errands. They've been stuck inside all day, so this is a welcome reprieve for them.
7 p.m.
Dinnertime! We have Japanese Curry (chicken and vegetable) over plain white rice.
8:15 p.m.
I leave for my exercise class – Aqua Zumba. I go twice a week, and it's really great. I love it. While I'm gone, Will and the boys stay home (or go for a walk – I'm not entirely sure since I'm not here).
9:40 p.m.
I arrive home from Zumba. Will usually keeps the boys up until this time. I think he gets lonely otherwise. Shortly after I arrive home, it's bedtime for Seahawk, Munchkin, and Small Fry. I change Dragonfly's diaper and clothes into pajamas, then nurse him to sleep. The rest of the evening, until Will and I are ready for bed, is spent with him doing a bit of work since we were gone all day. While he's working in his home office, I watch 7th Heaven on Amazon Prime and practice my knitting (I just learned how to knit this past Sunday).
Midnight
Bedtime!
While today wasn't a "normal" day, it was a good one nonetheless. All of the work got done, the children were cared for, and everyone was happy. That makes it a success in my eyes.
Blessings,

This post is part of a roundup that the Schoolhouse Review Crew is doing on "A Day in Our Homeschool." For a glimpse into other families' schedules, click the banner below to be taken to the roundup.