In homeschool circles, there are a few curriculum companies that show up again and again as "the best." Memoria Press is one of those. I've reviewed products from them a few times (I'll link to my past reviews at the end of this one), and have always been very impressed with the items we've received/used. This time, the (older) boys and I have been working through The Story of the Thirteen Colonies & The Great Republic Set ($48). As you might be able to guess from the title (of both the curriculum and this post), this is an American history curriculum. Memoria Press also included the supplemental 200 Questions About American History Set ($27.90).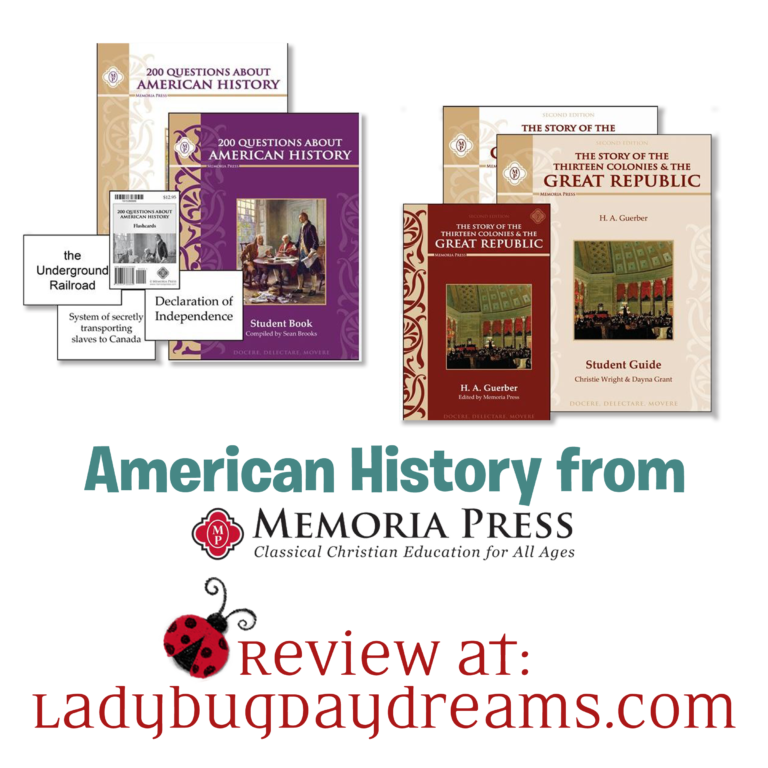 Each of these sets is fairly involved, so I think it will make more sense (at least to me) to take a moment to discuss what is in each of them before I move on to how we used them in our homeschool.
The Story of the Thirteen Colonies & The Great Republic came with three books: a textbook, which feels more like a novel in its size and page count; a consumable student workbook; and a teacher version of the workbook, which looks just like the student book except the answers are filled in and there are reproducible tests in the back. The student workbook is much more than "just" a workbook, though. It includes a wide variety of appendices with such amazing resources as the complete text of the Declaration of Independence and Bill of Rights, lots of maps, and tons of other great stuff that I (unfortunately) can't remember offhand. (I can't refer to our copy of the book, either, because it's packed for moving.) I do remember pointing out a lot of this stuff to Seahawk, who was the main beneficiary of this book, though. It will make a fantastic resource for years to come.
The 200 Questions About American History Set includes two books: a student workbook and a teacher manual; and a set of flashcards. The flashcard set is like four sets in one, and I separated them into recloseable zipper baggies for ease of use. These four sets are: 150 Drill Questions (question on one side, answer on the other), 30 Dates and Events (date on one side, event on the other), 20 Notable Quotes (quote on one side, speaker on the other), and 44 U.S. Presidents (president number and years of presidency on one side, name on the other). The student workbook is rather thin, but it covers a lot of history in those few pages. It is basically a workbook version of the flashcards, which is nice if you want a consolidated place for your student to write down the answers to the questions as they learn them. It would also serve as a great tool for review as they get older. The teacher book is just like I described above, in the 13 Colonies set.
How We Used It
Normally in a curriculum like this, I would read everything aloud to the boys and they would answer the questions. The teacher's guide suggested having students do at least of of the out-loud reading themselves, though. Because my kids don't do enough of that (or any of that, really), I decided to go with the suggestion of the writers. Each chapter in the textbook, which is really a compilation of two books written by H.A. Guerber, is quite short (less than 2 pages) so this wasn't a hardship for my boys.
We covered one lesson per week, working 3 days per week, and with as much great information as there is in each lesson, this was a good pace for us. We'd start on Monday by reading the chapters for the week's lesson from the textbook. Most of the lessons covered 3 chapters, so that was perfect – we each read one aloud. After doing the reading, we went over the vocabulary and answered half of the comprehension questions from the workbook.
On Wednesday, we'd finish the comprehension questions. I liked taking a break between the reading and the questions because this helped to assure that the boys were retaining what we read. If we'd answered all of the questions within moments of doing the reading, it would be easy to forget what they'd read quickly.
On Fridays, we did the enrichment section of the workbook. This was sometimes short, sometimes a bit longer, and includes activities such as finding places on the map (related to the reading done), adding a date or dates to the timeline (I had each boy do their own using some of Will's comic strip-sized art paper), and a writing assignment. The writing assignments were quite interesting, and I'm pretty sure the boys enjoyed them too. An example of one that they seemed to especially enjoy is (and this is not an exact quote): You were a founder of the colony of Roanoke. After some time away, you've come back and discovered the entire civilization missing. Write a journal entry describing what you see and how you feel upon your return. I didn't give the boys a certain amount of time to write; I just let them write until they were done. Some of the assignments took longer than others, but all were quite interesting.
Seahawk did the workbook because he's more firmly in the age range for this product, which Memoria Press pegs as "middle school years." I didn't want Munchkin to miss out on the information, though, so he sat with us (and read a chapter a week out loud) and chipped in with answers when he knew them. He also made his own timeline and did the writing assignments.
The 200 Questions About American History Set, being a supplement, was just that for us. I looked at the workbook each week, and we answered the questions that were relevant to the section we read. We haven't done much with the flashcards yet, but we might use them more once we're settled in our new house.
My Opinion
I really like teaching this product. The curriculum goes perfectly with the text, and there's enough "extra" stuff (like the writing I mentioned above) to keep it from feeling dry and boring. There are also lots of pictures in the textbook to illustrate times and concepts. Having the teacher book and the student books match so closely is really helpful in guiding your children to getting the correct answer – or even expanding their already correct answer to make it more detailed and relevant. Overall, this product is a definite winner for teaching American history thoroughly!
As mentioned previously, I've reviewed for Memoria Press before. Check out what I thought of their 5th Grade Literature set and the history curriculum Famous Men of Rome.
Blessings,

Other members of the Homeschool Review Crew are writing about Memoria Press this week, too. Some are reviewing the same sets that I am, and others are talking about learning Greek or teaching The Iliad and The Odyssey with their older students. Click the banner below for more information.