I've got a really great program to review today: the CHSH Download Club from CHSH-Teach.com. I've spent the past few weeks exploring the website in preparation of our school year, and I have to tell you: there's a lot of really great stuff on this site! Covering all grades (K-12) and a huge variety of subjects, there's sure to be something you want or need to incorporate into your homeschool here.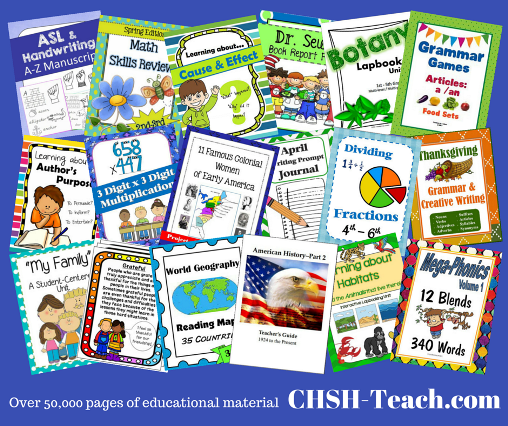 When you go to CHSH-Teach.com (short for Christian HomeSchool Hub), the first thing you'll see is a "Today in History" calendar. These tidbits include all sorts of things from presidential assassinations to devastating hurricanes to William the Conqueror claiming the throne of England. Scroll down from here and you get to the real "meat" of the site: the Download Club, which features over 50,000 pages of educational material. Obviously I haven't been able to sift through 50,000 pages, so I'm going to spend a short period today talking about the stuff we did (or plan to) use.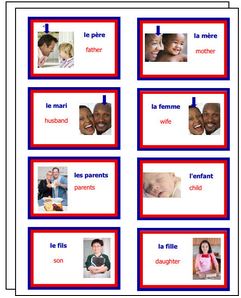 The first thing I printed using my Download Club membership was some French language flash cards for my husband. He really wants to learn the language, but struggles to find time to devote to Rosetta Stone. These flash cards were just the thing to help him work through some vocabulary on his own terms, especially when he was away from home.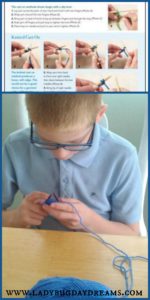 Up next was something for Munchkin. Every so often, he expresses interest in learning yarn crafts from me, but apparently I'm not a very good teacher because he struggles to become proficient at them. On CHSH-Teach.com, I found a printout of basic knitting stitches. He knows how to cast on from my teaching, but actually knitting something has proved rather elusive for him. Now, he has a handy-dandy reference sheet to help him. Because he's a good reader, sometimes things make more sense for him if he can look at a piece of paper and read instructions rather than watching and listening to me. He hasn't put forth a huge effort in  a while, but I'm sure that when he's ready to give it a real go, this document will really help him.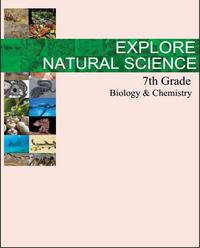 The last thing I spent a good amount of time on was a science program for Seahawk. Included in the Download Club ($25 for one year or $99.99 for life) is a whole series of full textbooks. That's right: complete texts! So I downloaded a 7th grade level biology course for him, and that's going to cover his science this year. There's a digital textbook and student book, so it really is a complete program. We haven't actually started this one yet, but it's on my agenda for later this week (and I have looked at it myself, so I'm not completely clueless regarding it). We'll also use the spelling pages for Seahawk. These are separated by grade level, and there are 4-week units for each grade. Because this is a subject he struggles with, we're going to start at a much lower level than he's at age-wise to help him work through and hopefully become a better speller. Because he'll utilize several grade levels, this will likely last him most of the school year.
On top of the downloads I've used thus far, there are pages in a huge variety of subjects: Bible, Foreign Language, Arts and Crafts, Language Arts, Math, Science, Social Studies, Health (this is a subject I plan for us to use, but I haven't explored it much yet), and Electives. You can browse the worksheets by subject or grade level. Having everything cross referenced that way is pretty helpful.
In addition to thousands of pages on the paid side of the subscription, there's a free version to CHSH. The free version can be a great source of support for homeschooling families, even though it doesn't include any of the downloads. There are forums, groups, chat rooms, and more, all of which would be a blessing to a homeschooling parent.
After using the website for several weeks now, I have just one complaint, and that is that it will sometimes require me to sign in twice to access certain materials. I always sign in first thing upon going to the site so that I can see the downloads I want, but there are times when I'll click through to a certain document I want, and it will tell me that I have to be logged in to access that content. I wish it would remember from one click to the next that I am logged in, but it's not something that's a huge problem. It's just an inconvenience.
Because there are so many different options in the CHSH Download Club, I've barely scratched the surface of available items. Make sure to visit other reviews through the Schoolhouse Review Crew blog to learn about some of the things that other families have used. That will give you some more insight into just how amazing this website is
Blessings,